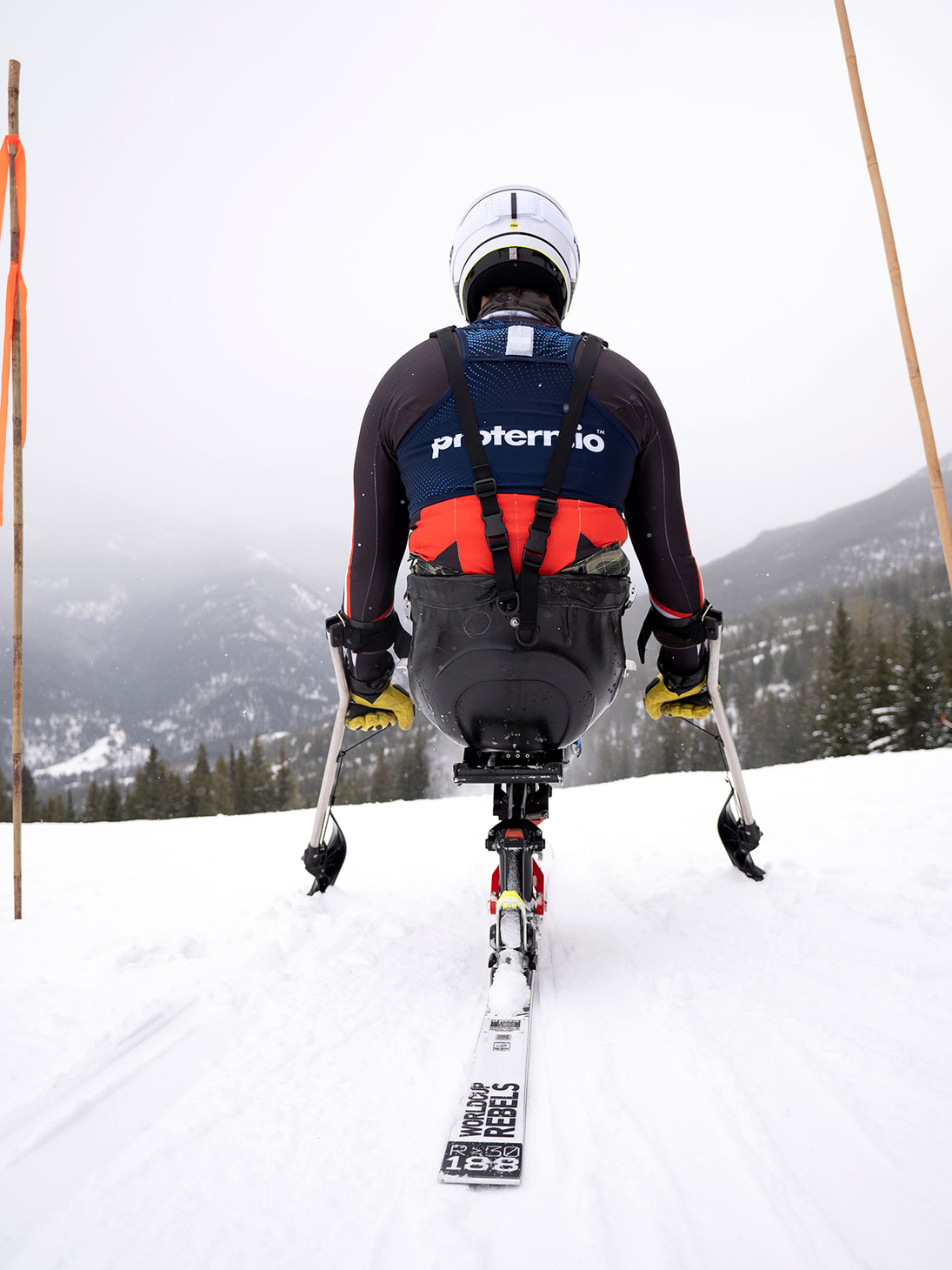 Photo by Photo Submitted
HIGH-TECH SKIING – Paralympian Kurt Outway hits the slopes with Proskida's Protern.io tech on his back.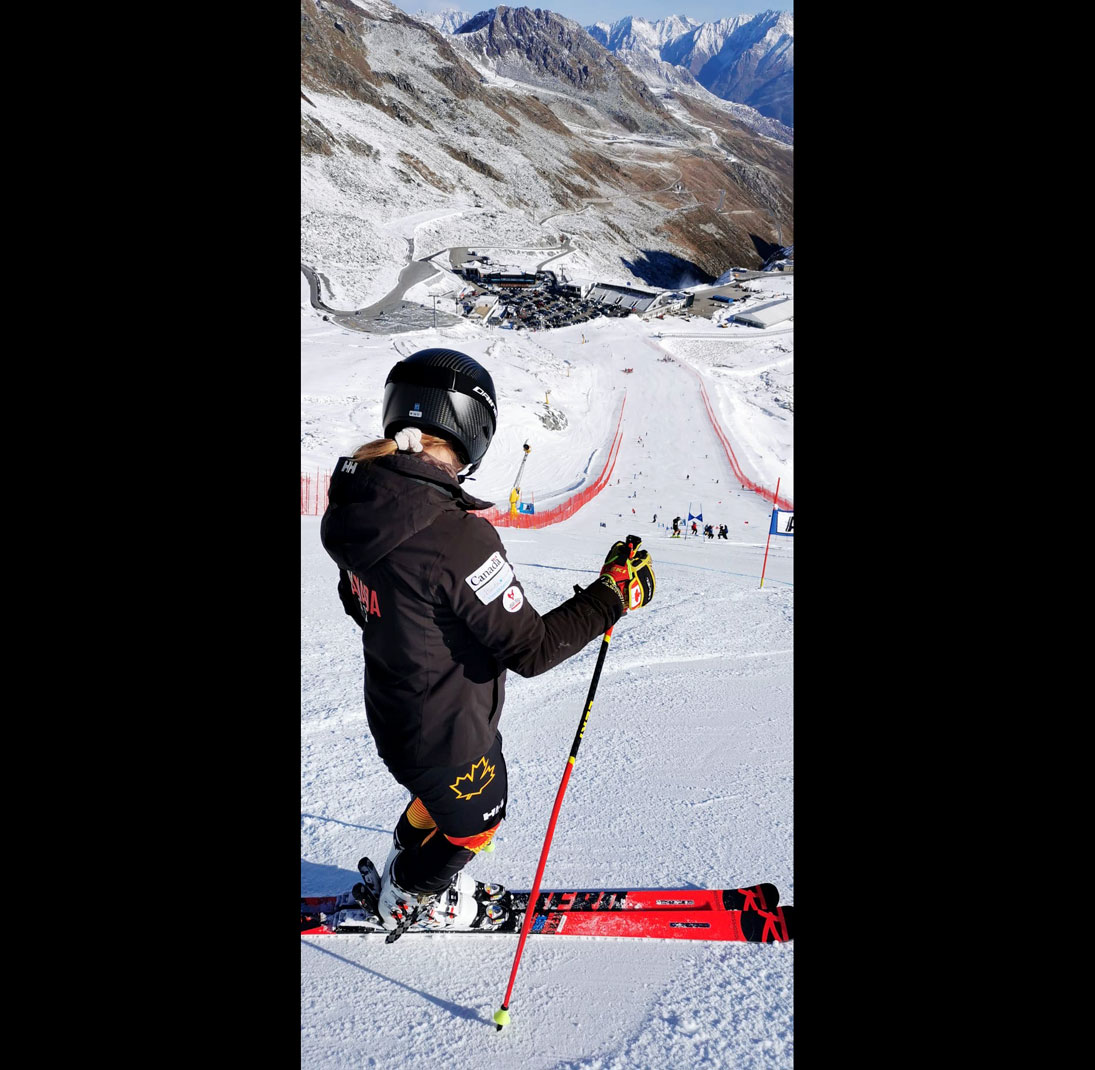 Photo by Photo Submitted
SURVEYING THE COURSE – Olympic alpine skier Val Grenier at the first World Cup of the 2021-22 season in Soelden, Austria.
Yukon tech company signs deal with Alpine Canada
Whitehorse company Proskida has signed a deal with Alpine Canada.
Whitehorse company Proskida has signed a deal with Alpine Canada.
According to the Proskida website, the multi-year agreement gives Alpine Canada access to Protern.io, software which gathers data from a sensor on racers as they blast down a course.
The deal with Alpine Canada includes webinars, training and support for Canada's National teams.
Proskida started in late 2015. It's main product at the time was a tool for cross-country skiing, ski grips that collected data for the skiers to use to improve their race times.
"We sort of pivoted away from that in 2019," said Proskida CEO Alastair Smith. "We ended up launching Protern.io in 2019. The focus of that was more on the software and being able to compute tons of performance data from a variety of different sensors and being able to let athletes and coaches really focus on the parts of the data that's most important to them."
Smith said Proskida started in alpine skiing because of a good relationship with Swiss-Ski, Switzerland's ski program.
"Working with them and applying our software we were able to basically bring the Protern.io tool to alpine skiing."
"It's been quite interesting because it's fundamentally changing how that sport is being coached and how people are training with this concept," said Smith. "Just to give you a quick idea, right now, whenever people train for alpine skiing, they'll set up a timing unit, and they'll have maybe one split halfway down, and they'll have a finish. So for every run, they get two bits of data. They know how they did halfway down, and they know how they did when they finished. So they can see if they were slow in the first half or the last half.
"For us, we collect about 5,000 data points for one run. So we can tell them what point on the course they basically slide the ski a little too much and then lose their speed, or when they were coming into a flat section, were they able to conserve their speed and be able to really carry that through to the end? So it goes from knowing 'ok, I did ok in the first half' to 'now I know it's between gates 7 and 8 just leaning into a turn at Gate 8, that's where we were slowing down, that's where we have to work on.'"
"And it's quick," stated Smith. "They can get this data when they're done. So they can look at it going up the lift. And it makes their training way more efficient. It's alpine skiing, it's an expensive sport, and they can only get so many runs in in a day. So this just makes it so they can look at what's going on and then make changes for the next run, so they can improve that much quicker with a limited amount of training time."
Smith described how the recent development with Alpine Canada came about.
"We've actually been working with the para-alpine teams ... since we launched Protern. It means now that we have the men's alpine team, the women's alpine team, as well as the para-alpine team, all using Protern.
"There's a few benefits," said Smith. One of course is that for those elite athletes, especially leading into the Olympics and Paralympics.
"Another part of this is ... working through the programs of excellence ... they're learning how to apply this type of technology so that they can train better so that way, it can eventually help our younger athletes, by developing athletes achieve more, and hopefully we can develop more Olympic-calibre athletes through it."
Proskida has been working with Alpine Yukon.
"We did some work with them ... end of the season last year ... we had sensors on a few athletes, we were doing some video integration, and actually it was pretty fun to see them using it," related Smith.
The Proskida CEO describes what products and services they are supplying to Alpine Canada.
"They have access to our sensors, they have accounts, to be able to process all that data. We also are working with them to work with their coaches, to help them understand how to get as much value out of the tool ... looking at their runs in a new and different way, all sorts of opportunities have opened up."
Smith says the Protern technology gives Alpine Canada a competitive edge.
"I think it's certainly where teams need to be going. I think pretty much any top-level team is going to be needing this type of technology ... I think for them, it's going to be a matter of how to apply that data. That's the 'secret sauce.' ... I think it will certainly give Alpine Canada and our athletes the opportunity to be competitive for sure, at the Olympics."
Smith explains how the the technology works.
"There's a sensor that's a high-speed, high-accuracy GPS, so it's measuring data at 10 times a second, and the skier wears that, and it just goes at the top of their back and it's collecting all the time ... so when they ski the course again, the sensor's collecting all the data. What the coach will do, with our software, they can say 'ok, this is the section ... important to me ... every time they synch the sensor, our software basically pulls out any of the data that happened in that ... run, and then we present it in a pretty simple way. Like there's a variety of ways ... splits and things. Then the coaches, from there can compare specific runs, re-sort things based on different criteria, and so they can really kind of start to look at the run from the very simplest, just getting their times, to going more detailed of being able to compare where the skiers were on the course when they were losing a bit of speed."
Proskida has a number of high-powered alpine skiing programs on board, including the Swiss, the Germans, Swedes, French, and Russians at the national team level. At the club level, the U.S, Italy and Norway are involved.
"The elite athletes ... it's fun to see it being used at that level, but what's really interesting too is ... to see the sport kind of progress and to be able to play a role in helping those young athletes get more out of their runs and being able to just improve that much quicker," said Smith.
Of course, alpine ski clubs aren't the only ones interested in the Protern technology.
"Our longer-term vision is actually applying this technology to other sports, so to endurance sports," said Smith. "We actually have interest from some big-wave surfers in Maui who are using the tech. We have Olympic-level cross- country ski teams as well using it. We built the tool to be flexible and to be able to take any kind of sensor data. And to be able to let people really hone in on the areas that are most important to them and to compare that over time. And that's kind of our unique take to sport performance analysis."
Protern isn't just for alpine skiing.
"No. That's where we started," said Smith. "We're having great success there, but where we really see it growing is in cycling and running and quite frankly, a whole bunch of other sports, smaller ones like rowing, maybe even surfing."
Smith is proud that Proskida is a Yukon company with tremendous growth potential.
"It's awesome to build something in the Yukon that's making an impact world-wide and that's kind of been our goal from the beginning. We always believed that you can build something that's kind of world-changing, from Yukon. That's pretty exciting for us ... we're keen to keep growing, to bring on more customers and to enter more sports and really grow this company. It's a big market. Within sport, there's about 10 billion a year spent just on performance analysis. Especially in the endurance market. So there's a lot of opportunities here, for sure."
So how far can this company go?
"The sky's the limit ... there's a big market to grow into," said Smith enthusiastically. "There's no reason why this can't be a multi-million dollar company ... alpine skiing is a good start for us, but cycling and running – that's where we're moving to ... it's massive. You look at the companies that are out there, like Zwift, a cycling training tool. They've raised $400 million. They're worth over a billion dollars. You have Strava ... they're in the billions in terms of worth. I'm not sure exactly we'll be in the billions but certainly ... people are very interested in getting better and we're not talking just elite athlete. These are what's know in the industry are 'MAMIL's'- middle-aged men in lycra ... health is important to them and the competitiveness of sport, the camaraderie of sport, like all of those things are ... they're keen on it. And being able to see gains, that's a pretty big thing for them, so ... this is the space we're playing in."
Smith says he's proud to show that you can succeed in the Yukon.
"It's fun. People know where Yukon is. They get it. So it solidifies that thing that you can – great ideas, great company ... talented people can come from anywhere. That to me is what's so exciting about building this business. We can do this here."
Add your comments or reply via Twitter @whitehorsestar
In order to encourage thoughtful and responsible discussion, website comments will not be visible until a moderator approves them. Please add comments judiciously and refrain from maligning any individual or institution. Read about our user comment and privacy policies.
Your name and email address are required before your comment is posted. Otherwise, your comment will not be posted.