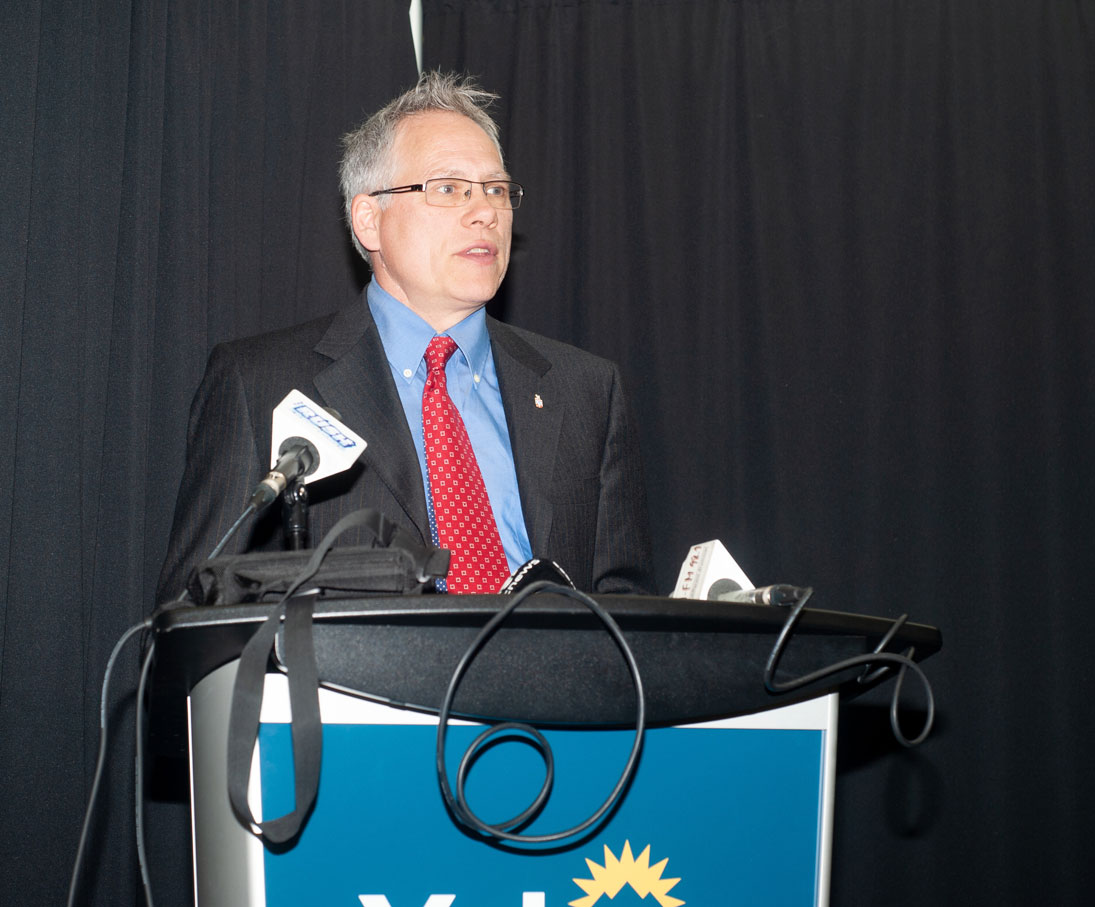 Photo by Whitehorse Star
Community Services Minister John Streicker
Yukon Government supports territorial sports, recreation
The territorial government, in partnership with the Yukon Lottery Commission and Sport Canada,
The territorial government, in partnership with the Yukon Lottery Commission and Sport Canada, is supporting the Yukon's sports community with $1,720,060 in funding through 2019-2020.
The annual funding supports sport development, leadership development, facility operations and maintenance in the territory. It also offers support to individual athletes and officials so they can access training and can compete at all levels of the continuum.
Territorial special recreation organizations also benefit from annual funding to ensure recreation opportunities are accessible by all Yukoners, especially youth.
This year, the Yukon government will provide:
• $851,325 to 27 territorial sport organizations and $235,735 to five territorial recreation organizations through the Yukon Recreation Advisory Committee (YRAC) program;
• $470,000 to 23 territorial sport organizations through the Yukon Sport 4 Life (YS4L) program;
• $98,500 to 35 athletes and seven officials through the High Performance Athlete Assistance program; and
• $64,500 to six athletes through the Elite Athlete Assistance program (carded by Sport Canada).
YRAC funding helps Yukon sport governing bodies and Yukon special recreation groups develop and deliver sport and recreation programming throughout the territory and provides access to all Yukoners who choose to take part in the opportunities that promote healthy lifestyles for all.
Yukon Sport 4 Life is project-based funding that supports enhanced sport development initiatives.
The Yukon High Performance Athlete Assistance program provides funding for athletes who have demonstrated performance beyond the territorial level with potential for improvement at the provincial, national, or international levels.
The Elite Athlete Assistance program provides funding to the territory's highest level of athletes who are also "carded" by Sport Canada.
"We are extremely proud of our territory's athletes and the many sport organizations and individuals that support them in achieving their goals," Community Services Minister John Streicker said late last month.
"This funding will help our athletes continue to perform to the highest level, both nationally and internationally, and help our sport and recreation organizations create opportunities for all Yukoners to live healthy and active lifestyles."
Add your comments or reply via Twitter @whitehorsestar
In order to encourage thoughtful and responsible discussion, website comments will not be visible until a moderator approves them. Please add comments judiciously and refrain from maligning any individual or institution. Read about our user comment and privacy policies.
Your name and email address are required before your comment is posted. Otherwise, your comment will not be posted.