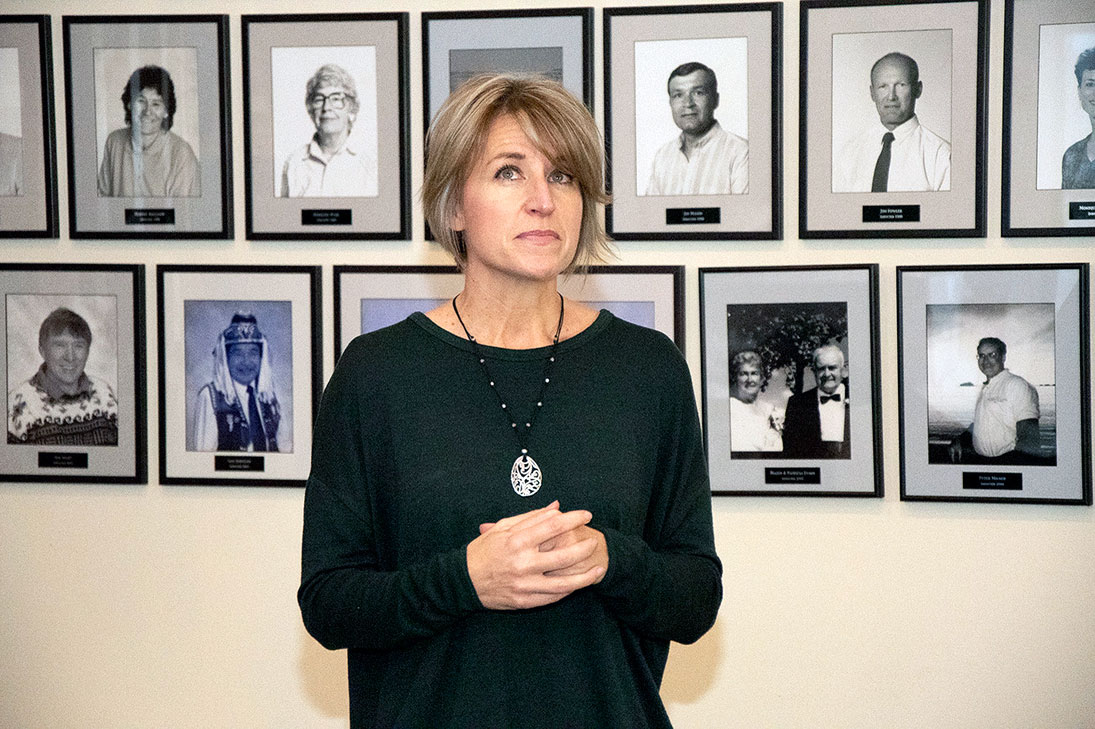 Photo by Whitehorse Star
Tracey Bilsky
Yukon athletes celebrate their coaches
From Sept. 19-27, athletes Canada-wide took to their preferred social media platform.
From Sept. 19-27, athletes Canada-wide took to their preferred social media platform. Using the hashtag #ThanksCoach, athletes celebrated their coaches who have had a positive impact on their athletic progression and communities as part of National Coaches Week.
The annual campaign is an opportunity to recognize coaches for the integral role they play. Tracey Bilsky, executive director of Sport Yukon, said this is the first year the Yukon participated in National Coaches Week.
"We never really celebrated it until this year," said Bilsky. "But with everything that is going on, and athletes unable to see their coaches regularly, we thought this was the year. So we asked athletes to recognize their coaches."
Bilsky said upward of 65 coaches from a variety of sports were nominated during the week – a recognition they rightfully deserved.
"Many of the coaches are primarily volunteers," said Bilsky. "They put so much time, energy, emotion, and pride into their sport, and that is something you won't know until you are a coach. It makes you hooked for good."
Bilsky believes that coaches don't always get the recognition they deserve and said it is even more special to be honoured by one of their athletes.
"They will get recognized by their association because they want to keep them around," said Bilsky. "But, when a 14-year-old finds a photo and shares it, that recognition is 10 times more special."
As the sports seasons transition from fall to winter, Bilsky said the COVID-19 pandemic has caused a hole for both athlete and coach.
"Coaches and athletes would be getting into their fall routine about now," said Bilsky. "They'd be getting themselves organized, holding training camps and planning what Outside tournaments to go to.
"None of that has happened. It is a great big void for athletes and coaches."
By getting involved in National Coaches Week, Bilsky said one of the goals was to keep athletes and coaches engaged in sport.
"One of my concerns is that some may lose interest in sport," said Bilsky. "We are trying to make sure people stay engaged."
Also of concern to Bilsky is losing what she described as "kids on the cusp."
"These would-be athletes, maybe Grade 8, Grade 9, who planned on trying out for a high school team," said explained. "But without school sports, they may lose interest, or confidence to try out again."
Bilsky is confident that when National Coaches Week comes around next fall, it will see an even bigger reception.
"It will continue to grow," said Bilsky. "We had kids say they regretted not nominating their coach, which is great, although we aren't out to create guilt."
She hopes the recognition the coaches received will inspire some people to take up the charge of coaching.
"It can't hurt," said Bilsky. "Maybe people will see friends on there that they didn't know were coaches and it will pique their interest."
In a Sept. 30 announcement, the Yukon government committed to the continued development of the territory's coaches by covering registration fees for online courses offered by the National Coaching Certification Program (NCCP).
Between now and the end of 2020, Yukon coaches who take NCCP multi-sport introduction or development courses online can have their registration fees reimbursed.
Bilsky said this is a great opportunity for people to get involved in coaching at an entry-level.
Sport Yukon has posted a video of the coaches to their popular social media platforms.
"We are lucky," said Bilsky. "For us, we are a small place. We know all the coaches' names and have pictures of them so we can really put it out there."
Add your comments or reply via Twitter @whitehorsestar
In order to encourage thoughtful and responsible discussion, website comments will not be visible until a moderator approves them. Please add comments judiciously and refrain from maligning any individual or institution. Read about our user comment and privacy policies.
Your name and email address are required before your comment is posted. Otherwise, your comment will not be posted.