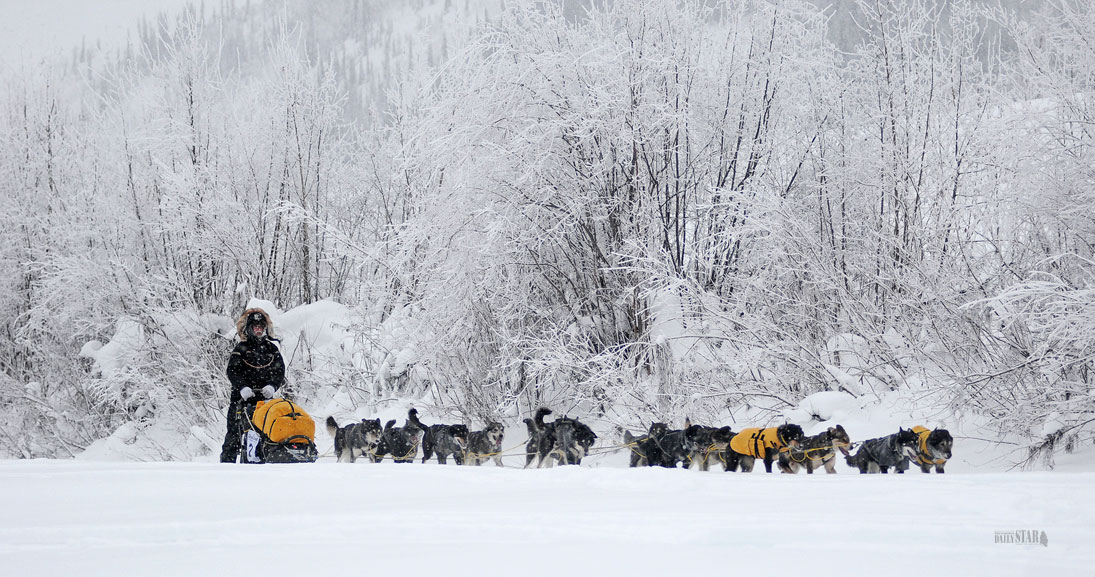 Photo by Whitehorse Star
RACING FOR BASIN – Brent Sass leaves Dawson City during the 2014 Yukon Quest.
With heavy heart, Sass seeks to defend Quest title
This one's for Basin.
This one's for Basin.
Less than a month after losing his five-year-old lead dog to a sudden, unknown illness, Brent Sass will hit the Yukon Quest trail Saturday in an attempt to defend his 2015 title.
"This race is completely dedicated to Basin," he said from Fairbanks, last Thursday.
Sass said the loss of Basin will continue to affect him emotionally, adding he will need to rely on his dogs throughout this next journey.
"I'm sure there will be a lot of moments in the Quest this year, where I'm like: 'Wow, this is difficult. It's not the same without Basin.'
"But because my team is so deep and I have so much confidence in my other leaders, I feel like if I lean on them ... they are going to do an amazing job and we can do what we did last year without Basin."
Basin died while resting during a training run last month, Sass explained.
"I don't know what happened," the musher said.
His best guess is his prized dog suffered a seizure.
Despite the enormous loss of Basin – who shared last year's Golden Harness award with Sass's co-leader, Sound – the Wild and Free Mushing team remains a force.
In mid-January, the 36-year-old musher from Eureka, Alaska, guided his team to a second place finish in the Kuskokwim 300, a popular mid-distance race based out of Bethel, Alaska.
Travelling with tears in his eyes and Basin's collar affixed to his sled handle, Sass finished a mere 10 minutes behind victor Pete Kaiser.
"I have tons of confidence," Sass said of his 14 huskies.
"I feel like I've got a great shot at repeating, but that doesn't mean that the competition isn't steep. ... But I'm confident in my dog team and my ability to know the trail.
"I feel like my preparation has been better than my previous nine Quests."
Former race champions Allen Moore and Hugh Neff are expected to challenge Sass, as is upstart Matt Hall.
As of last week, Sass said he still wasn't sure who would join Sound at the front of his team.
"I'm deep in leaders," he said. "I've got at least 10 leaders in the team. Basin was just one of them. Arguably, he was the best one, the main one. But all of these other dogs have been running lead just as much."
Basin rose to stardom in last year's race, refuting Sass's early attempt to remove him from lead for a spell.
This year, Sass hopes to see a new star born.
The 33rd annual Yukon Quest 1,000 Mile International Sled Dog Race begins in Fairbanks, Saturday.
A total of 23 mushers – including five Yukoners – will attempt the 1,600-kilometre odyssey to Whitehorse.
Last year, Sass took victory in nine days, 12 hours and 49 minutes.
Add your comments or reply via Twitter @whitehorsestar
In order to encourage thoughtful and responsible discussion, website comments will not be visible until a moderator approves them. Please add comments judiciously and refrain from maligning any individual or institution. Read about our user comment and privacy policies.
Your name and email address are required before your comment is posted. Otherwise, your comment will not be posted.