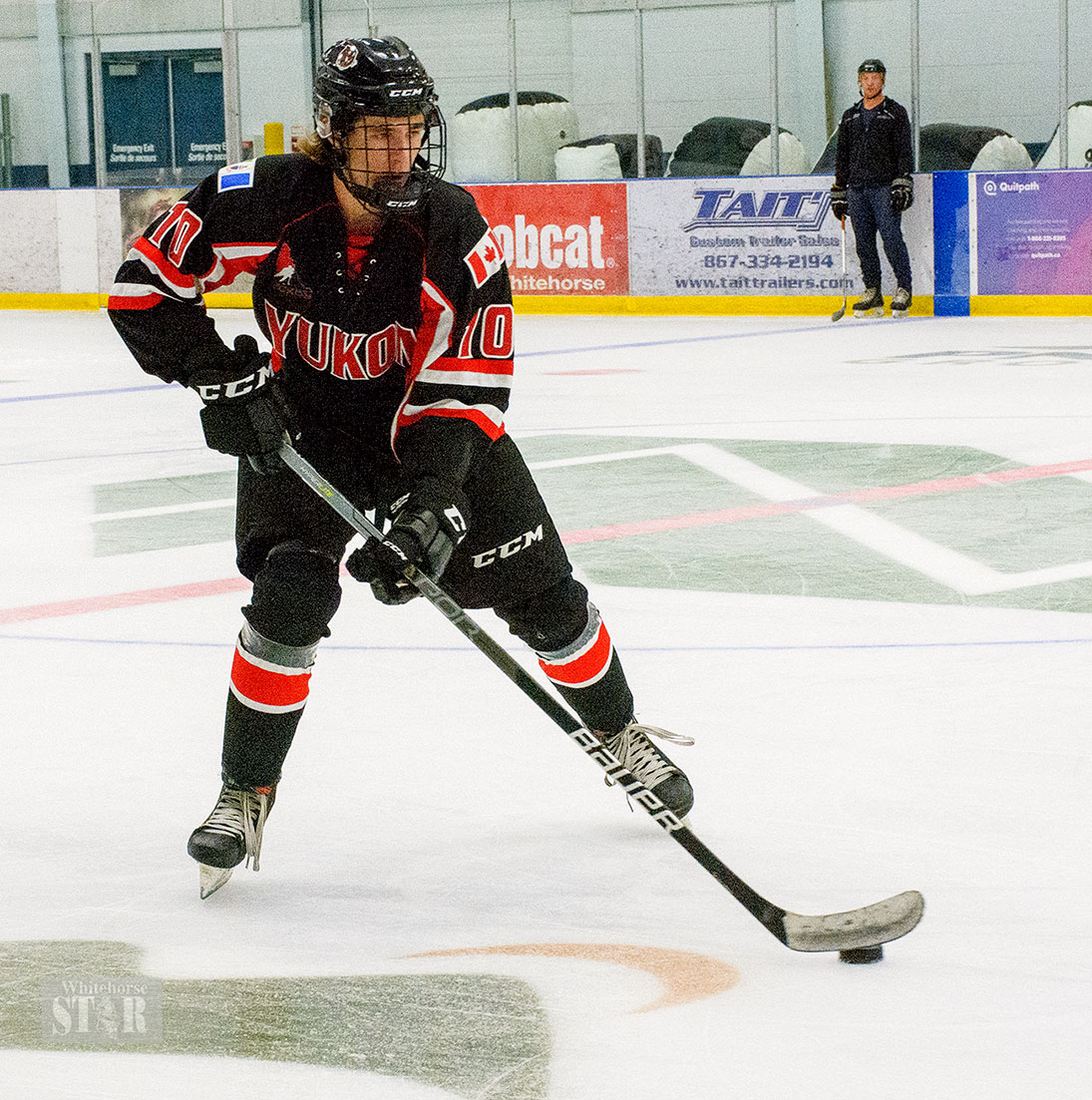 Photo by Morris Prokop
YOUNG PHENOM – Gavin McKenna takes part in a drill.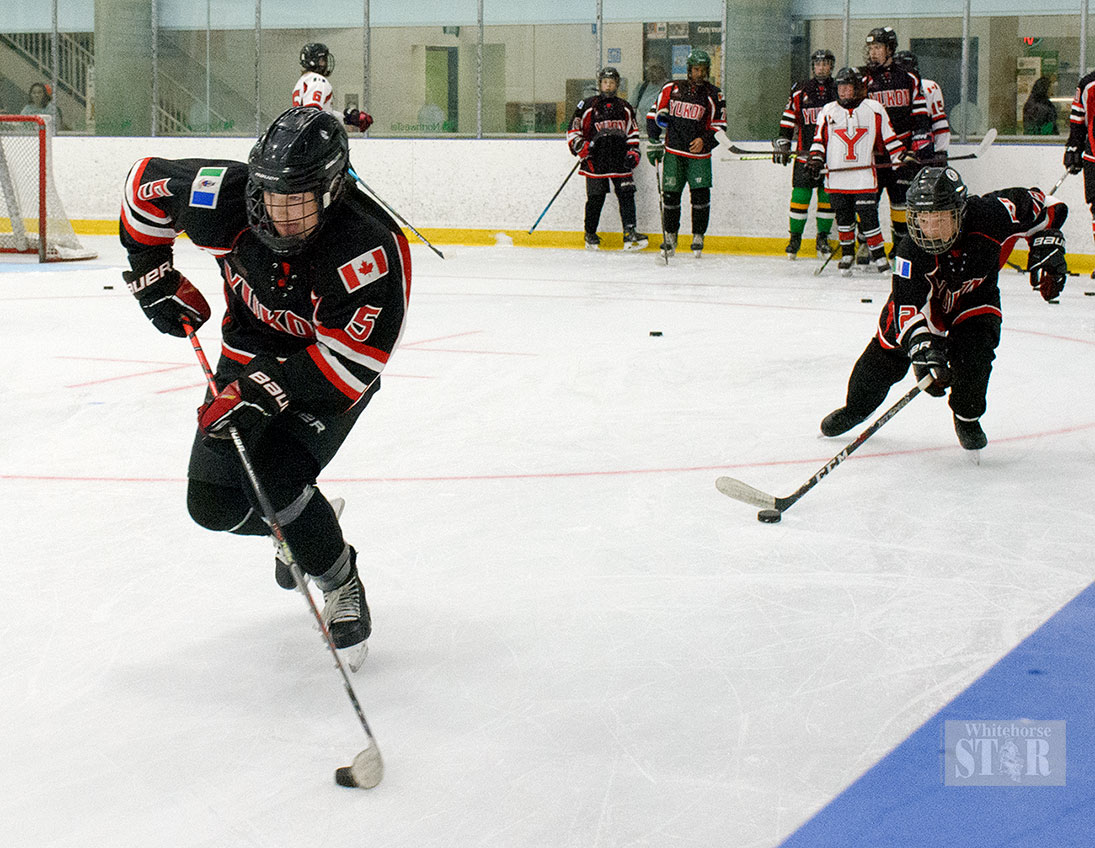 Photo by Morris Prokop
SKATING HARD – Axel Andersen, front left, and mighty mite Ronin Teramura start out on a drill during the boys' tryouts.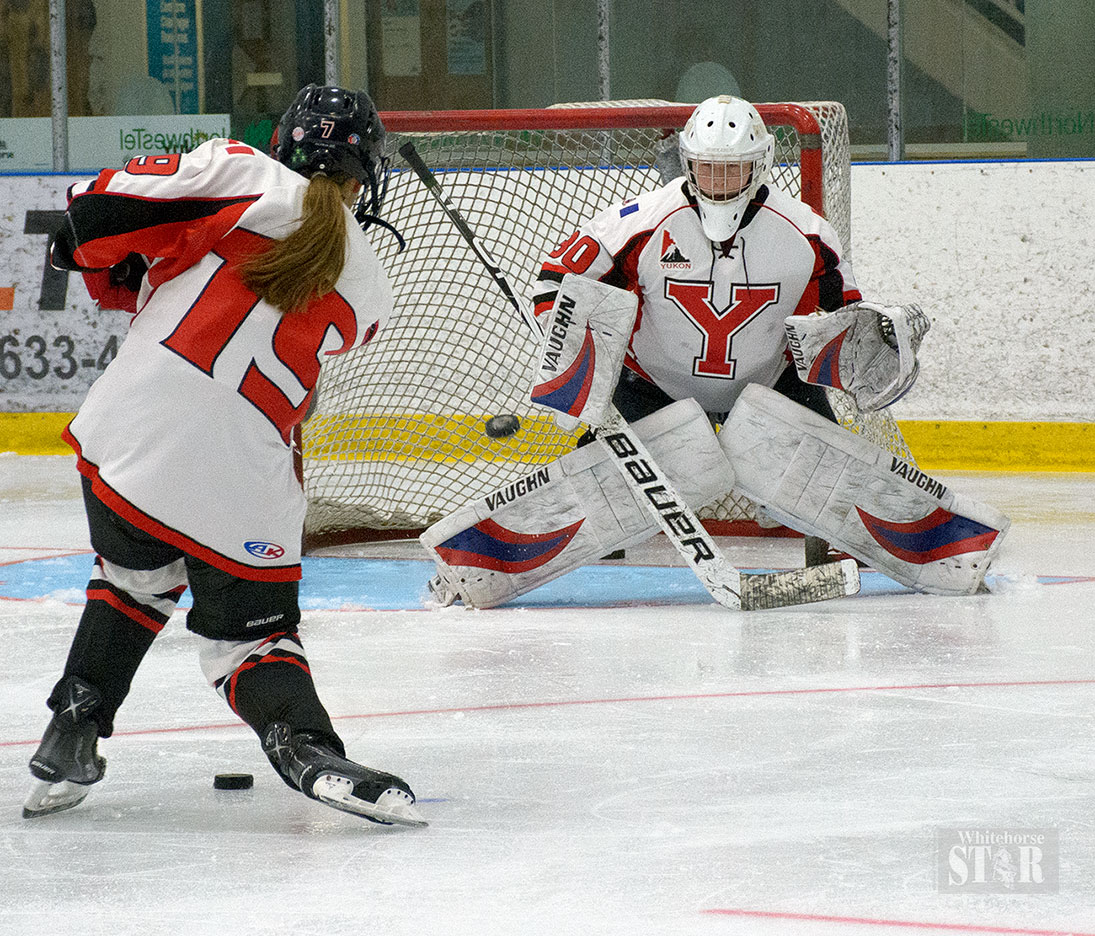 Photo by Morris Prokop
'THE WALL' STANDS TALL – Alix ("The Wall") Walchuk faces a shot during tryouts for the girls' Canada Winter Games team at the Canada Games Centre in Whitehorse last Friday.
Team Yukon holds Canada Winter Games hockey tryouts
Team Yukon held tryouts for the male and female hockey teams July 29-31 at the Canada Games Centre (CGC) in Whitehorse.
Team Yukon held tryouts for the male and female hockey teams July 29-31 at the Canada Games Centre (CGC) in Whitehorse.
Hockey Yukon President Krista Strand said there were two scouts evaluating the hopefuls for the two Canada Games teams. One was Greg Hermiston, a Hockey Canada regional scout.
"The other one we brought up was Kyle Allen and he's a B.C. Hockey scout," said Strand. "So we have those two scouts – or evaluators – who have come to help us with the process. With the evaluation piece, they're using a Hockey Canada ranking system to allow the kids to all be ranked throughout the four ice times that they have and then we'll have four to five evaluators providing that information, so then we can have that data and look at the players to help determine the best team for Yukon."
Strand said the tryout camp was the first in a series of camps for the Canada Games and Arctic Winter Games.
"This is the first weekend for Canada Winter Games evaluations, because we have both Canada Winter Games and Arctic Winter Games in the same year this year, there is a little bit of overlap happening. So Sept. 2-4 is going to be an Arctic Winter Games evaluation. From this evaluation and the September evaluation, the top 25 players will be determined and will be invited to come back to the final evaluation in October, where they will go through three games and from there the five teams, two Canada Winter Games teams and three Arctic Winter Games teams will be identified at that point.
"It's a busy year."
"For girls we currently have 19 here today and I think boys we're at 28," Strand added.
"Canada Winter games is typically a U16 age group. So 2007's is the primary age but because we are a small jurisdiction, we are allowed three overage players, so we're allowed to bring three 2006 players to Canada Games ... we have opened up the trials to include 2008 and 2009's as well for the males.
"For the females, it's 2004 to 2010 and we're allowed our three over-agers, which is actually our three 2004 kids."
Boys team coach Derek Klassen said the first day of tryouts was good.
"Good tempo. It was good to see a lot of the kids. Obviously, a lot of us have been around them for years and years, so it's always fun to get out there as they get older and I thought it was pretty good."
14-year old phenom Gavin McKenna, the first Yukoner chosen first overall in the Western Hockey League draft, was quite noticeable because of his skating skills and wicked shot. Klassen was asked whether McKenna was a lock for the team.
"I would say so, yeah. Pretty special player, for sure, so pretty cool that he's playing for Team Yukon and gets to represent the Yukon so well. Obviously nice to have a kid like that on your team.
"He doesn't even look like a 14-year-old out there. It's pretty awesome."
"I thought everybody looked good, considering it's July. It was fun," Klassen added.
Strand said that there is a spot open for McKenna.
"We do have the ability to go with the policy that we can assign players and I think anybody in Yukon would be crazy to not think that Gavin is going to be part of the Canada Games team but I think it shows a lot of class on his part to still be here and participating in the process with all the other players."
McKenna himself thought it was a good experience.
"It was obviously really fun for me, getting to play with some different guys, having played with the same guys all year, so yeah, it was fun."
McKenna said the talent level was "quite a bit better than I expected. I've played with most of these kids growing up and coming back and seeing how much all of them have improved – it's pretty good."
As for his chances of making the team, "I think they're pretty good," he chuckled.
Next up for McKenna is more travel.
"I think after this I'm gonna head down to Michigan for a couple weeks to train up there and then come back home for a week or so and then head down to Medicine Hat for the year."
McKenna's mother Krystal was also at the rink.
"It's fun. It's nice to be back at the rink and see some familiar faces. It's nice to see the girls on the ice and the boys and everyone having a good time. It's great."
Needless to say, she thinks that Gavin has a pretty good chance of making the team.
"Well, I hope so," she laughed. "I think he's excited and looking forward to seeing what the team brings."
Kasey McKenna, Gavin's younger sister, attended the girls' tryouts.
"She's not quite sure how she's gonna make out there ... she wants to do the games and feels like she'll do better out there," said her mother. "She can show her skills – the hard work and all that stuff out there."
She added "It's exciting. It'll be nice to see what these teams – what happens with them and how they do."
The girls followed the boys onto the ice. Alix Walchuk (aka "The Wall") was one of the netminders.
"I think it went pretty well. I'm a little rusty ... I haven't been here in a while, so it's good to play with my buddies again."
As for her chances of making the team, "I think they're pretty good, said Walchuk. "I've played out(side) for a while, so I think they're decent but I don't want to say anything, cause cuts haven't been made and the team hasn't been confirmed."
Len Walchuk was there to watch his daughter play.
"It's great. I haven't had a chance to watch her very much this year at all."
Walchuk said Alix had a "great season. It was in Kelowna with the Rink Academy and she was in the development part of the program and played some good games and played with the U18 girls but also filled in for U17 boys and U16 boys, so she had a lot of activity and a lot of goalie training, so she had a very good year that way."
Walchuk said a change of address is in store for his puck-stopping daughter.
"She was planning on staying in Rink, but the oldest goalie didn't time out – she was a Swiss national goalie ... she's decided to stay another year, so Alix is moving over to Delta (Wild Hockey Academy) and she's gonna get a starting position over there," related the elder Walchuk.
"She's really excited about that," added her father.
Add your comments or reply via Twitter @whitehorsestar
In order to encourage thoughtful and responsible discussion, website comments will not be visible until a moderator approves them. Please add comments judiciously and refrain from maligning any individual or institution. Read about our user comment and privacy policies.
Your name and email address are required before your comment is posted. Otherwise, your comment will not be posted.