Photo by Vince Fedoroff
MORE SPINACH PLEASE – Sidney Stahl, on Popeye, races to the finish.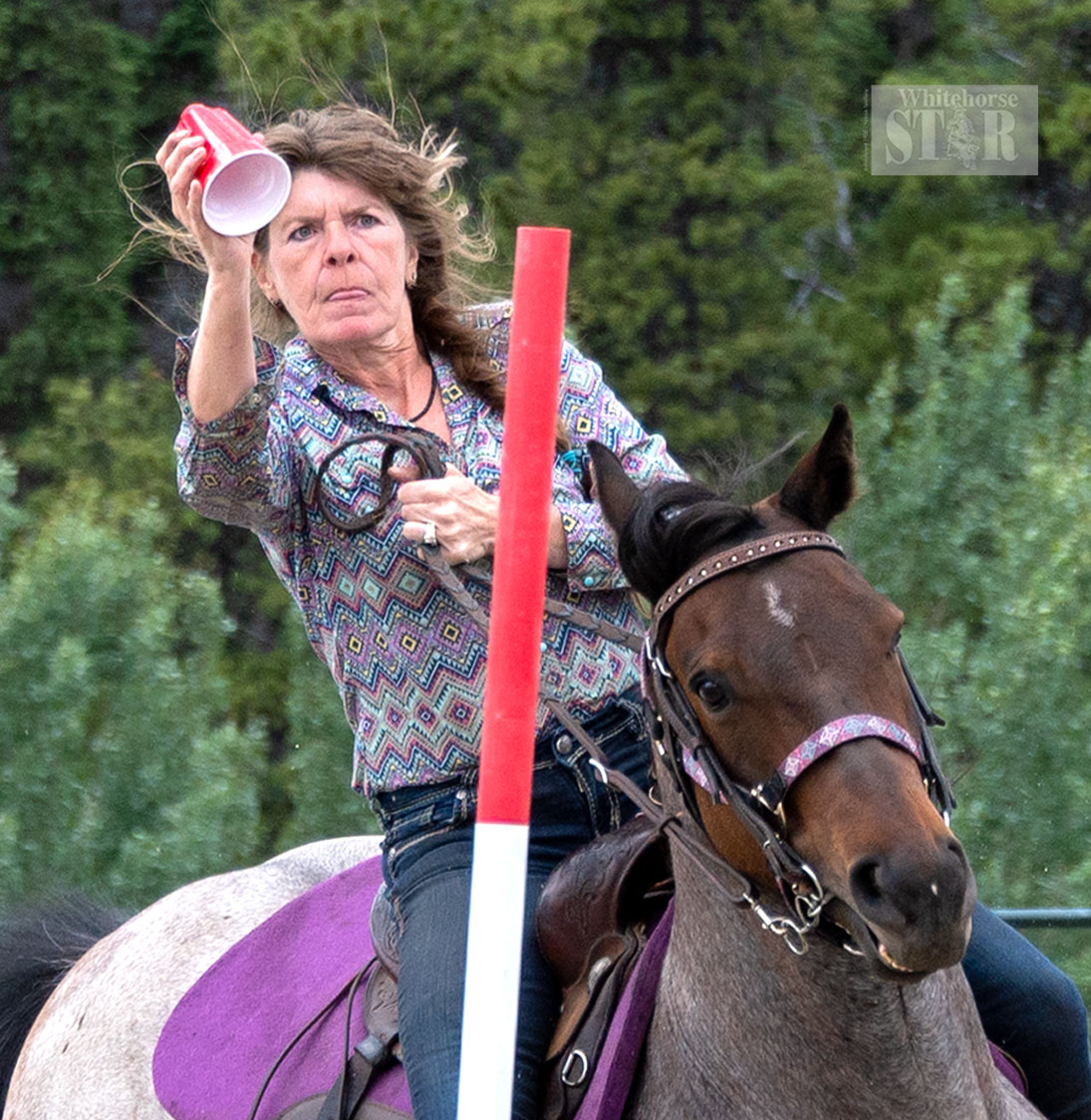 Photo by Vince Fedoroff
CAREFUL PLACEMENT – Mary Ann Maranda Halliday on Acer Dee Bar in the cup race.
Photo by Vince Fedoroff
STEP CAREFULLY – Bailey feels a need to inspect the jump before proceeding with Heidi Miller.
Photo by Vince Fedoroff
INTO THE STEW – Elissa Hoyt, on Candy, takes part in the Veggie Stew event.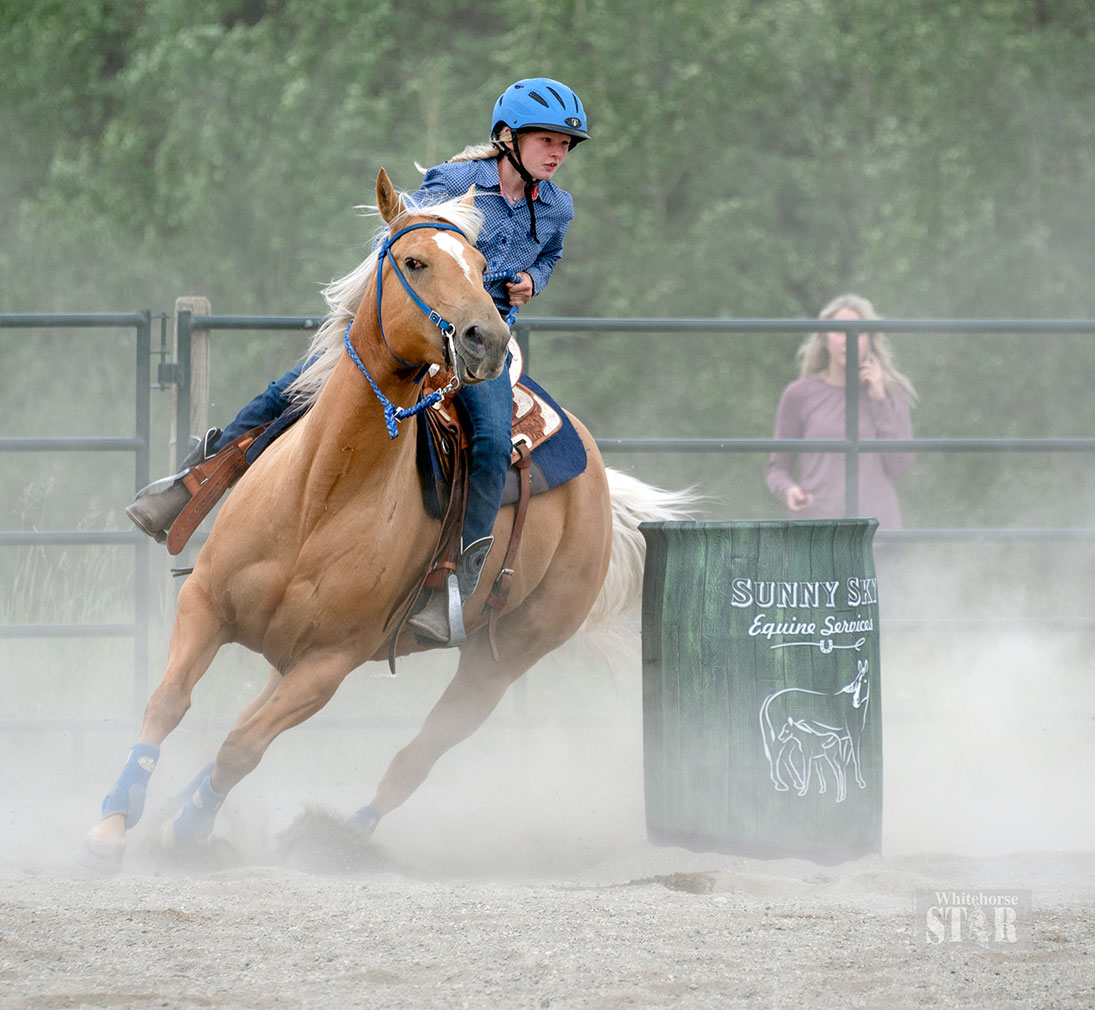 Photo by Vince Fedoroff
ROUND' WE GO – Olivia Halliday clears a barrel in the barrel race.
Sunny Sky Equine holds gymkhana
Sunny Sky Equine Services held a gymkhana this past weekend on their property near Whitehorse.
Sunny Sky Equine Services held a gymkhana this past weekend on their property near Whitehorse.
Sunny Sky owner Angelique Bjork has 10 horses of her own, and a donkey. She normally competes with three of the horses – but not the donkey.
"I usually take three of them out to Smithers and New Hazelton (BC)…do some rodeo and showing with them." Tulsa, Arrow, and Jackson are the horses Bjork uses for competitions.
Bjork explains the gymkhana.
"I've been organizing the gymkhana for about 12 years now…what it is is basically speed on horseback, so games on horseback, and it's timed. There's typically about eight to ten different games in a day. I have all ages. I have some kids that start at two years old, up to seniors. We have three different categories: pee wee, juniors and seniors. We welcome anybody, so it can be beginners to experienced riders, so everybody gotta start somewhere, is kind of why I put these on. So we have different levels of horses, different levels of riders.
"We like to start our young horses at this gymkhana, because it's not stressful, it's not a big stressful environment, before we haul em out to a rodeo, per se. So it's a nice place to come and introduce them to a crowd and other horses, and get in a groove."
As for how it went this past weekend… "It was awesome.", says Bjork. "We had the perfect weather. It was 19 and had a breeze, it wasn't too hot, it wasn't too cold, it wasn't raining, so yeah, weather was great.
"We had 28 riders this gymkhana, it just went really smooth, nobody got hurt – that's always a plus. And everybody seemed to have lots of fun, and the horses all did well."
Bjork was able to hold events last year despite the pandemic.
"I was lucky enough to still put them on last year. I waited until later in the year until the restrictions were lifted. So I was able to have them. I kept them small, and tried not to advertise too much so we wouldn't get spectators. Normally I would advertise so that we would have spectators in the horse industry that can come watch. Because of COVID, I haven't been advertising, because we're trying to keep things small, and kind of just our group areas, kind of our bubble, I guess you could say, in the horse industry. So I was able to do them. They were a little bit lower key than usual… but luckily I was able to keep going.
"I have two a year and they run like a championship, so they earn points in the first and second one, and we combine points at the end of the second one, and we have championship blankets and crowns and championship winners."
They will hold one more gymkhana that will take place sometime in August. They also have one big event left on the calendar.
"I am planning on traveling at the end of August to Smithers… as long as it's still going. It's somethin' to look forward to, it's kind of the end of the year big event for us. It's a big fair, so they have a rodeo and a horse show, so it's pretty big…. so it's nice to haul out and finish our season that way."
Add your comments or reply via Twitter @whitehorsestar
In order to encourage thoughtful and responsible discussion, website comments will not be visible until a moderator approves them. Please add comments judiciously and refrain from maligning any individual or institution. Read about our user comment and privacy policies.
Your name and email address are required before your comment is posted. Otherwise, your comment will not be posted.