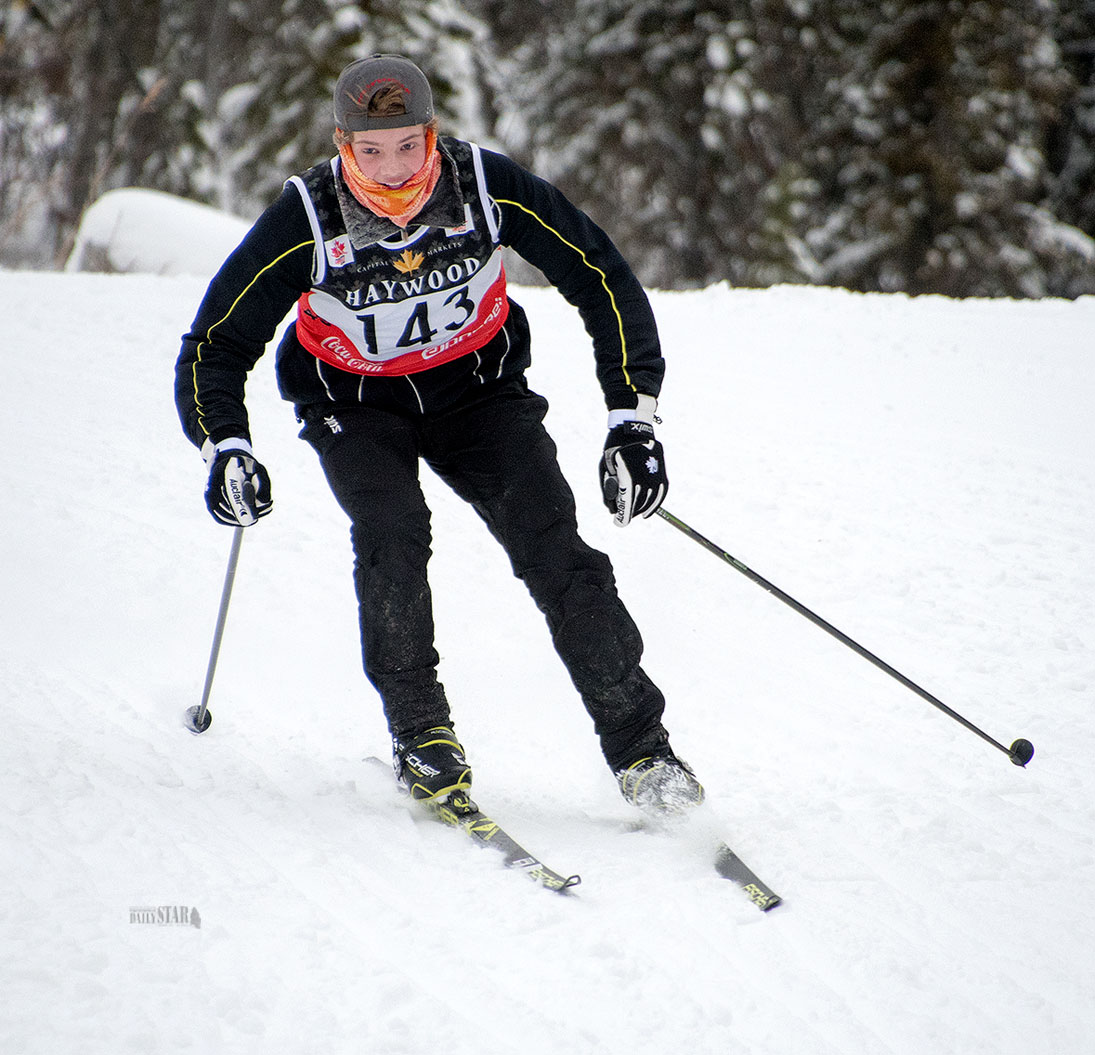 Photo by Vince Fedoroff
GLIDING FORWARD – Junior boy competitor Nicollis Schmidt.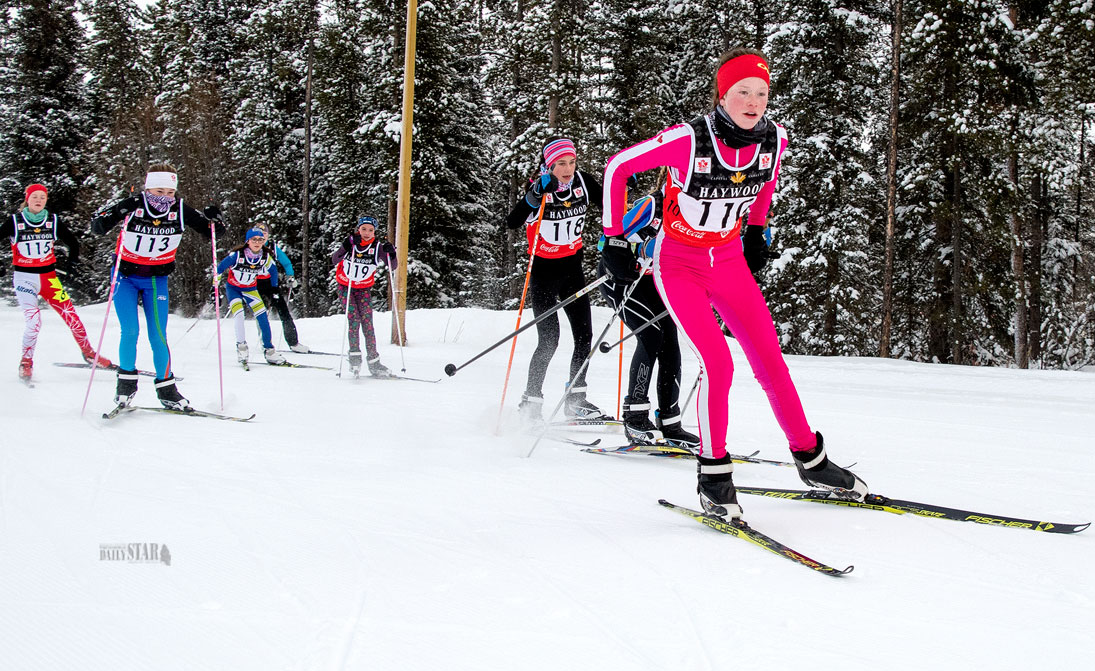 Photo by Vince Fedoroff
Midget female competitors near the start of the trial race.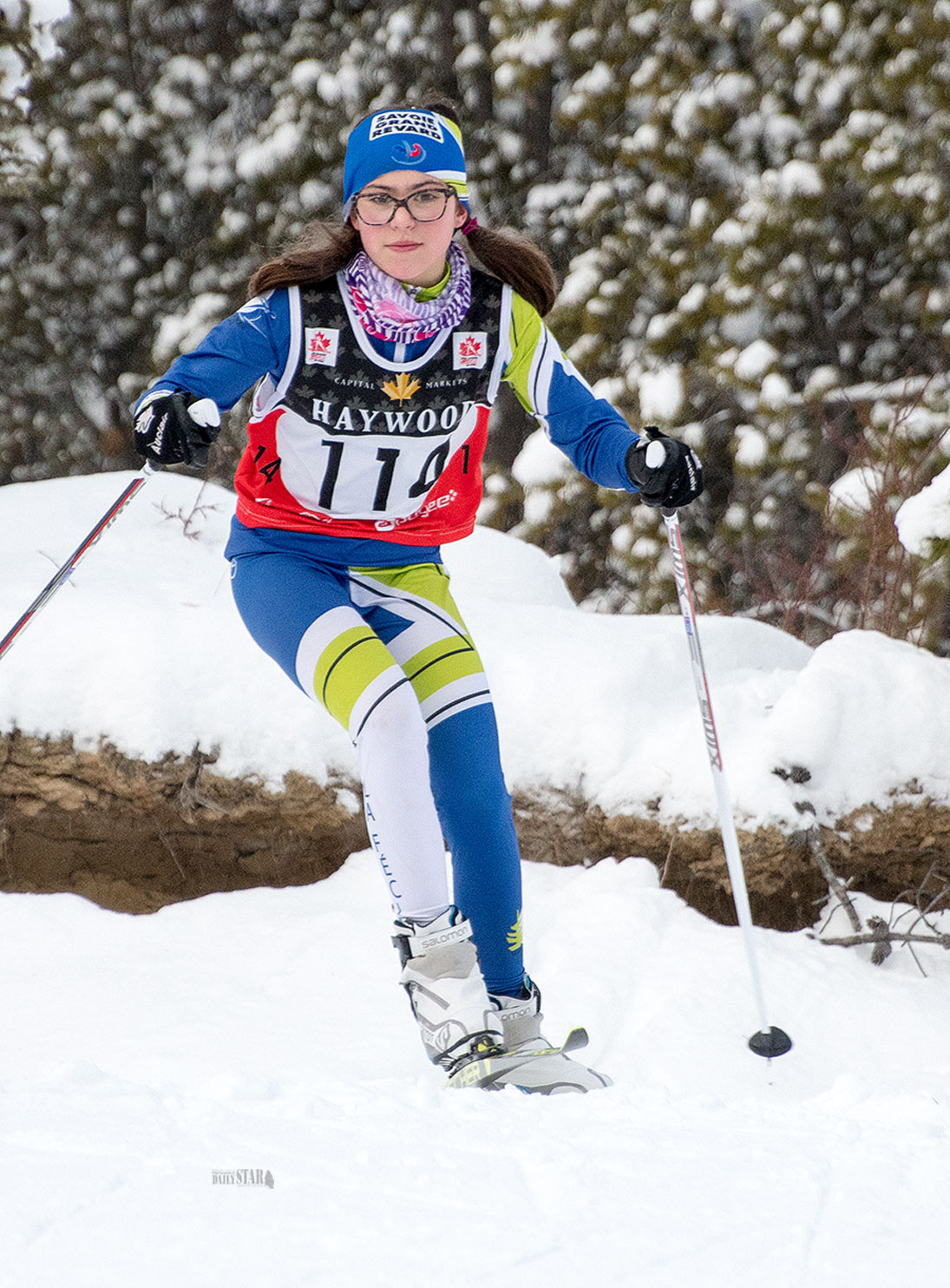 Photo by Vince Fedoroff
Midget female racer Sophia Giagrande.
Photo by Vince Fedoroff
The midget male racers ski in a tight group on a straightaway.
Photo by Vince Fedoroff
Jamie Phillips speeds through a downhill portion of the Arctic Winter Games trials free skate technique race Saturday afternoon on Mount McIntrye.
Ski team looking to send 22 strong to AWG
Cross Country Yukon is hoping to send a large contingent of 22 athletes to the Arctic Winter Games following their trial races on a wacky weather weekend.
Cross Country Yukon is hoping to send a large contingent of 22 athletes to the Arctic Winter Games following their trial races on a wacky weather weekend.
Consisting of two races over Saturday and Sunday, the races at Mount McIntyre were for a spot on the Yukon AWG team heading to Hay River and Fort Smith, N.W.T in March.
Each age division competed in two races, the free skate and classic techniques, with the race times combined for an overall score.
Cross-country skiing is one of the larger sports at the Games and allowed the largest contingent of athletes for individual sports.
This is because the sport includes a younger midget division and therefore has three age classes. Teams are allowed to send four athletes in each of the three divisions both male and female totalling 24 athletes.
Cross Country Yukon head coach Alain Masson told the Star Tuesday that following the trials they have nominated 22 athletes for the team and they have until today to accept their position.
Masson said some athletes have also been participating in trials for other sports so they have to make the choice as to what sport they wish to compete in as athletes are only allowed to participate in one sport.
The way the trials worked out for the club, they had more than enough midget competitors with six male skiers and eight female racers, the most out of any division.
But in the older age groups, aside from the juvenile male division, the trials had less than the maximum of four athletes.
Masson said to allow some of the midget and juvenile athletes who didn't make the top four in their respective races to make the Games, they are able to move athletes up one age category.
This is beneficial, Masson said, specifically on the female side where they had many midget racers but only two juvenile competitors.
So two more midget racers will be able to make the team with two moving up to compete in the juvenile competition to fill the two open spots.
"We're allowed to move up the athletes one category and with midget girls we had lots of participants so we would be allowed to move a couple girls into the juvenile girls category to fill up," Masson said.
But since there were only two competitors in the juvenile age range, no one will be able to move up to fill the two vacant spots in the junior category, which only consisted of Amanda Thomson and Hannah Jirousek.
The weather posed a challenge for the races, said Masson, who recently returned from the Canadian trials and team selections in Quebec and missed most of the deep freeze of cold weather.
With those cold temperatures, Masson said they were worried about not being able to host the races because of the chill and their rule was that it couldn't be below -20 by race time.
This fear changed on the dime from too cold to too warm when a melt hit Whitehorse over the weekend leading to a challenging day of racing on Sunday.
"It was crazy because last week we were worried about not having trial races as it has to be -20 or warmer," Masson said.
It was also the classic race on Sunday requiring tracks for the skiers, but Masson said they worked hard to maintain the course and everyone was able to compete in the individual start second race.
"It was challenging for waxing, but we got everybody a decent ski and they were able to ski to their potential," he said.
"It was challenging but we made it."
Even with the rainy conditions, Masson counts themselves lucky they were able to complete the races and the warm front didn't hit sooner as the trails lost so much snow between Sunday afternoon and Monday and "took a beating" that they would no longer be able to race.
The trails lost so much snow due to the rain and warmer weather that for the second time skiing is a challenge and they again find themselves waiting for another dump of snow.
With no other major competitions at the time of the Games, all of the ski team competitors in the eligible age range were able to compete at the trials and can attend including Thomson who recently competed in the national junior team selection trials in Quebec.
At the 2016 Games, the Yukon won 14 cross-country skiing medals, including six gold, finishing second to Alaska.
Add your comments or reply via Twitter @whitehorsestar
In order to encourage thoughtful and responsible discussion, website comments will not be visible until a moderator approves them. Please add comments judiciously and refrain from maligning any individual or institution. Read about our user comment and privacy policies.
Your name and email address are required before your comment is posted. Otherwise, your comment will not be posted.