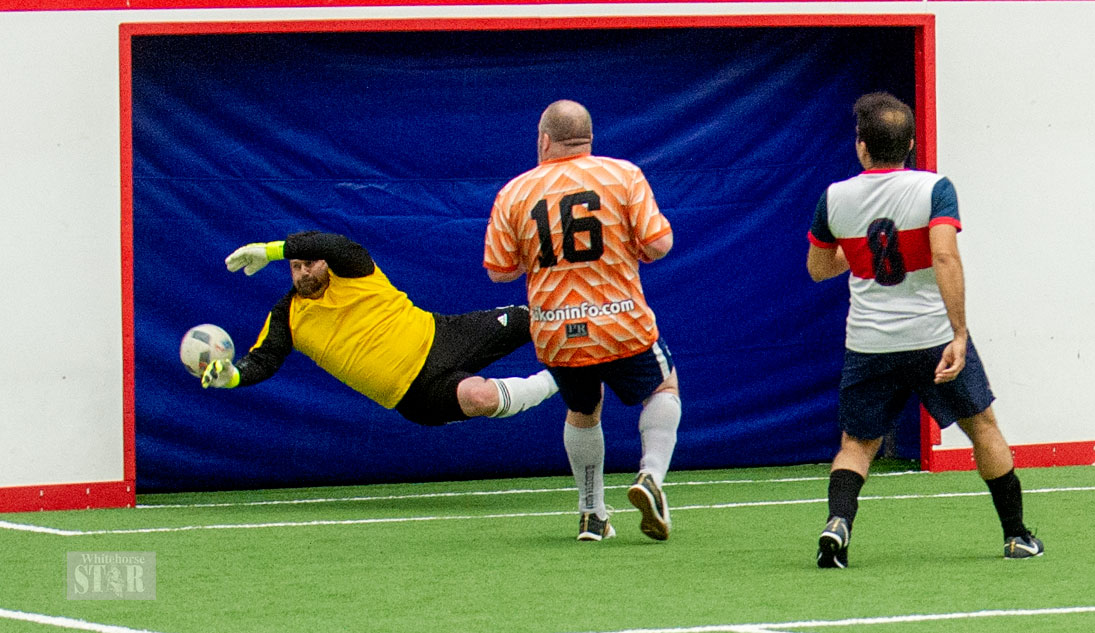 Photo by Morris Prokop
LATE LUNGE – Andy Todd (16) and Goher Hafeez watch as the ball eludes Thomas Reixinger
Photo by Morris Prokop
OFF THE POST – A shot from JP Ladroue sails past Yukoninfo. com's Jan Aalt Van den Hoorn as Brian May (10) and Huy Nguyen (14) watch the action. Yukoninfo.com won 7-5.
Photo by Morris Prokop
TAKIN' ONE FOR THE TEAM – Huy Nguyen takes a shot to the face from Andrea Lurato (6).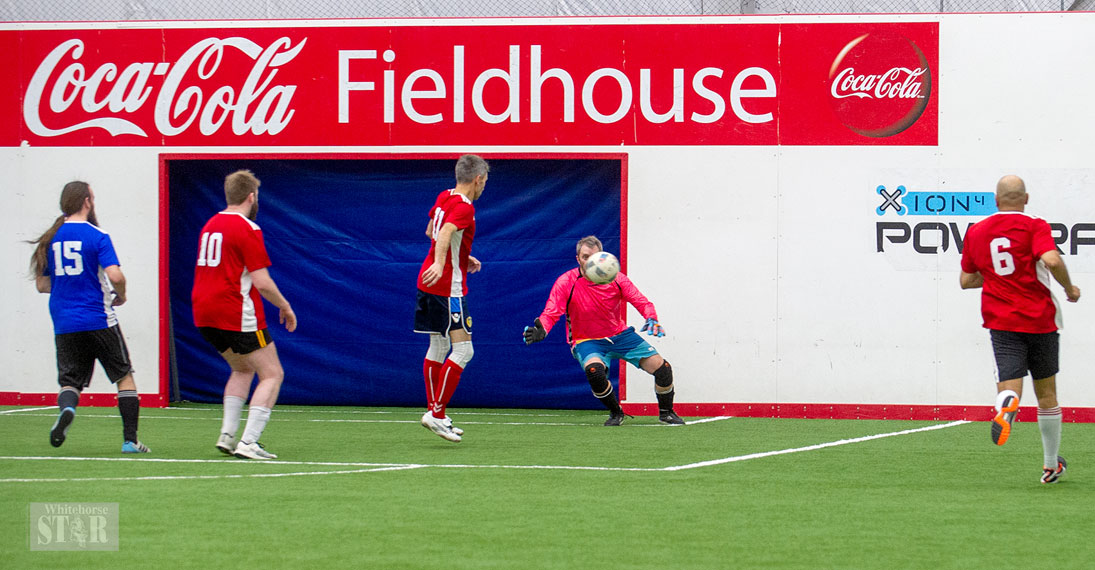 Photo by Morris Prokop
SHOT ON GOAL – Pepsi keeper Stu Knaack reacts to a shot as Martin Farrow (15), Brian Haggarty (10), Chris Stacy (11) and Adil Khalik look on. Pepsi triumphed over the Air North Rangers 5-1 for their first win in Over-35 Men's League action at CGC on Saturday.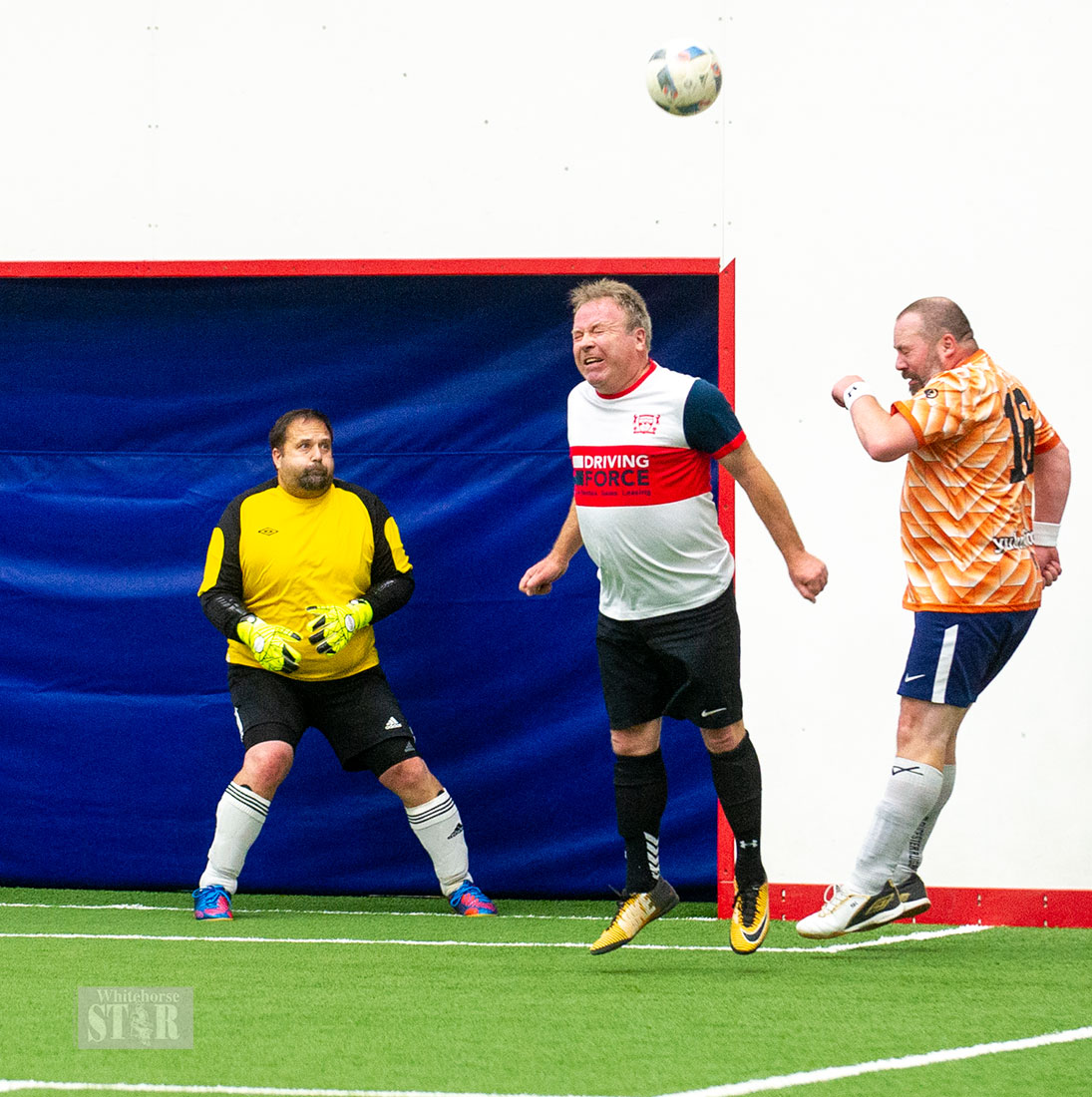 Photo by Morris Prokop
HEADIN' OUT – Driving Force's Gareth Howells heads a ball out of harm's way during a game at the CGC on Saturday.
Over-35 Men's Indoor Soccer Results
Over-35 Men's League action Saturday saw some more competitive games on the soccer pitch at the CGC. Here are the results:
Over-35 Men's League action Saturday saw some more competitive games on the soccer pitch at the CGC. Here are the results:
Hard-fought game ends even
A pulsating encounter between Yukon Brewing and Klondike Business Solutions (KBS) opened week three of Over-35 men's soccer action. These teams are evenly matched on paper, and it would have taken something outstanding to split the two teams, as the game finished tied 1-1. The work ethic of the teams was evident as they fought for superiority.
Skipper Marcello Gortari was excellent again for Yukon Brewing, pushing his team to higher levels of effort and skill.
He picked up the opening goal as well. For KBS, Greg Grady's team are hungry to be successful, and even as they went a goal down, it didn't change the way they tried to play the game. One of the unsung heroes of the league, Hector Lang, scored the equalizer as the defence seemed to forget about a man who works in the shadows.
Both teams remain unbeaten, and it seems that the league this year will be the tightest on record with the four teams setting the pace so far.
River opens the dam
River Walton, playing in his first game of the season, helped secure Pepsi their first win of the season at the expense of Air North Rangers as they ran out 5-1 winners. Walton is the piece of the puzzle that Pepsi has been missing; he brought extra speed and skill to his team, allowing to free other players up. Steve McGovern was one who benefited from Walton being there. He was able to put in a blockbuster performance, scoring a goal, setting up goals and holding his own in his personal duel with Ciaran Connelly.
Another player who enjoyed himself was Danny Macdonald who added two goals to his personal tally, and looks a good bet for the golden boot this year, with another contender, Justin Carre, picking up a goal.
For Air North, this was another game where they appeared disjointed. Captain Iain Breckenridge might be pulling his hair out at some of the goals his side conceded, as their poor start to the year continued. One bright moment for Air North Rangers was when Phil Jackson finished off a well-worked move.
Reixinger heroics not enough
for the Force
On-loan keeper Thomas Reixinger was in sparkling form for Driving Force, even though they went down 7-5 against Yukoninfo.com in the last game of the day. Yukoninfo.com started the game in a positive manner, testing out Driving Force early on, piling on the pressure that resulted in a lot of attempts on goal. Reixinger seemed to enjoy saving from his countryman Matthias Hartmann, although Hartmann did have enough shots to score three goals.
At one point during the game, it looked like Yukoninfo.com would hit double figures as Mark O Brien, Keith Maguire, Gord Barker and Eric Murphy all scored as they marched to what should have been an easy victory.
However, Driving Force, playing with a spirit unknown to humankind, and with a smile on their faces, made life very uncomfortable for Yukoninfo.com towards the end of the game, as they scored four unanswered goals and rattled the frame of the goal a couple of times, but ran out of time to get back to par. Scorers for Driving Force were, JP Ladroue with two, Matt Davidson, Guilano Rayo and Huy Nguyen.
–Submitted by Andy Todd
Add your comments or reply via Twitter @whitehorsestar
In order to encourage thoughtful and responsible discussion, website comments will not be visible until a moderator approves them. Please add comments judiciously and refrain from maligning any individual or institution. Read about our user comment and privacy policies.
Your name and email address are required before your comment is posted. Otherwise, your comment will not be posted.