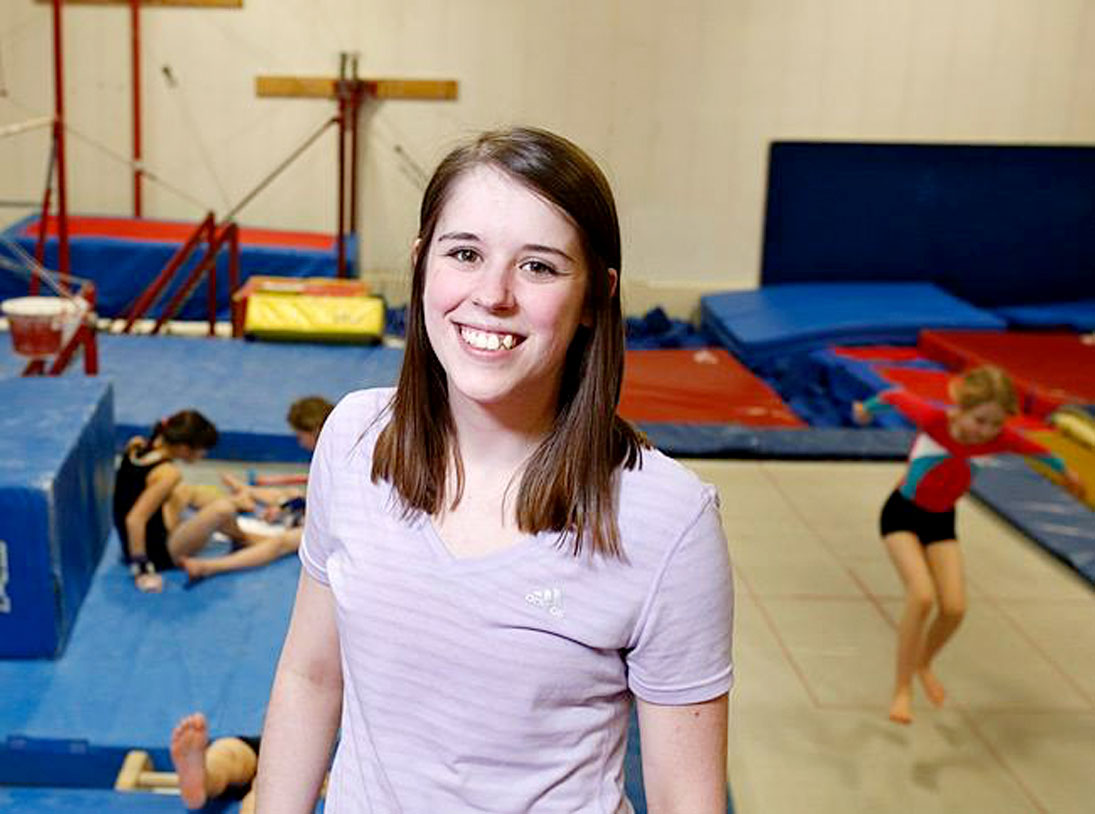 Photo by Whitehorse Star
Kimberly Jones
Gymnastics club prioritizes coaching
You might have heard this before, but youth and coaching are the keys to growing and maintaining a strong foundation in sports.
You might have heard this before, but youth and coaching are the keys to growing and maintaining a strong foundation in sports. The Polarettes and Polar Tumblers Gymnastic Club have been emphasizing the importance of their coaches acquiring their coaching levels.
Kimberly Jones has been the head coach of Polarettes for three years. She describes herself as a career coach, and her passion for teaching gymnastics started when she was a child, while still an athlete.
"I was one of those kids that was lucky enough to have an amazing coach very young," said Jones. "So my passion for coaching gymnastics started in kindergarten. So in my kindergarten workbook where you say 'what do you want to be when you grow up' mine said gymnastics coach and I never really swayed from that."
Throughout her career as a gymnast, Jones said she had a wide range of experiences with different coaches, who all helped shape her coaching identity.
"I was from a very small town with a set-up and take-down gym, very similar to Whitehorse when I first started," said Jones. "Throughout I had a variety of different coaches. I had a little bit of everything. Going into coaching I definitely looked back on all of it and I valued all of them and what they taught me about coaching and sport. I was able to formulate a better thought about the coach I wanted to be."
The positive coaching experiences Jones had as an athlete is an atmosphere the club is looking to continue upon as their reach in the community continues to grow.
"That's really a large goal of ours. I have a huge passion for gymnastics and I want to share that with the community of Whitehorse," said Jones. "Our program now has 63 competitive girls in it and last year we had 951 members of Polarettes. So we have a very big reach. So knowing that our coaches have a huge reach to the youth in our community, I want to make sure they are educated and passionate and giving the kids a really positive experience. If nothing else if they don't become gymnasts hopefully they become confident in sports."
To ensure the coaches at the club are educated, Polarettes has given them the opportunity to attend coaching clinics outside of the territory. When Jones was hired she says the board brought up two high-performance coaches from the South to do a study on the gym. The thing they found, the number one thing they can do to better sport in the Yukon is invest and really value coaches.
"Since then that's been the number one priority of the club," said Jones. "Sometimes people look at us and say 'aren't athletes the man priority of the club?' Absolutely, that's why we are investing in our coaches. The club has put a lot of resources in educating the coaches so we can build better programs, as best we can for Yukon youth."
The club currently has 13 coaches on staff, which Jones says is low for the club. The coaches who wish to do the clinics have to travel outside of the territory to do them. A goal for the club is to be able to have the coaches available in Whitehorse to teach the classes here.
"Its a very isolated place to live the Yukon. Most jurisdictions you are able to go off and do training camps, and other things with other clubs," said Jones. "The goal eventually is to have our staff actually doing the course facilitating. We are trying to build up everyone's education enough so we can keep things internal."
At the age of 13 kids can begin the coach in training program through Gymnastics Canada. Jones says the club's oldest athletes have already begun the program.
"From 13-15 our coaches do a two-year mentorship program, where they coach alongside a certified coach," said Jones. "Right now I believe we have 15 girls currently in that program, that are inspired and learning how to coach the next generation. The past two years have been about certifying the coaches on staff and now they are able to pass on that certification to the next generation."
Jones says the club goes above and beyond in training their coaches. Like most sports, the coaches work up through levels. To be able to coach an entry-level gymnastics class the coach has to go through months of certification.
"I think gymnastics in general with the NCCP (National Coaching Certification Program) program is more advanced and that is because of the complexity of our sport," said Jones. "It's high risk, very technical, it has artistic components and it's not something done much in school.
"Gymnastics Canada works with NCCP to deliver our course. As a result, our courses are typically two to three times longer than other sport courses. They require longer supervision periods after to gain certification. We have to be watched by a coach, we have to do a certain amount of hours and it has to be sent in by video to Gymnastics Canada to be approved by a facilitator. It's not an easy process, that's just to get level one. That is watching children do pre-school level gymnastics."
Coaches will often leave to pursue other goals, but when they come back to Whitehorse they often head to the gym. Jones says she hopes that the lessons, of grit and determination are carried with them outside of the gym. The club just wants them to be successful in whatever they choose.
Add your comments or reply via Twitter @whitehorsestar
In order to encourage thoughtful and responsible discussion, website comments will not be visible until a moderator approves them. Please add comments judiciously and refrain from maligning any individual or institution. Read about our user comment and privacy policies.
Your name and email address are required before your comment is posted. Otherwise, your comment will not be posted.