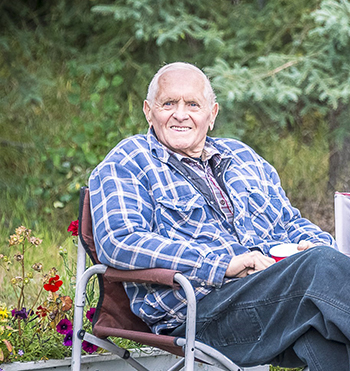 Wayne Joseph Fischer
October 31, 1942 – October 18, 2022
It is with heavy hearts and much sadness that we announce the passing of Wayne Joseph Fischer.
Wayne was born in Noranda, Quebec on October 31, 1942 to Erna and Joseph Fischer. After WWII ended the family returned to the family farm in Plumas, Manitoba and in 1951 the family moved to Winnipeg. Wayne learned early in life that hard work will get you anywhere you want to go.
Wayne married the love of his life Beverley Hudson on July 18, 1964 and in 1965 they moved west to BC to work at the W.A.C. Bennet Damsite in Hudson's Hope. From there they moved to work at a number of dam construction sites; Mica Creek, Boat Encampment and Revelstoke dam. Being an exceptional welder and mechanic of anything and everything with an engine, he was always able to provide for his family. Wayne, Bev and the boys, Charles, Trevor and Blair, lived in Pritchard, BC where he built a large shop and taught his boys all about pulling wrenches and fixing cars.
Wayne had a dream…. In 1986 he bought gold claims at Churn Creek, BC where the family ran a small gold mine and the boys learned to run heavy equipment. That venture was ultimately unsuccessful in the search for gold, but it fed Wayne's gold fever. A few years later, in 1991, Wayne and Bev sold their home in Pritchard and moved to Dawson City, Yukon – they were home! True to Wayne's fashion, they made a home and made a life – pulling wrenches, running a gas station and shop, bus service, cab service – and finally a gold mine again.
Wayne lived his life with determination and on his own terms, something he held true to the end.
Wayne left us on October 18, 2022 at 10:13 pm after his 13 Yukon family members had visited, 13 days after entering care, 13 days before his 80th birthday. His lucky number was 13.
We would like to express our sincerest gratitude to the "girls" in the chemo room for your exceptional care and compassion, to the staff at Home Care and Wind River House, and to Dr. Jamieson who has and continues to support Wayne and his family on this long journey. A celebration of life will be held at a later date.
Donations may be made in Wayne's memory to "Karen's Room" – the chemotherapy room at Whitehorse General Hospital.
Add your comments or reply via Twitter @whitehorsestar
In order to encourage thoughtful and responsible discussion, website comments will not be visible until a moderator approves them. Please add comments judiciously and refrain from maligning any individual or institution. Read about our user comment and privacy policies.
Your name and email address are required before your comment is posted. Otherwise, your comment will not be posted.