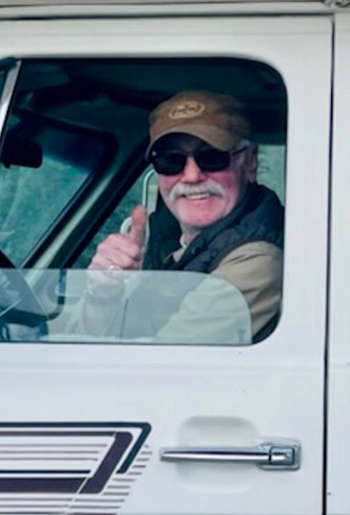 Ronald Theodore Myles
December 23, 1951 – April 16, 2023
It is with heavy hearts that we announce the passing of our wonderful brother, father, partner, grandpa, and friend, Ron.
Ron was born in the old Whitehorse General Hospital on December 23, 1951. He spent most of his working life in Whitehorse with a few detours along the way to Australia, BC, and Quebec.
Ron was known for his generosity, humour, and his willingness to help anyone in need (especially mechanically). He greatly valued his friends and loved to share wild and crazy stories of their adventures!
He belonged to the YOOP, and has a proud history of being a true Yukoner. Ron's skills ranged from mechanics and body work, to being a tour bus driver, pilot car driver, and in the past number of years, being a glazier for a few local companies. Of course we can't fail to mention that he worked side by side for decades with our Dad, Tede B. Myles, in Yellow Cabs. After Tede passed in 1988, Ron took over running Yellow Cabs eventually becoming the sole proprietor.
Ron was a motorbike enthusiast and enjoyed many road trips with various biking buddies. He also travelled extensively with his partner, Debbie (which included camping and canoe trips throughout the Yukon).
Ron is survived by his partner of 25 years, Debbie Alexander (and her family), daughter Veronica (Roni) Whalen, her husband Larry and daughter Bernadette (Calif), his sister René Myles (BC), brothers Eli Myles (AB) and Bob Myles (Australia), along with many cousins, nieces and nephews. Ron is predeceased by his parents, Tede and Helen Myles, sister Phyllis Koch, and daughter, Joanna Helen Myles.
There will be no service or celebration of life per Ron's wishes. Think of him fondly as he does his final bike trip 'down the Golden Highway'!
Add your comments or reply via Twitter @whitehorsestar
In order to encourage thoughtful and responsible discussion, website comments will not be visible until a moderator approves them. Please add comments judiciously and refrain from maligning any individual or institution. Read about our user comment and privacy policies.
Your name and email address are required before your comment is posted. Otherwise, your comment will not be posted.