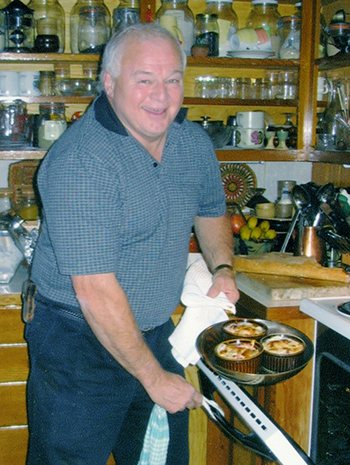 Regent THERRIEN
January 30, 1948 – May 10, 2022
After a lengthy time with health complications, Reg passed at the young age of 74, in the arms of his wife.
He enjoyed three weeks of retirement before going to Mexico where he was finally warm, and said good-bye to this world.
Reg comes from a family whose ancestors go back to 1656 when two Therrien brothers sailed to New France from La Rochelle, France. Born in Montreal, Reg was the youngest of eleven children. He lost his father when he was only six years old to a drunk driver.
He had always helped his father on payday counting out the change that went in envelopes for each of the staff. Reg's first business was selling bleach in small bottles carried on his little wagon when he was about seven, to the housewives along the street. When he was of age, he joined the Canadian Air force in hopes of learning to speak English.
That was the year that a French speaking regiment was formed. Reg learned how to fly many different types of aircraft. Upon leaving the Force with an honourable discharge, he was able to hitch a ride on a Canadian Air force plane bringing dignitaries to the Yukon. When he deplaned, the Midnight Sun Pipe Band was playing. Reg thought this was a wonderful welcome to Whitehorse, so he stayed.
Reg worked at a few mining camps, was a geologist's assistant and helped build the Dempster Highway to the Arctic. He could operate many different kinds of equipment. Reg got to witness a huge caribou herd passing around him while he sat on the roof of his truck having his lunch out there on the tundra.
Reg opened and operated the very successful Monte Carlo Dining Room for ten years. It was recognized as one of the top restaurants in Canada. The Monte Carlo catered to many special guests over the years including the Governor General, Prime Minister, Princess Anne, writers and actors, and the Montreal Canadian Hockey Team; however in his mind, every customer was important to him. 
In 1983 he owned and operated Peacock Sales for thirty-nine years before retiring. During that time, he was President of the Klondike Visitors Association for two years. He successfully organized the first Yukon Economic Conference for small business owners. Reg believed that small business and tourism were the backbone of the city, the Yukon, and the country.
Reg had a wonderful sense of humour, was not shy and never boring. Sometimes a playful mischief maker and full of surprises. The attention he gave to his cooking skills and presentation always seemed so perfect. He also was a good singer and a wonderful dancer. A man of many talents.
Stone masonry was fun for him. He built stone walls, stairs and stone sidings. He could fix most things or know when to call the experts. Reg enjoyed taking his old 1930 Ford Model A for a drive. He called the car "Henry." And he loved to be out on the lake in his boat, fishing, but he rarely caught any fish. Through all that life sets for us, Reg was never a quitter, always found a way to carry on. Brave and dependable and never gave up until the end.
Reg is survived by his wife Joyce, and two stepsons, Ashley and Richard Andersen and their families. Also many Therriens: brother Pierre, sisters Micheline and Colette plus many cousins, nieces and nephews. He enjoyed spending time with his grandson, Maxwell Andersen. Reg and Joyce were together for fifty years less a month.
They worked together for forty eight years, side by side. He was one of a kind.
Reg Therrien did not want a funeral or a celebration of life. His ashes will be dedicated by the family at a later time.   
Add your comments or reply via Twitter @whitehorsestar
In order to encourage thoughtful and responsible discussion, website comments will not be visible until a moderator approves them. Please add comments judiciously and refrain from maligning any individual or institution. Read about our user comment and privacy policies.
Your name and email address are required before your comment is posted. Otherwise, your comment will not be posted.