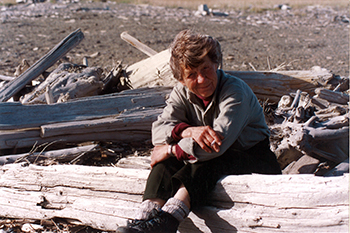 PEGGY CURTIS
December 16, 1925 – December 4, 2021
Peggy Curtis died in Victoria, BC, twelve days short of her 96th birthday. A tireless campaigner for causes close to her heart, Peggy stubbornly clung to life through her nineties as dementia steadily shrank her world.
Born in Kamloops, BC, Peggy grew up in Vancouver, where her teaching career began in 1944. In 1962, with her 11-year-old son in tow, Peggy moved to Inuvik to teach for a year. Feeling that she "could do a better job" the following year, she opted to renew her contract. In 1974, with 25 years of classroom experience behind her, Peggy retired from teaching. Her love of the North and its inhabitants only grew through the following decades of her 35 years there, during which she put her energy into promoting sports and recreation in general, while maintaining a personal focus on cross-country skiing and badminton.
Peggy is survived by her son Ted (Jeannine Alain) in Saskatoon, SK, grandson Gabriel (Alexa Purdie) in Victoria, granddaughter Pilar in Wellington, NZ, and niece Dale Yamada (Tash) in Richmond, BC. She was predeceased by her parents, Edmund and Elizabeth (Lewis) Treasure, her brother Eric, and her nephew, Christopher Treasure (Leslie).
Peggy's avian friends leave you with "Advice from a Raven … be curious, use your wits, don't be a picky eater, make your voice heard, and don't let life ruffle your feathers*." In her honour, spend time outdoors with your family, year-round.
Photo: "Time to contemplate" on Herschel Island, after a commercial rafting descent of the Firth River.
Recollections and enquiries welcomed by Ted at tcinuvik@gmail.com
_*Credit: 2014 https://YourTrueNature.com_
Add your comments or reply via Twitter @whitehorsestar
In order to encourage thoughtful and responsible discussion, website comments will not be visible until a moderator approves them. Please add comments judiciously and refrain from maligning any individual or institution. Read about our user comment and privacy policies.
Your name and email address are required before your comment is posted. Otherwise, your comment will not be posted.