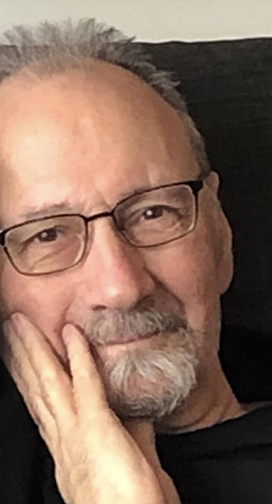 Paul Scott Stephens, aged 69, passed away July 28, 2022, after a short battle with cancer. 
Paul was a devoted husband to Maureen Stephens, and loved his family, including Paul Porter (Jillian), Tyler Stephens (Anna), Taryn Stephens, David Waloshuk, Paul Waloshuk, David Blaker, and grandchildren Lauren, Eddy and Jason. Paul also leaves behind his sisters, Sheralyn Nault (Allan), Jodi Eppler (Paul) and Sharla Wiens (Kai) as well as many nieces and nephews. 
Paul will be remembered as a talented bassist and singer, and as a kind, gentle man, rich in friendships. He played in numerous bands and musical projects over 50 years in Whitehorse and Vancouver Island. It all started, however, with a small garage band as a young teen, with his best friend, Allan Nault in St Catharines. They played for their families and school dances.
Paul was pleased to be included in a recent musical project produced by Matthew Lien. This project showcases a variety of the musicians that Paul considered his musical family performing  I'm Gonna Pray.  You are invited to enjoy this music at  https://youtu.be/YvM3vdbNl0k In the last days of Paul's life, he was surrounded by family, friends, his favourite music and love. The following poem captures some impressions of the emotions in the room alongside some of those recognizable songs; from John Prine, and from Jim Papp on a song created with Paul, through to Donald Fagan from Steely Dan. The music of Paul's life guided him through to the other side. 
Rest In Peace, dear Paul. The last word is love. 
Road Music
Hidden behind an opiate wall
Floating on a shimmering cloud
You watch us through the veil
Somewhere down the crazy river, said Robbie
Eyes wide open
Not interested in death sneaking up  Do you see us? We are here.
Hello in there, said John
The liquid fidelity of a perfect note  Washed ecstasy across your face
Pushing fresh tears to our eyes
Come away with me, said Norah
All your traces are here, smudged together
Patterns dance on your fingertips
Let's sing a song together
Do do, do do dah dah, said Jim
Your essence crystallized to eyes, ears, hands
A beating heart
One breath, and another, and
I just had to let it go, said John
The passage awaits
It shines with the love of familiar faces
Let go and dance
Across the universe, said George
Prepare a place for us
Get that sister in tune
We'll be along shortly to find you
Home at last, said Donald
Author Anne Farrer
In lieu of cards or flowers, please donate to  https://artscancircle.ca/
Add your comments or reply via Twitter @whitehorsestar
In order to encourage thoughtful and responsible discussion, website comments will not be visible until a moderator approves them. Please add comments judiciously and refrain from maligning any individual or institution. Read about our user comment and privacy policies.
Your name and email address are required before your comment is posted. Otherwise, your comment will not be posted.