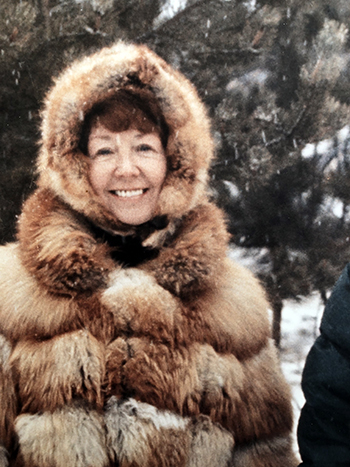 Patricia Doreen "Rusty" Erlam (nee Metson)
December 3, 1923 ~ August 4, 2023
Rusty was born on the family farm near Parkman, Saskatchewan. It was a hard scrabble existence and her father, Pete, soon packed up the family and moved to Winnipeg, Manitoba.
In school Rusty showed a flair for writing and the dramatic arts and as a 15/16 year-old she had many short stories and plays published in the Winnipeg Free Press.
Later, along with regular classes at Winnipeg College, she studied elocution and dramatics under Jean Wallace Linton who ran a prestigious acting studio.
WW2 changed everything of course, but it was in the first few months that Rusty would meet her future husband Bob. He was a soldier-in-training at Fort Osborne barracks and she was employed as one of sixteen "elevator girls" at the Winnipeg Hudson's Bay Company store.
One afternoon she was standing in the park waiting for a girlfriend and it started to rain. "There were two soldiers nearby: one cute guy with curly red hair and another guy, older, wearing glasses," she said. "The older soldier, the one in glasses, walked up to me and said:'Never let it be said that the days of chivalry are dead. Milady, my cape!' and he swept his army-issued gas cape around my shoulders. And that was my introduction to Bob Erlam."
She invited him to come for dinner the next night–-and told him to bring his cute friend too! Bob, of course, arrived solo but, wisely, had two gifts; flowers for Rusty and chocolates for her mother.
"Old," glasses-wearing Bob was 23. He went overseas a few weeks later but he had Rusty's address in his pocket.
Too young to join the forces Rusty dutifully tended the elevators at the Bay and was ecstatic, two years later, when she was asked to become a member of the Hudson's Bay Beaver Concert Party. It was a large ensemble that traveled throughout Manitoba entertaining troops at various training bases.
She held the post of Mistress of Ceremonies and, as well, played the 'straight man' for the comedy acts. Many of the people she worked with became lifelong friends and her auburn hair soon earned her the nickname 'Rusty'.
Finally, the war in Europe was over and she received a telegram from Bob who was preparing to return to Canada. "We had exchanged hundreds of letters over the war years," she explained, "and he asked me to marry him. I hesitated only for a moment then answered—Yes."
In July 1945 they were married in her parent's backyard in Winnipeg. A small wedding with show troupe friends and family to witness. The newlyweds then left by train for Calgary, Bob's hometown.
The next year their son, Paul, was born on the first day of summer — the solstice— and Rusty, ever after, would quip: "You're telling me it's the longest day of the year!"
Calgary was filled with men looking for work so, the following year, encouraged by Bob's old army sergeant who was already there, they up and moved to Whitehorse, Yukon.
They embraced the frontier town's gung-ho spirit and Bob found work whenever and wherever he could. For fun they joined the PTA Drama Society where Rusty both acted in and directed the group's plays.
In early 1953, Rusty, Bob and several others, formed the Whitehorse Drama Club and for the next 15 years Rusty directed or acted (or both) a slew of comedies and dramas while Bob supervised the scenery and lightning.
In the mid-1960s Bob, a jack-of-all-trades, was hired as staff artist/ photographer/advertising salesman for the Whitehorse Star, the town's weekly newspaper. At the same time Rusty landed a job writing for the territory's Yukon Travel and Publicity department. Rusty banked her paycheques and they let the savings grow. When an opportunity arose to purchase the Star, they were able to do so, becoming sole owners in 1967.
Rusty soon joined the Star staff as a full time reporter and there followed two decades of covering the news: accidents, murders, rescues, forest fires, city council meetings, and all the "hatched, matched, dispatched" articles that make a community newspaper—but there were plenty of perks as well:
Historian/newspaperman Pierre Berton occasionally dropped into the Star offices; the cowardly lion, Bert Lahr, joined Rusty for a trip to the Miles Canyon swinging bridge; fuddle-duddle Prime Minister Pierre Trudeau chatted with her about the Nahanni "headless valley"; and Lord John Hunt, leader of the 1953 British expedition which saw Tenzing and Hillary summit Mount Everest, came to the Yukon for the 1967 Centennial Climb and was interviewed by Rusty while they sat in front of his tent on Steele glacier.
It soon became apparent that any visiting author, actor, journalist, photographer, adventurer, mountaineer, dog-musher, "big-wig" politician or raving weirdo would pass through the Star's newsroom eventually, and Rusty enjoyed every minute of it.
The passing years saw the Star increase from weekly to biweekly to triweekly and finally to daily publication. The couple then opted for semiretirement, leaving the paper in the capable hands of business manager, 1/3 partner, and longtime friend Jackie Pierce.
They spent a year living in London in a flat just off Leicester Square. Rusty's love of theatre was indulged with West End productions during the evenings, and Bob's artistic leanings were satisfied through the many fine art galleries during the day.
When they returned to Canada, they purchased an old orchard near Nelson B.C. and made it their home base—then traveled some more: The Blue Train to Cape Town in South Africa, a Serengeti safari, China, Thailand, Australia, New Zealand, driving through Europe to Venice.
In 2002, after a 35 year ownership, they sold their remaining interests in the Whitehorse Star to Jackie. They continued to travel, but at a slower pace with winter trips to Mexico: San Patricio, Akumal, San Miguel de Allende. After Bob died, Rusty, always independent, decided to spend her summers at "the farm" overlooking the West Arm of Kootenay Lake, and her winters in a Nelson apartment, closer to family and friends.
She enjoyed her role as matriarch and delighted in entertaining a myriad of visitors with good food, fine wine, and her wealth of stories about the Yukon and the wonderful people she had known.
Patricia Doreen "Rusty" Erlam passed away, age 99, surrounded by members of her loving family and lifelong friends.
Rusty was predeceased by her adored husband of 63 years, Bob; her grandson Christopher; and her sister Marlene Blank.
She is survived by her sister, Phyllis Preston and brother-in-law Martin Blank of Nelson; son, Paul Erlam (Maryann) of Vancouver; grandsons James and Garth Erlam (Joni) and many nieces and nephews.
We want to acknowledge the care and support from her amazing caregivers, Val Amies, Janet Williamson and Deb Cochran who helped so much in keeping Rusty comfortable in her final years. She called you her "dream team". Dr. Kubara and Dr. McBride — thank you so much for your care and compassion.
Rusty's ashes will be interred beside those of her husband Bob in the Yukon Order of Pioneers section of Grey Mountain Cemetery in Whitehorse.
She lived her life with remarkable dedication and determination, generosity and grace. We are grateful for the many wonderful memories she leaves and the inspiration she continues to provide. With much love and great respect, whenever we pour a glass of bubbly we'll raise it high and offer a toast to a life well-lived. Cheers Rusty!
-30-
Add your comments or reply via Twitter @whitehorsestar
In order to encourage thoughtful and responsible discussion, website comments will not be visible until a moderator approves them. Please add comments judiciously and refrain from maligning any individual or institution. Read about our user comment and privacy policies.
Your name and email address are required before your comment is posted. Otherwise, your comment will not be posted.