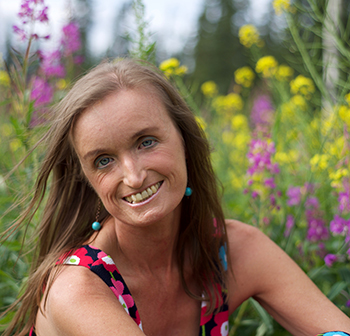 Nicole Edwards
September 14, 1970 – September 8, 2021
Nicole lived a life of open-hearted positivity, seeing the beauty and humanity in each person she met.
She was able to make a person of any age, ability or background feel important and heard. She shone brightly in her love of music, nature and children and was a dedicated 'Joy Seeker'.
Raised in South River, Ontario, by a group of strong women with her mother at the core, Nicole discovered early that art and community flourished together; by the time she was a teenager, she was an organizer as well as a performer. Her passion grew through travel, university and an eventual move to the Yukon in 1997. Here, she founded B.Y.T.E (Bringing Youth Towards Equality) and inspired a generation of Yukon youth to 'Be the change' – work that would earn her a Meritorious Service Medal from the Governor General. She was also a founding member of Yukon Women in Music. The release of her first original album in 2001 coincided with a diagnosis of scleroderma. With her husband Lee at her side and much determination, Nicole learned to adapt to chronic fatigue and pain. Her prime vocation remained community service through the arts, supporting and mentoring other musicians. She delighted in blurring genres in her own music, always staying true to her voice with titles like 'Love, serve and uplift' and 'Apathy is boring'. She found particular joy in performing and recording in French and Spanish, and was recognized in the book 'Franchir l'espace, la musique de l'Ouest et du Nord canadiens'.
In 2017, Nicole performed a benefit concert that would be her last. As her symptoms progressed and life became increasingly difficult, she continued to serve, advocating for trauma-informed, person-centred care and generating a repertoire of songs and resources for mindfulness education.
Thanks to the advocacy of those who came before, Nicole was able to obtain Medical Assistance In Dying after years of suffering. She chose to end her journey beneath her favourite aspens in her garden in Mount Lorne, Yukon. She was surrounded by flowers and  symbols  of people she loved. She was pre-deceased by her father, Don Edwards. She is survived by her husband Lee Close, mother Margaret Edwards, sister Laurel Lamb (Doug Lamb) and brother Richard Edwards (Suzanne Jackson).
Much gratitude to the many practitioners, support staff, volunteers and friends who supported Nicole through her years of illness and to the compassionate doctors who attended her passing.
For those wishing to remember Nicole, please share her music and mindfulness resources https://www.nicoleedwardsmusic.com. Donations may be made to B.Y.T.E.'s leadership fund.
A private Celebration of Life will be held on September 26, 2021, with livestream available. 
Add your comments or reply via Twitter @whitehorsestar
In order to encourage thoughtful and responsible discussion, website comments will not be visible until a moderator approves them. Please add comments judiciously and refrain from maligning any individual or institution. Read about our user comment and privacy policies.
Your name and email address are required before your comment is posted. Otherwise, your comment will not be posted.