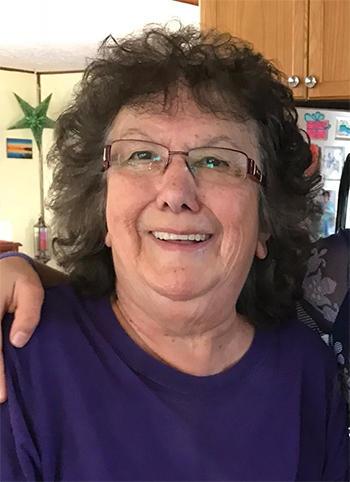 Monica (Monnie) Irving (nee Broomfield)
August 16, 1943 – April 12, 2022
Monnie was born in North West River, Labrador and grew up in Happy Valley but spent the last 50 years in the Yukon.
Monnie enjoyed the simple aspects in her life. She loved baking homemade bread and making partridge berry jam. Christmas was an important time for her; she loved wrapping presents, seeing her family and baking pies. The gift of giving was something she firmly believed in. She was great with children; her day home was a source of joy for many Yukon kids.
She worked at the Hudson's Bay Company in her younger years. Monnie had a musical ear and played the keyboard and accordion in her family band called 'The Little Boppers.' She met her husband, John, on the American Base in Happy Valley while playing in the band.
She loved her family back in Labrador and did not let the distance make them any less close; she wrote letters, sent cards and kept in touch over the phone. Each summer she would travel 'back home' to Happy Valley, Goose Bay, and often brought friends or family from Whitehorse with her to share her hometown and her family with them.
Monica loved her house and lived in it for 40 years. Her walls are decorated with photos and paintings; they tell the stories of her family, in particular her grandchildren whom she cherished. Her living room is the source of many fond memories for all who knew her.
In Whitehorse, Monica had many friends, but some of her closest were from her walking group. She would walk five days a week with Jeanette, Elaine and Peigi. She cherished those walks with 'the girls' and their many Skagway road trips, and trips to the Bluegrass Festival. Len and family, Ann, Gerry, Norm, Raven and Bunny were also close true friends who regularly looked out for her.
Monica was predeceased by her husband, John Irving, to whom she was married for almost 40 years. She also joins her parents Calvin and Dora Broomfield, and her brothers Gord and Parker in eternity. Monica is survived by her brothers Don (Audrey) and Francis, and her children: Elaine Gustafson (Kris), Cereise Irving (Cathy), and Trena Irving (Peter). She loved her grandchildren dearly and is survived by Jodi (Kevin), Brad (Jaime), Ava, Johna, and Chelsea.
Monica lives on in all of us. Her kindness, laughter, music, and joy are her legacy. She will be forever loved and very much missed.
Celebration of life to be held at a later time.
Add your comments or reply via Twitter @whitehorsestar
In order to encourage thoughtful and responsible discussion, website comments will not be visible until a moderator approves them. Please add comments judiciously and refrain from maligning any individual or institution. Read about our user comment and privacy policies.
Your name and email address are required before your comment is posted. Otherwise, your comment will not be posted.