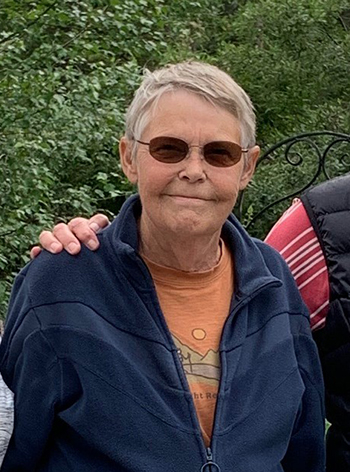 Marlene Esther LaBar
August 8, 1953 – March 1, 2022
Marlene (also known as Marly or MarBar) was born on August 8, 1953 in Winnipeg Manitoba. In the summer of 1958, Marlene and her family packed up and moved to Whitehorse, where Leroy had a job. Jean and her children, Carol, Brian, Bob, and Marlene were driven up the highway by Grandpa Enos LaBar in his Studebaker. In those days it was a long and dusty road trip!
As a teenager, she was the athlete of the family, and a formidable opponent on the volleyball court and baseball diamond. After graduation Marlene went to work at General Enterprises and then Kilrich Industries, learning carpentry and honing her skills; and in fact, was one of the first female carpenters in Whitehorse. Around 1973 she joined the family business, LeRoy Industries and worked as a carpenter alongside her father Roy and brother Brian. She was no neophyte when it came to wielding a hammer or a power saw with an expert touch.
In the early 1980's Leroy bought the shop out at McCrae, and McCrae Woodwork (in partnership with Brian and Marlene) was created. McCrae Woodwork was known territory-wide for its quality craftsmanship and exceptional cabinetry. McCrae Woodwork continued at full production until about 2013 when the shop at McCrae was sold. Marlene continued to work on and off with her brother Brian for the next several years, but once her shop was built at Army Beach, she was kept busy doing custom woodwork in and around the Marsh Lake area.
In the early 90's Marlene moved to Army Beach, sharing the cabin with her friend Gladys Hutsul. Marlene gave up baseball and discovered the game of curling. It was a sport she loved and even when she no longer played, she remained an ardent fan of Canadian curling. Over the years she transformed the cabin into a lovely home, doing many renovations, building beautiful cabinetry, adding on an addition and sundecks; and eventually building her own shop out there. She loved the lifestyle and community that Army Beach offered, and especially enjoyed and valued the friendships she developed over the years. There were many walks on the beach, walking along the trails, enjoying sunsets, games of crib and gin rummy, and visiting with friends and neighbours. She never got tired of the view of the lake. As her health declined it was her friends who stepped in to help when they could and to make sure she was doing okay. Although Marlene was fiercely independent and blunt spoken, she came to accept the help that was offered her and was grateful for her friends and family.
Marlene is survived by her sister Carol (Ian), brother Brian (Yvonne), nephew Adam (Tera), niece Ashley (Franklin) and niece Hillary (Jeremy). As well, she was a great-aunty and a great-great-aunty to numerous nieces and nephews. 
The family would like to extend their gratitude to Dr. Alex Kmet and Dr. Danusia Kanachowsky who helped Marlene through her final journey. A special thank you to the wonderful staff at WGH who were with Marlene from the beginning of her diagnosis and offered endless support. And to the staff at Wind River Lodge who provided kindness and tenderness to Marlene and her family. We are so grateful.
In lieu of flowers, donations can be made to the Yukon Hospital Foundation or Yukon Canadian Cancer Society.
A celebration of life will be held at a later time.
Add your comments or reply via Twitter @whitehorsestar
In order to encourage thoughtful and responsible discussion, website comments will not be visible until a moderator approves them. Please add comments judiciously and refrain from maligning any individual or institution. Read about our user comment and privacy policies.
Your name and email address are required before your comment is posted. Otherwise, your comment will not be posted.