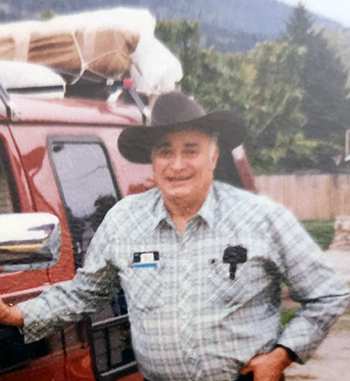 Kurt "Smokey" Guttman
October 22, 1933 – October 15, 2023
Smokey was born in Beausejour, Manitoba and after working on a few different jobs in Manitoba and Ontario, he came to Jasper, Alberta as a young man. Also working on a few different jobs there, he got a job as a Park Warden. 
 He soon transferred to Banff National Park and was at Castle Mountain (later called Eisenhower) District, working for Ed Carleton. He soon was assigned his own district and that was where he lived when he married local Banff girl Lynn Hobbs. They married and went to live in his own district, the Clearwater District.
That was quite a trek, but newlyweds don't care. We had to be driven out to the Ya Ha Tinda Ranch.
Locals will know about that ranch. One way to get there was to come through Sundre, Alberta. Another way was to take the fire road which goes north up behind Cascade Mountain.

At the Ya Ha Tinda Ranch we got on two horses to ride 28 miles over to the Clearwater District. We had two saddle horses and two pack horses. We lived there for two and a half years. Ready to leave that district, Smokey got transferred to Saskatchewan Crossing.

In 1965 Smokey got a transfer to Whitehorse, Yukon which we drove to with a small son, a smaller daughter, and a dog. In those days, the Alaska Highway was gravel. Almost 900 miles of gravel! We lived in Whitehorse for one and a half years, transferring to the Carmacks District 6 years later ending up in Haines Junction District. Lynn and Smokey loved the Yukon. The kids, Greg and Jill loved the Yukon.

Each of our kids married and had 2 kids each. Sadly, our son's eldest daughter died at the age of 15 of arrhythmogenic right ventricular disease and is buried in Grey Mountain Cemetery in Whitehorse.

Smokey's job had evolved from guarding a district against poachers, to Land Use. When he retired, he was a Resource Management Officer. During his last years in the Yukon, he started putting together a museum. He continued that project after retirement. He sold the museum in 2022 due to failing health. He had been diagnosed with atrial fibrillation in 2021. On May 15, 2023, Smokey suffered a stroke from which he couldn't recover. He was in Penticton Regional Hospital and then transferred to Haven Hill Care Centre.

He received excellent care in both establishments.
He leaves to mourn him, his wife, Lynn; son, Greg (Lisa) and daughter, Jill; three grandchildren, Ashley, Nicole, and Greg; brothers, Vern (Grace) of lac du Bonnet, MB and Cliff (Gail) of Kelowna, BC; brother-in-law, Bob (Anne) of Calgary, AB. Smokey was sadly predeceased by his granddaughter, Tamara Guttman; brother, Hugh and sister, Marg Poulsen. 
He is at peace now.

A Celebration of Smokey's Life will be held at Providence Funeral Home, 1258 Main Street, Penticton, BC on Monday, October 23, 2023 at 1:00 p.m. with Pastor John Briscall officiating.

Add your comments or reply via Twitter @whitehorsestar
In order to encourage thoughtful and responsible discussion, website comments will not be visible until a moderator approves them. Please add comments judiciously and refrain from maligning any individual or institution. Read about our user comment and privacy policies.
Your name and email address are required before your comment is posted. Otherwise, your comment will not be posted.