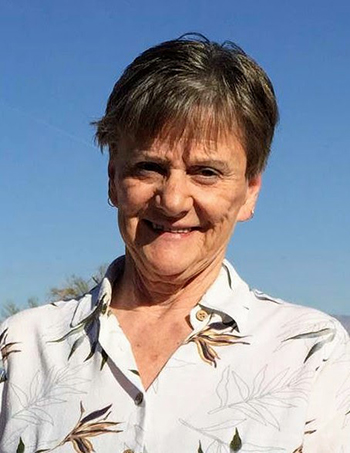 Joy Ellen Denton (nee Fraser)
October 15, 1942- September 21, 2021
Joy (78) passed away peacefully at Wind River Hospice on September 21 with her family by her side. Joy was born in Dawson City in 1942 and moved to Whitehorse at age 2.
Joy worked with the YTG Department of Tourism. She made many lifetime friendships throughout her career and left them with fond and funny memories of her crazy antics.
Logan, Kieran and Shannon were her greatest gift. Her time and love for them was endless. John and Sharon always felt very lucky to have her close by to support raising 3 busy kids.
Joy found a partner to share the goodness that retired life brings, and she and Ron recently celebrated their 15th Wedding Anniversary. The two spent many winters as snowbirds in California enjoying life and making new friends.
Joy took great pride in maintaining her health. Never one to sit still, she attended and loved her CGC fitness classes, hikes and walks with her amazing supportive friends. She would pack as much healthy goodness into any food she cooked - even if it didn't always make sense. Joy's grand plan to live to 100 was cut short by a diagnosis of ALS last September. She met this devastating news head on and was determined to live with this disease as long as possible. Unfortunately she met her match in July when diagnosed with Pancreatic Cancer, a formidable opponent that even her healthy strong body could not conquer.
Joy is survived by her husband Ron Gunn, daughter Sharon Small (John) and Joy's grandchildren Logan, Kieran and Shannon Small; stepsons Michael Gunn (Beverly) and Jamie Gunn (Brittany); Ron's grandchildren Alex Gunn and Taylor Gunn (Rowan) and little Ayla in Australia; and Joy's brother Buck Fraser.
Joy was predeceased by her son Rick, parents Ardrie and Don Fraser, brother Rob Fraser and sister Marjorie Martin.
We can't express enough thanks to the loving team at Wind River Hospice for embracing us through this very difficult time.
Joy's family also appreciates the time and care given by Dr. Lambert throughout this year and Dr. Kmet during her stay at Wind River.
Joy maintained that she wasn't going to miss any of us once she's gone, so don't be sad for her. She always hated goodbyes.
Add your comments or reply via Twitter @whitehorsestar
In order to encourage thoughtful and responsible discussion, website comments will not be visible until a moderator approves them. Please add comments judiciously and refrain from maligning any individual or institution. Read about our user comment and privacy policies.
Your name and email address are required before your comment is posted. Otherwise, your comment will not be posted.