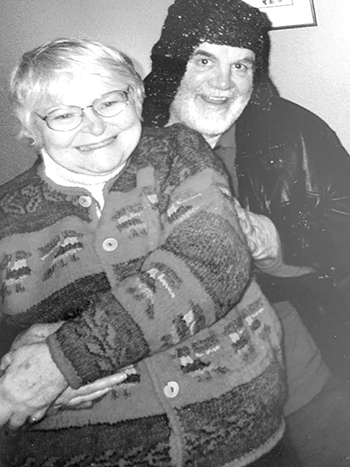 Jan Hudson
April 2, 1933 – March 3, 2022
Janis Estelle Crotty was born in Kirkland Lake, Ontario, the only child of Alice and Rip. They moved to Vancouver where Jan spent her summers at English Bay eating watermelon, sliding into the ocean, and playing tennis in Stanley Park. At 15, Jan won a Vancouver tennis championship.
In her first year at UBC Jan met the love of her life, Buzz (Ralph) Hudson and they were married in 1957. With their daughters, Lori and Kim they moved to Whitehorse in 1960 where Buzz joined Erik Nielsen's law firm.
Soon Tamara and Patrick were born and the family enjoyed an active Yukon social life: cabins at Kookatsoon and Marsh Lake, multifamily celebrations, camping, fishing, and wine and cheese parties. Jan was proud to have climbed the Chilkoot Trail and loved her family river trips to Dawson City.
Jan's aspirations in architecture were satisfied through the homes she designed, had built or renovated in Whitehorse and Salt Spring. As a busy volunteer, Jan was proud to have been president for the construction of the YWCA residence complex in Whitehorse in 1971 (now High Country Inn).
She was also an active organizer for the Yukon Sourdough Rendezvous Society, Whitehorse Toastmistress Club, and Whitehorse Tennis Club. In 1974 her family spent a month touring Europe in a camper van before resettling in West Vancouver. Inspired by time she spent at Northwest Handcraft House, a progressive modern design movement, Jan threw herself into weaving, pottery and painting. Jan returned to UBC and finished her degree in fine arts in 1981, becoming the first person in her side of the family to achieve a university degree. In 1983 Jan and Buzz became hobby farmers on Salt Spring Island and learned to raise chickens, turkeys, sheep and vegetables. Jan's blackberry pie was legendary. In her mid-fifties Jan's adventurous spirit led her to tent on the banks of Bonanza Creek one summer, while working at Nancy's Bakery in Dawson City. In 1992 the north called them back to Whitehorse, and Jan embraced her role as the wife of a judge of the supreme court.
They also enjoyed many travel experiences. When Buzz retired, due to cancer, they moved back to Salt Spring and he passed away in 2005. Jan will be remembered for how she loved being a wife, mother, and grandmother, and filled these roles with community, joy and adventure.
Jan's beautiful homes expressed her artful flare and talent for hosting. She had a marvelous sense of humour, strength of will, and a remarkable ability to recover from numerous cancers. Jan had a passion for movies, was a true fan of football, basketball, and golf, and loved to sit around the table with family and caregivers to play dice, cards or backgammon right to the end.
Jan will be fondly remembered by her children Lori (Bob), Kim, Tamara and Patrick, and her grandchildren, Jesse (Dan), Jamie (Ignat), Jordan, Liam and Maya. She died peacefully at home on Salt Spring Island, BC.
Add your comments or reply via Twitter @whitehorsestar
In order to encourage thoughtful and responsible discussion, website comments will not be visible until a moderator approves them. Please add comments judiciously and refrain from maligning any individual or institution. Read about our user comment and privacy policies.
Your name and email address are required before your comment is posted. Otherwise, your comment will not be posted.