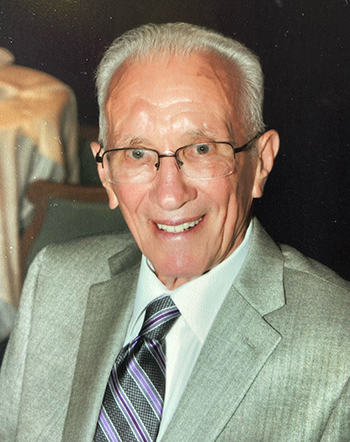 James Grant Fordyce
January 6, 1928 - May 21, 2022
James (Jim) Fordyce began his final adventure in his usual style: with a wink, a grin and a whiskey! On May 21 ,2022 after 34,468 days /ninety-four well lived years, he departed this world with his five children at his side. People who knew Jim will remember his quick smile, gregarious nature and fun-loving attitude.
Jim was born January 6, 1928 in Vancouver, BC to Leocadie Dubois and George Fordyce, the youngest of 6 children. He was predeceased by all of his siblings.
After the early death of his first wife June Johnson, Jim moved to the Yukon with his baby daughter. Jim met and married Stephania (Stevie) Uluschak soon after and they spent the next 52 years together raising their family of five in Whitehorse. Family time was spent at Marsh Lake, boating, fishing, hunting and participating in community and family events. Stevie was always aware that Jim's out-going nature could easily mean unexpected guests around the family dinner table. Jim liked to build and be busy and always had a project on the go.
Jim and Stevie enjoyed travelling to Arizona, Mexico and cruising. Friendships grew wherever they went! Stevie passed away in 2005.
Jim demonstrated capacity to love even after great loss. In 2013 Jim married his third love, Mona Bergen. Mona passed away September, 2021.
Jim embodied the sentiment 'live life fully'. Jim was part of the early days when Whitehorse was a muddy, growing town of about 2500 people, of which 1/3 were squatters. The kitchen of Fordyce's first home on Blueberry Hill in Whiskey Flats fell into the Yukon River! The second home in Whiskey Flats had to be moved when the SS Klondike was placed where it is today. Jim was the First President of Yukon Squatters Association, and continued to be involved in community organizations such as the Yukon Power Squadron, Elks, YOOP, and later ElderActive.
Jim lived life on his own terms. Some folks may remember a stubborn streak which was in truth a great strength that helped him endure and recover from his many adventures and misadventures. The results of some of these adventures ended in, well….let's just say he had nine lives!! Jim worked for Yukon Motors as Service Manager before buying Hertz Rent a Car from them. In 1978, the night before his 50th birthday, he lost a leg while repairing a car on the highway. For the next 44 years he probably wore out more wooden legs than Captain Hook. Every incident and injury only made him harder to catch up with.
When Jim married Mona at 86 years old, we were all in awe of their ability to embrace true love and their amazing zest for life together. They were so inspiring. Life after 86 just kept getting better! Mona and Jim travelled, danced, cruised, partied and laughed their way through their next 8 years together.
He leaves cherished memories to his children: Marlee Larsen (Ken), Debra Osborne (Steve), Stanley, Timothy (RoseMary), Bonnie; five grandchildren: Tim, Ryan (Reanna), Jonathan (Kailey) Caley (Byron), Hugh, and five great-grandchildren.
Mona's children: Steven Bergen (Fay), Terry Bergen (Pamela), Dianne Vanditmars (Derek); four grandchildren: Melissa (Jeremy), Daryl (Tamra), Clayton (Joscelyne), Spencer (Melina), and seven great-grandchildren.
Family and friends will dearly miss him. We will try to follow his example of commitment to family, embracing life's challenges with strength and living life to the fullest.
The Fordyce family is extremely grateful to all those in the medical community who cared for Jim, with a very special thanks to the staff at Thomson Centre and Dr. Sally Macdonald.
A celebration of life will be held at a later date.
Add your comments or reply via Twitter @whitehorsestar
In order to encourage thoughtful and responsible discussion, website comments will not be visible until a moderator approves them. Please add comments judiciously and refrain from maligning any individual or institution. Read about our user comment and privacy policies.
Your name and email address are required before your comment is posted. Otherwise, your comment will not be posted.