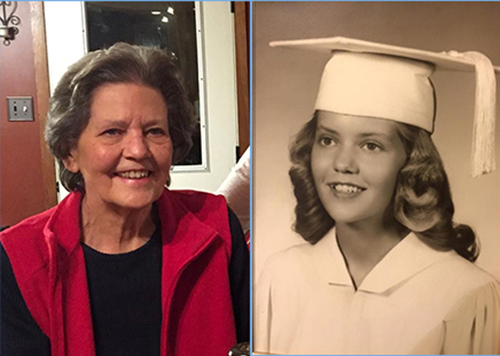 Jacqueline Evon Pierce
1939 – 2023
The second-youngest of five children, Jackie was born to Vorhis Jackson (Jack) and Eveline Blurton in Emmett, Idaho on July 25, 1939. She passed away peacefully March 1, 2023.
At the end of high school when her parents wanted to move the family to a different city, Jackie ran off with her high school sweetheart, Mike Pierce, and eloped at just 18 in Reno, Nevada, starting their family soon after.
By 1967, she and Mike had three kids and decided it was time to leave California. With two big dogs, a nine-year-old daughter, and a toddler and baby both in diapers, they made their move north from Hayward, California. They drove the Alaska Highway in a '65 International Scout and a flatbed truck with a hand-built camper on it. Destination: Alaska.
Along the way, they were held up in Whitehorse, awaiting the arrival of parts for their truck. Mike had job offers left and right, and they found the city's residents so welcoming and friendly.
They carried on to Alaska once the truck was fixed and after about a week they decided to return to the small Canadian town they fell in love with – Whitehorse, becoming landed immigrants months later.
After nine years with no running water, only a small woodstove for heat, and using an outhouse throughout the coldest of winters, they relocated to the Carcross Cutoff where they finished raising their family of five. Mike and Jackie agreed to disagree and went their separate ways years later, in 1990.
In 1972, Jackie started her career in the newspaper world as the Advertising Manager at the Whitehorse Star. She was offered shares in 1979 and became a 25% owner, and soon after (1982) was left in charge of all operations when the majority owners moved south.
After decades of long hours and hard work, Jackie was very proud to finally be able to buy out Bob Erlam in 2002, becoming the only woman in Canada to be the sole owner/publisher of an independent Canadian daily at that time, when there was just a handful of independent dailies left in the country.
Jackie was a role model to her children, grandchildren, and great-grandchildren, and any and all who knew her. When things got tough, in life and in work, she always found a way to persevere. She was no quitter, and lived on her own terms, right to the end.
She was always open to staff members' ideas and encouraged them to take on other roles that interested them: pressmen became photographers, ad designers became reporters, salespeople became designers. Jackie's flexibility allowed for staff to spread their wings and the Star proved to be a huge stepping stone for so many budding young professionals. She was a strong role model for many young female journalists as well.
Aside from her professional achievements, she couldn't be prouder of her children, each of whom at some point over the years she hired to work at the Star in one capacity or another, some of whom still do. A handful of her grandchildren also took roles in various positions at the Star over the years.
Jackie loved her working life but had many hobbies and talents as well. She loved to draw and paint; she crocheted and knit, made clothing for her kids, curtains for her home, and was an amazing cook. She managed to keep things moving at home, somehow finding the time to bake cookies, bread, even yogurt, everything from scratch, on top of an already full schedule of keeping up with the household demands of raising a family. Jackie was always drawn to history and loved to read. She was a lifelong lover of a challenging jigsaw puzzle and always had a crossword book on the table.
She always felt lucky to have her kids, grandkids and great-grandkids nearby. She not only loved her large family but also loved her cats, dogs and assortment of animals and many friends her kids brought home over the years.
Jackie was predeceased by her parents, Jack and Eveline Blurton; sisters: Barbara Bennett (Doug), Judy Martinez (Art), and Joan (Kimberling); infant son Jacob (1976), grandson Wesley Freeman (2017), and son Mike (Mouse) Pierce (2020).
She will be sadly missed by her younger brother, Victor Blurton (Linda) and their family as well as numerous nieces, nephews and extended family who loved her.
She will be cherished in memory by daughters Melanie Pierce (Jim Carter); Michele Pierce (John Stuckey), Jessica Pierce (Chris Freeman), Joni Pierce, and daughter-in-law Judy Gibbons; grandchildren: Rachel Carter (Zebh), Tamara Carter, Natalie Carter, Suzanne Carter; Shawn Pierce (Laura), Jaxson Pierce, Quinn Pierce, Jeni Pierce; JJ Stuckey, Robbie Stuckey (Tashia); Krystalynne Freeman (Shane), Matthew Freeman; Haley LaBar, Conner LaBar and Camryn LaBar; and 16 great-grandchildren: Layla and Mila Carr, Avery and Nevaeh Malcolm, Haiden, Cache and Milah Stuckey, Remi and Brooks Stuckey, Jakob, Mason, Jett and Ariella Freeman-Boulanger, Marcus Freeman, and Leo and Charlie Cromarty.
The family would like to extend a huge thank you and great appreciation to the Whitehorse General Hospital staff that looked after mom so attentively, especially the nurses in the ICU. We couldn't have asked for better care.
There will be a private family gathering in the summer of 2023.
Add your comments or reply via Twitter @whitehorsestar
In order to encourage thoughtful and responsible discussion, website comments will not be visible until a moderator approves them. Please add comments judiciously and refrain from maligning any individual or institution. Read about our user comment and privacy policies.
Your name and email address are required before your comment is posted. Otherwise, your comment will not be posted.