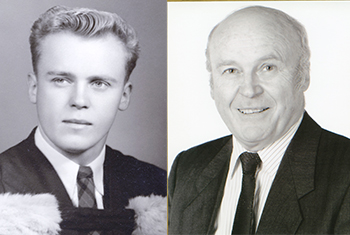 Jack Cable
August 17, 1934 – July 21, 2021
The family of Jack Cable is saddened to announce his passing on July 21, 2021. They were thankful to be at his side on a rainy, thundering night when he left this world.
Ivan John (Jack) Cable Q.C., was born in Hamilton, Ontario. He earned a degree in chemical engineering at the University of Toronto, a master's degree in business administration at McMaster University, and after working as a chemical engineer for 9 years, he obtained a law degree from the University of Western Ontario and was called to the Ontario Bar in 1970.
Jack and his family moved to the Yukon in 1970. He was called to the Yukon Bar and joined the law firm of Nielsen, Hudson and Anton. Cable later became a partner with the firm of Lueck, Pitzel and Cable. He was appointed Queen's Counsel by Canada, in recognition of his legal expertise.
He served as president of the Yukon Energy Corporation and the Yukon Development Corporation, and was a director of the Northern Canada Power Commission. Cable was elected as a liberal member to the Legislative Assembly in 1992, and was thrilled to serve alongside his daughter, Sue Edelman. In 2000, upon his retirement from politics, he was appointed 34th Commissioner of Yukon, serving until 2005.
Cable valued community service. He was active with the Yukon Chamber of Commerce, the Yukon Science Institute, the Salvation Army Adult Residential Centre, the Recycle Organics Together Society, the Learning Disabilities Association of Yukon, the Association of Professional Engineers of Yukon, the Law Society of Yukon, the Royal Canadian Legion, and the Boreal Alternate Energy Centre, a society that helped develop wind-powered electrical generation.
In his youth he was a member of the sea cadets with his brother, Brian. He received the Order of Yukon in 2020. Jack loved the Yukon and its history and served as a long-time director of the Friends of the Yukon Archives Society. Jack was deeply involved with the Whitehorse United Church at every level.
Jack cherished his many enduring friendships. He loved card games, political discussions, the Baldheaded Men's Club, duplicate bridge, church breakfasts, and dinner parties. He took gardening to an extreme level, once planting a field of wheat in his front yard, and was crowned Spud Monarch of the Great Potato Contest.
He was irreverent, driven, generous and candid. His family will miss his curiosity, loyalty, and his wry sense of humour. He was proud of everyone's accomplishments and loved family gatherings.
Jack leaves his wife, Faye, his children: Sue Edelman (Brian), Jennifer Hull (Gordon), Andrew Cable (Connie), and Dan Cable (Bryna), grandchildren: Spencer (Rachel), Ariana (Rob), Evelyn, Grace, Michael, Yvonne, Annie and Angus, and great-grandchildren: Tristan, Kayleen, Bridget, Jade, Sierra, Luca and Hudson. Jack is survived by his sister Carolyn and his brother Brian in Ontario.
The family would like to thank Dr. Sally Macdonald, and Reverend Bev Brazier.
A celebration of life will be held 4 pm Monday, July 26th, 2021 at the Whitehorse United Church. Due to COVID-19 restrictions, there will be limited space. Streaming will be available through the church's Facebook Live site which will be streamed at the Whitehorse Legion.
Add your comments or reply via Twitter @whitehorsestar
In order to encourage thoughtful and responsible discussion, website comments will not be visible until a moderator approves them. Please add comments judiciously and refrain from maligning any individual or institution. Read about our user comment and privacy policies.
Your name and email address are required before your comment is posted. Otherwise, your comment will not be posted.