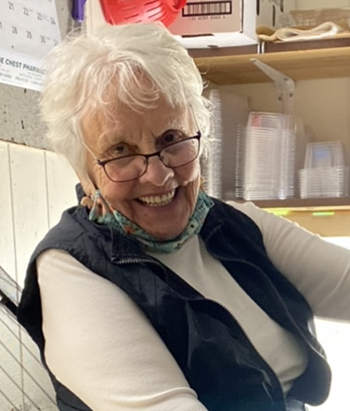 Helen Kent (nee Tetlock)
July 8, 1934 – March 31, 2022
With profound sadness, yet comforted by immense gratitude for all the joy that she created and all the love, strength and kindness that she radiated, the Kent family announces the gentle passing of Helen Kent.
Beloved Mum, Mom, Ma, Gramma, Grams, Grandma H, GG, great-grandma, mother-in-law, sister, aunt, great-aunt and dear, caring friend to so many who had the privilege of knowing her.
Helen's love of her family - and those lucky enough to be part of her family - was unwavering throughout her remarkable, gutsy life.
And her deep love of the Yukon equaled, yet never dimmed, her identity as a Saskatchewan gal. Helen knew who she was and where she came from and this pride in her and her (late) husband Cliff's roots in being from Saskatchewan lives on in all her children, their children and her great-grandchildren.
One of eight, Helen was born in Grenfell, Saskatchewan in the midst of the Great Depression. She is survived by her loving brother Dave Tetlock.
Helen and Cliff met at the curling rink in Grenfell and were married in 1954; proceeding to live throughout Saskatchewan following Cliff's career path with Saskatchewan Wheat Pool and later with what was then called Indian and Northern Affairs Canada (INAC). Along the way from Wolseley, Eston and Biggar to Meadow Lake and La Ronge, they had seven children of their own – all of whom live and thrive in Whitehorse - and were by her side on the day she passed.
In 1973, Cliff was offered an INAC job in Whitehorse, Yukon so up the old Alaska Highway they came that August.
Helen's generosity of spirit was unmatched.
Her kids fondly recall, that although growing up times might have been tight, "there was always room for one more at Mum's and Dad's kitchen table." Helen welcomed and embraced everyone she met. As adults, with their own families, they now marvel how "Mum could stretch a pound of hamburger into the most delicious supper and feed us all and everyone we brought home for supper," (without telling her in advance of course).
Helen's work ethic was also unmatched.
At 87, she worked at Candy's Fruit Stand until its traditional seasonal closing at the end of September last year as she had almost every year since it first opened in 1990. Helen truly loved asking, and genuinely hearing about, how everyone was doing, how their kids were doing, and with a twinkle in her eye inquire . . . "so, what's going on?"
Helen enjoyed traveling with her children but most of all she loved home; because home was where her family was.
The Kent family is extremely grateful to all those in the medical community who cared for Helen with a very special thanks to Dr. Huy Chau.
Helen is survived by her brother Dave and her many nieces, nephews and their families; her children Greg (Liz), Morgan (Susan), Terry, Kelly (Mike), Candy (Joey), Scott (Amanda) and Rick (Katherine); grandchildren Paula (John), Christine (Jeff), Michael (Leah), Dustin (Jenny), Michelle (Sam), Sam (Sarah), Madeleine, Benjamin, and Eli; and great-grandchildren Mia, Morgan, Greyson, Charlie, Helen, Liam, Aidan, Raven, Cooper, Kace and his brother Rhys.
At Helen's request, there will be no service. She will be laid to rest beside her beloved husband Cliff in Grenfell.
Add your comments or reply via Twitter @whitehorsestar
In order to encourage thoughtful and responsible discussion, website comments will not be visible until a moderator approves them. Please add comments judiciously and refrain from maligning any individual or institution. Read about our user comment and privacy policies.
Your name and email address are required before your comment is posted. Otherwise, your comment will not be posted.