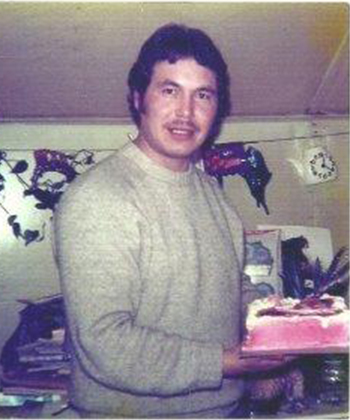 Glenn Richard Grady (Keish)
February 14, 1948 – August 10, 2021
Glenn was born at the Ta'an village on the east side of Lake Laberge to Sophie and Gordon Grady on February 14, 1948. Glenn was named Keish after Skookum Jim. Glenn and his sisters spent their early years with Grandma Aggie and Grandpa Frank Slim at Lake Laberge until they moved to their Mom's home in Whitehorse to attend school. Every school holiday including summers and weekends were spent at the lake.  Mom was determined that we grow up on our traditional land and Glenn never ventured far from our traditional land for long.
Glenn and his former wife, Betty, built their cabin one summer, using wooden dowels instead of spikes. Many good times were shared, sitting around the campfires and boating with nieces, nephews and his sisters, who camped nearby in tents, trailers, a loft and a teepee. The smoke house was always filled with meat and fish.
Glen was a carpenter, carver, hunter, fisher, trapper, horseman, family historian, storyteller and pilot. He cleared a runway near the cabin for his planes to land until it was safe to use skis or floats to land on the lake. Glenn cleared another area to store the logs for his cabin. He was a busy man and excelled at everything he did. 
Glenn loved the outdoors. He kept horses so he could travel the land and hunt. He spent much of his summers on his boat on the lake. He scanned the lake every morning with his telescope and once rescued a man named Frank, who had capsized his canoe. Glenn and Frank became friends and Frank frequently travelled to the Yukon from his home in Missouri to stay in Glenn's guest teepee.   
Glenn belonged to the Wolf Clan and believed in and lived by traditional law and was mindful of doing things the "right way".  As the brother of six sisters, Glenn provided them, his mom and relatives with wild meat and fish since he was old enough to hunt and operate a boat. His sisters made sure he had what he needed in later years.   
Glenn loved spending time with his nieces and nephews and started a height chart on a pole in his cabin for them. In 1994, Glenn and Cheryl welcomed their daughter, Caroline, who at an early age accompanied her dad in his traditional activities. 
Glenn was appointed as Hereditary Chief of the Ta'an Kwäch'än Council (TKC) by George Dawson and Elijah Smith. Glenn worked tirelessly from 1987 until 2002 to re-establish TKC with the assistance of his sisters, mother, aunt and other Citizens. TKC's self-government agreement was signed in January 2002 and TKC became self-governing on April 1, 2002.   
Glenn made many friends while working with Forestry, Foothills Pipeline, Council of Yukon Indians and TKC. He looked forward to their visits to talk about old times. 
Glenn was predeceased by his father Gordon Grady, mother Sophie Miller, stepfather Donald Miller, brother Gordon and sister Geraldine. He is survived by daughter Caroline, brother Michael, sisters Doreen, Diane, Barbara, Anne-Marie and Bev, and nieces, nephews and cousins. 
Thank you to cousin Peter Borotsik, who faithfully checked in on Glenn and did the heavy lifting for him. Glenn often spoke about how much he appreciated you. 
Thank you to Champagne and Aishihik First Nations for donating the use of the tent for the service, Rose Marie Blair and Tommy Smith for their donation and to the cooks who prepared the meal. Thank you to Elder Gertie Tom for the prayer, Dave Joe and James Miller Jr.    
Thank you to the First Responders and the I.C.U. medical team at Whitehorse General Hospital.    Thank you to all for your support and kindness during this difficult time.   Shä̀wníthän 
Add your comments or reply via Twitter @whitehorsestar
In order to encourage thoughtful and responsible discussion, website comments will not be visible until a moderator approves them. Please add comments judiciously and refrain from maligning any individual or institution. Read about our user comment and privacy policies.
Your name and email address are required before your comment is posted. Otherwise, your comment will not be posted.