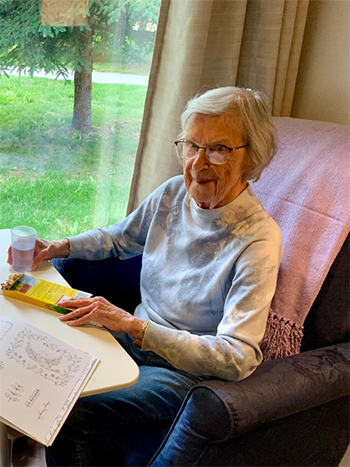 Gladys Lenore Hutsul
April 29, 1934 – August 7, 2023
Gladys  passed away peacefully after being weakened by a virus. She was quite vital and content up to a couple of weeks before she died…and her medical care providers from Klondyke Medical (Dr. Coombs) and her care team from Copper Ridge Place (Unit C/D) kept her suffering to a minimum the last few days. Dr. Mayes of Klondyke Medical was also instrumental through the years in caring for Gladys.
Mom had a very full and varied 89 years of life, starting with being the adored first grandchild of Thomas and Lena, being taught by her father in a one room schoolhouse for 8 years, and then thriving in the "city" of Kamsack - going to high school, working to earn spending money, and catching the attention of many a young man.
She was wooed by John Hutsul and had two children with him and had many wonderful times and many turbulent times as a mother and a wife. A huge turning point in Gladys' life was her initiating driving up the Alaska Highway in 1957 with John and their son – she was looking for a change and she got it. For Gladys, the Yukon provided spectacular natural beauty which she treasured throughout her 66 years here.
Yukon provided career opportunities which Gladys embraced and friendships she treasured. There were many adventures and wild times and then came the quieter more settled years on the shore of Marsh Lake with her small circle around her.
In the last two years, as her brain tired out, Mom was a proud and content resident of Copper Ridge Place – maybe happier than she'd ever been. Gladys is survived by her son, Rock Hutsul (Nancy), and her grandchildren Christopher Hutsul (Tory Osler) and Alyssa Short (Scott), and her great grandchildren Eli, Alexandra, Gwynevere and Katherine. Gladys is also survived by her brother Harold Smandych (Lil) and nephew Randy Smandych (Janet Bland), as well as her daughter Joanne Hutsul (Sharon Specht).
All of us are deeply grateful to Copper Ridge Place for the incredibly consistent, respectful, and skilled care Gladys received there every day – and most of all, that it was given so lovingly.
Add your comments or reply via Twitter @whitehorsestar
In order to encourage thoughtful and responsible discussion, website comments will not be visible until a moderator approves them. Please add comments judiciously and refrain from maligning any individual or institution. Read about our user comment and privacy policies.
Your name and email address are required before your comment is posted. Otherwise, your comment will not be posted.