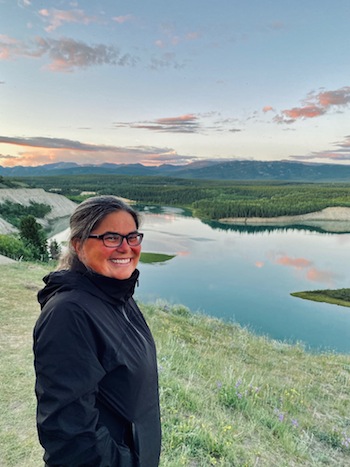 Erika Lynn Serviss-Low passed away suddenly on July 16, 2021 in Whitehorse at the age of 47. Born in Gouverneur, New York and raised in Colorado, Erika was an exceptionally smart, creative and brave woman, mother, daughter, sister, wife and friend.
She was unwavering in her love of her family and friends. Erika's beautiful legacy is the life she built with, and the love she gave to, her daughters Eleanor (16) and Evelyn (12) and her partner of nearly 20 years, James.
She is survived and remembered by her beloved parents Katherine and Curtis Serviss (Helena, Montana), sister Erin DeCoste (Leander, Texas), sister Meghan Holmlund (Helena, Montana), brother Ryan Serviss (Seattle, Washington), life-long friend Rebecca Lease (Portland, Oregon), and aunts, uncles, nephews, nieces, cousins, and dear friends across the United States, Canada, and beyond.
She was the much-loved daughter-in-law to Betty and Don Slowinski (Baden, Ontario), sister-in-law to Kathy (Low) Daigle (Kitchener, Ontario), sister-in-law to Stephanie Slowinski (Waterloo, Ontario), and niece to Andy and Lori Low (London, Ontario).
Erika moved to Canada in 2001, settling in London, Ontario where she worked as a tutor and teaching assistant at Western University. Her love of the mountains and a northern adventure called her to the Yukon in 2014, where she was able to continue to pursue her passion for writing, quilting and crafting.
In every place she lived and travelled, Erika made a profound connection, friendship and impact. And despite the many health challenges she encountered, she faced each day with a quiet (but fierce) determination to live life on her terms.
In lieu of flowers, you can honour this spirit with a donation in her name to an epilepsy charity or support group in your area. We also ask that in your own lives, you help spread awareness and understanding about epilepsy, so that the more than 50 million people around the world who have this condition are properly diagnosed, treated and supported physically (and emotionally).
A celebration of her life will be held with family and friends at a later date.
Erika, we love you. We miss you terribly. We've lost you at a time when the world needs more people like you. We need you and your joyful smile. But we will forever celebrate and hold close to our hearts your goodness, resilience, strength, and love. Your spirit will never dim. Be at peace.
Add your comments or reply via Twitter @whitehorsestar
In order to encourage thoughtful and responsible discussion, website comments will not be visible until a moderator approves them. Please add comments judiciously and refrain from maligning any individual or institution. Read about our user comment and privacy policies.
Your name and email address are required before your comment is posted. Otherwise, your comment will not be posted.