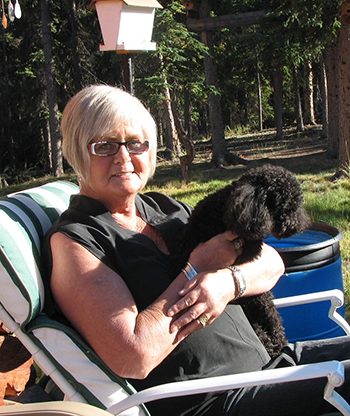 Edith "Edie" Fairman
May 30,1942 - December 3, 2022
It is with great sadness and heavy hearts that we announce the passing of our beloved wife and mother, Edith "Edie" Fairman ( nee van der Heide) on December 3, 2022.
Edie was the younger of twins born on May 30,1942 in Ferwerd, Friesland, Netherlands. Her parents,her twin Sarah and their younger sister Tina immigrated to Canada in 1945, where they were soon joined by two more sisters, Joanne and Alice. They settled in Hastings Ontario where she met the love of her life, Tom, whose initial proposal to her occurred in grade four at the Hastings Public School. They married in 1962 and just over one year later were joined by their son Shayne and four years later by their daughter, Lisa.
Tom and Edie decided in 1976 to set out on a great adventure and moved the family to the Yukon, for "two years minimum or five years maximum" but the spell of the Yukon held them and they never returned to reside in Ontario.
Edie was a familiar face working as the front desk manager of the "Ben Elle" or Gold Rush Inn on Main Street. She then worked at the local law firm where her son was a partner as the receptionist until she retired in 2007.
Edie is survived by her husband of 60 years, Tom, and children Shayne (Sharon Lazeo) and Lisa Ross (Pat) and adoring grandchildren Nicola, Taylor, Emily and Sophia; sisters Tina Jones, Joanne Lee (Bob) and Alice Carnegie (Steve), brother-in-law Ken Montgomery and Ted Fairman (Mary Reeves) and sister-in-law Shirley Richardson (Roy), and many nieces and nephews. She was predeceased by her parents Sijbren and Aaltje van der Heide, twin sister Sarah Montgomery and brother-in-law Bob Jones.
Edie fought a brief battle after having cardiac surgery that just proved to be too much for her in spite of the incredible efforts of doctors and nurses and other staff at both Whitehorse General Hospital and St Paul's Hospital in Vancouver. The family's heartfelt thanks go out to Dr Phillips for his care over the last many years and Dr Wellmeier and the staff at Whitehorse General Hospital, in particular Louis and Steff; Dr Cheung and the amazing team of Intensivists who worked so diligently and with such kindness and compassion to care for her at St Paul's hospital; the nursing staff at St Paul's also for their caring and compassion to her and our family and a very special thank you to nurses Chandel, Irene, Jess, Kayla and Jane of the CSICU and Sapia of Unit 5B.
In lieu of flowers, a donation can be made in her name to the Canadian Heart and Stroke Foundation or the charity of your choice.
Memorial service to be announced at a later date.
Add your comments or reply via Twitter @whitehorsestar
In order to encourage thoughtful and responsible discussion, website comments will not be visible until a moderator approves them. Please add comments judiciously and refrain from maligning any individual or institution. Read about our user comment and privacy policies.
Your name and email address are required before your comment is posted. Otherwise, your comment will not be posted.