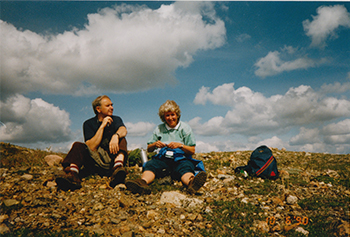 Diana Mary Mulloy
March 1st, 1934 - Nov 15th, 2021
Diana Mary Mulloy has died. She died as she lived, on her terms, with fervour, determination and unabashedly herself. We, her three daughters, Wendy Ann, Eleanor, and Beth once again find ourselves bereft. We do find solace knowing she is in the next world with her beloved Kenneth Joyce and she is also relieved from living through another dreaded Yukon winter.
Diana loved flowers, warm sunshine, sand, pretty things, travelling, cozy beds, cups of tea, phone calls with Joyce, Netflix (Grey's Anatomy) and of course her beloved KJ. She leaves behind the three most wonderful daughters a mother could hope for, her grandchildren: Emily (Joshua), Mathew, Aaron and Lusia (Jason); her step-grandchildren Gabriel, Zachery, Maciej and another Gabriel (and an ever-growing fleet of great-grandchildren), and her sons-in-law: Carl, George and Joe.
We will miss Diana as will the entire community who knew her. We especially thank the Yukon medical community who cared for her with patience and love no matter the difficulty she was experiencing.
Death came unexpectedly, we are still stunned and keep waiting for her to turn up but her life here is done and we are very sad.
Due to COVID restrictions we will have a small funereal on Saturday, November 20th. We will have a celebration of her life in the spring of 2022. If you wish to attend the funeral please call Eleanor at 1-250-978-9344.
Add your comments or reply via Twitter @whitehorsestar
In order to encourage thoughtful and responsible discussion, website comments will not be visible until a moderator approves them. Please add comments judiciously and refrain from maligning any individual or institution. Read about our user comment and privacy policies.
Your name and email address are required before your comment is posted. Otherwise, your comment will not be posted.