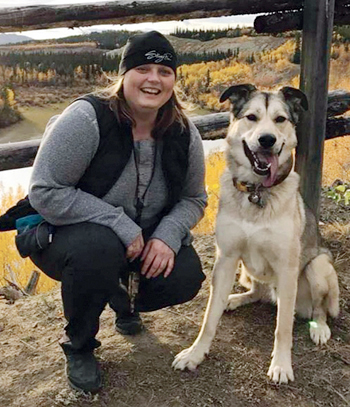 Amica Marie Sturdy

1976-2021
The world lost a beautiful light on November 25, 2021. Amica came into this world in Vancouver on October 6th, the daughter of Joan Sturdy and Robert Miller, granddaughter of Marie (Dixon) and John Sturdy, and Peggy (Wilkinson) and Sherman Miller. She spent her childhood up until graduation in Salmon Arm, where she welcomed her brother, Noah, into the family when she was 10 years old.
She loved her Aunties Mary Ann ("Auntie Rob") and Pat (A.P) and cousins very much and enjoyed a close relationship with her cousin and pod-mate Laura over the years. After graduating from Salmon Arm Senior Secondary in 1994, she moved to the lower mainland, where she studied Criminology and volunteered at the John Howard Society. It was during this time that she met her lifelong friends, Shelly and Natalie.
She started her career with Home Hardware in Duncan on Vancouver Island. While there, she spent time with her father and grandparents, and established enduring friendships with Jackie and Jim, and Leanna. She quickly rose to the challenges and opportunities presented to her and was transferred to Whitehorse Home Building Centre in 2011. Her talents, skills, personality, and dedication took her to the position of operations manager for 6 Home Building Centres in Western Canada. She enjoyed a wonderful relationship with her employer, Patti, and would go to the wall for her employees to support them, teach them, and encourage them along their career paths.
At first in Whitehorse, she lived with friend and mentor Gaye, from whom she learned shamanic drumming, and found great adventure and beauty in journeying with a drumming group. She was able to weave these and other spiritual understandings into the fabric of her life and to share her wisdom with her mom and other close friends. Amica loved to have dinners, go on road-trips, attend concerts and special Yukon events. Her relationship with step-father Glen, and soul-sister Sarah were very meaningful to her.
One of her greatest loves in life was her dog, Kodi. Amica's life in the past 6 years has revolved around this wonderful dog. Together, they enjoyed fabulous hikes, lots of camping trips, major training lessons and great companionship. Her house mate Catheryne, and buddies Megan, Chrissy, Cathy, Heather, Shelly, Mark, Tammy, and Shawn also enjoyed many nights playing board games at home and out camping. She was a "force of nature", as one friend put it. She was smart, kind, funny, insightful, courageous, generous, and a wonderful cook. Her pottery and crochet items are a testament to her creativity and skill.
During her more recent years, she served on the Board of Special Olympics Yukon, where she enjoyed participating in many fundraising and special events. Something we will always remember about her was her down to earth straight-shooting. Amica could pierce through to the essence of any given situation and call it like it was A celebration of her life will be held in Whitehorse, at a limited in-person event, and a zoom link will be provided to those who would like to participate from a distance. Email megan.manion@hotmailcom for the link. Donations in her honour will be gratefully received by Hospice Yukon or Special Olympics Yukon. As her name suggests, she was a friend and mentor to many people who will miss her greatly. Shine on, Amica … thanks for enriching our lives. You will always be in our hearts. 
Add your comments or reply via Twitter @whitehorsestar
In order to encourage thoughtful and responsible discussion, website comments will not be visible until a moderator approves them. Please add comments judiciously and refrain from maligning any individual or institution. Read about our user comment and privacy policies.
Your name and email address are required before your comment is posted. Otherwise, your comment will not be posted.