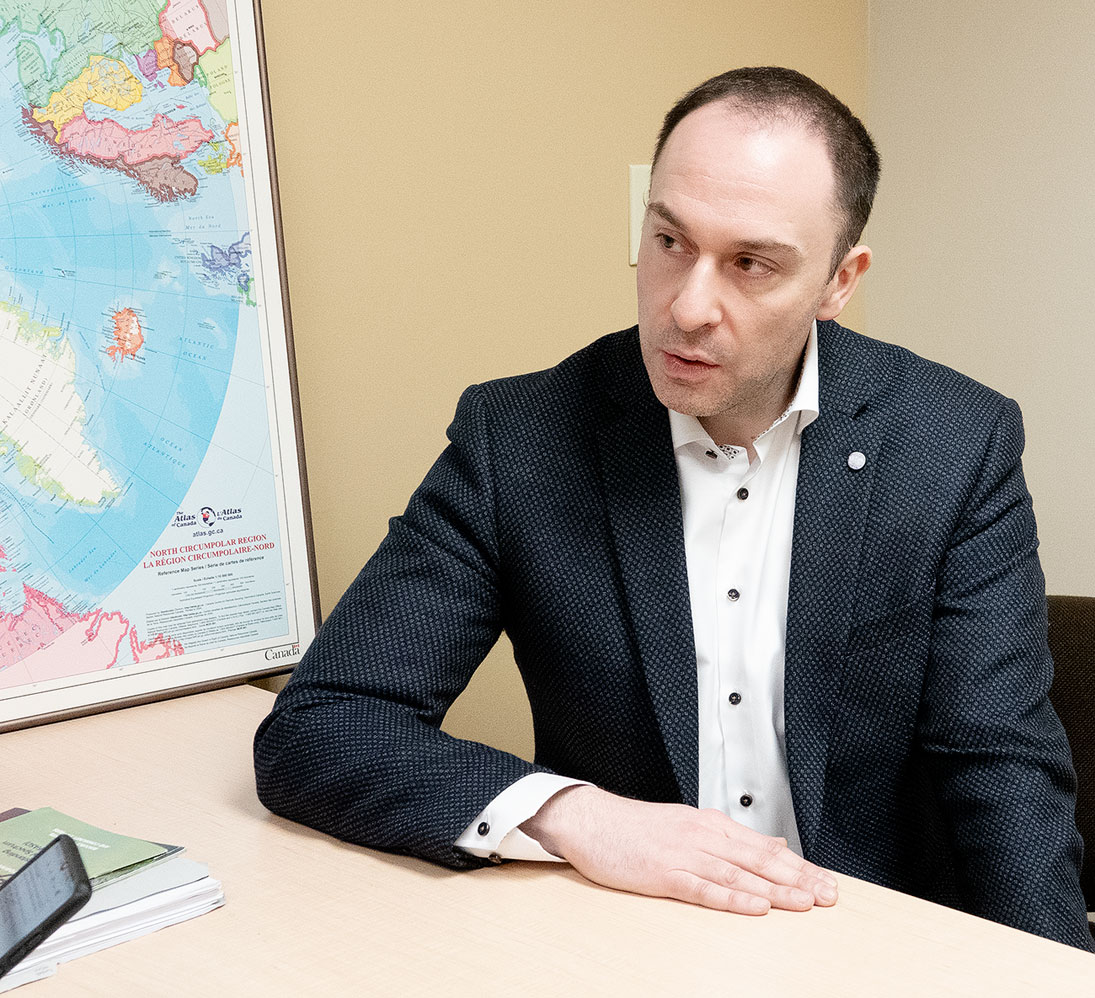 Photo by Whitehorse Star
Aaron Goodarzi
Yukoners very exposed to radon, expert warns
Aaron Goodarzi, research lead of Evict Radon, will conduct a talk on the dangers of radon gas this evening at the Yukon Beringia Interpretive Centre.
Aaron Goodarzi, research lead of Evict Radon, will conduct a talk on the dangers of radon gas this evening at the Yukon Beringia Interpretive Centre.
Evict Radon is a non-profit organization committed to research and awareness-building of radon exposure in Canada, a problem Goodarzi says is substantial.
"One thing I'll talk about in the lecture is the specific factors of radon in the Yukon," Goodarzi told the Star Tuesday. "It's going to be a very highly radon-exposed population."
Goodarzi is the Canada research chair for Radiation Exposure Disease, chair of the Evict Radon board and the organization's head researcher.
He opened his own laboratory at the University of Calgary in 2011 and was named a "Peak Scholar" by the university in 2015, in recognition of his "innovation in radon gas and lung cancer knowledge engagement".
Evict Radon is conducting research to determine the danger radon poses to Yukoners.
Based on the geology, homes and numbers gathered thus far, Goodarzi estimates Yukoners may be one of the highest radon-exposed populations on the planet.
"Occupationally, what we know is that per capita, Yukoners are already the most exposed population in the workplace to radon of anywhere in Canada–– that data has been done."
Radon is a naturally occurring radioactive gas contained in soil. It is invisible, odourless and tasteless, making it undetectable without radon measurement technology. It emits alpha particle radiation, which severely damages DNA when breathed in at high quantities. These DNA mutations are a driver of cancer formation.
Radon gas levels are measured in Becquerel units (Bq/m3). Safe levels of radon gas measure below 100 Bq/m3, while houses measuring at 200 Bq/ m3, or higher, require mitigation.
Goodarzi says that in initial tests, some houses in the Yukon were found to measure 8,000 Bq/m3: 40 times the level that is considered dangerous.
Radon is a category one carcinogenic, and exposure is one of the leading causes of lung cancer in Canadians. According to Goodarzi, there are 4,000 cases of radon-caused lung cancer diagnosed per year in Canada.
Children, smokers and those with a family history of cancer diagnoses are the most susceptible to radon-caused cancers.
The good news, Goodarzi says, is the danger is "extremely preventable" thanks to radon testing and mitigation technology.
There are a number of sources from which Yukoners can purchase a radon testing kit; however, purchasing from Evict Radon will help the organization collect data for research.
Radon testing kits contain an "alpha track" device which gauges the radon levels in a home or office over the course of 90 days.
Employers testing an office space should place a radon kit in every occupied office, as radon levels can differ among the spaces. Tests in the home should be placed at the lowest level of the house occupants spend four or more hours per day on, like a basement or ground floor.
After three months, the radon test kit is returned to the lab for testing and the resulting levels will be reported back in a mere few weeks.
When an Evict Radon test kit is used, that information is then stripped of identifying information and the anonymous data are reported to the organization's research team.
Testers will be asked to fill out a short survey with information that will help identify the trends contributing to high radon levels: the year the house was built, the square footage and the ceiling height, for example.
"These are the features of our houses that have changed with time, that we need to know about in order to understand the Canadian radon problem," Goodarzi said. 
These factors could potentially hold the answer to why radon exposure has increased so dramatically in the 20th and 21st centuries in Canada, Goodarzi said. 
According to the Evict Radon website, testing should only occur between October and April, because tests conducted in those months provide more accurate readings.
There are two modifiable factors leading to high levels of radon in the home: how radon travels from the ground into a building and how that building concentrates the gas to dangerous levels.
Goodarzi says if a building is found to contain high levels of radon, the solutions are generally simple and affordable.
If radon levels are found to be extremely high, a radon filtering device can be installed.
The ventilation pipe will reroute radon gas from the foundation of a building and track it outside. 
"They all work, 100 per cent," Goodarzi said of the filter systems. "That's your worst-case scenario and it takes a couple of days to work."
In other cases, the solution is even simpler, Goodarzi said. For example, in the prairies it was found that leaky sump pumps were a cause of radon leaking into homes at high levels. Simply making those pumps airtight would fix the issue.
Yukoners are invited to attend Goodarzi's free information session at 7:00 this evening to learn more information and ask questions.
Add your comments or reply via Twitter @whitehorsestar
In order to encourage thoughtful and responsible discussion, website comments will not be visible until a moderator approves them. Please add comments judiciously and refrain from maligning any individual or institution. Read about our user comment and privacy policies.
Your name and email address are required before your comment is posted. Otherwise, your comment will not be posted.