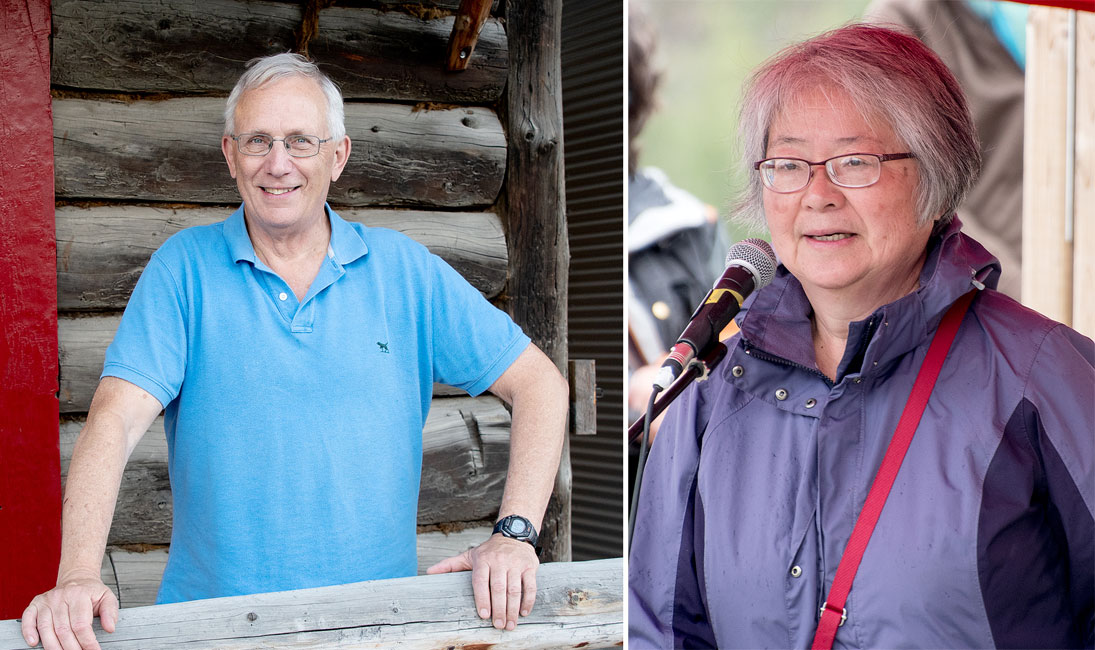 Photo by Whitehorse Star
Pictured above: JOHN FIRTH and LILLIAN NAKAMURA MAGUIRE
Yukoners to receive top honours in heritage
The Yukon Historical & Museums Association's (YHMA's) annual Heritage Award will be presented to John Firth this evening.
The Yukon Historical & Museums Association's (YHMA's) annual Heritage Award will be presented to John Firth this evening. The recipients of the 36th annual Yukon Heritage Awards were announced last Tuesday. Other individuals and agencies will also be recognized tonight."
A life-long resident of the Yukon and born storyteller, John combines his passions for writing and Yukon history by capturing stories of interesting people, places, and events and sharing them in an entertaining style that is easy to read and enjoy," the YHMA said.
Firth has been telling stories to locals and visitors alike since the late 1970s, when he drove a tour bus and regaled passengers with Yukon history and anecdotes.
A former Star sports editor, he is the sole author of four books relating to Yukon heritage and has contributed to several others.
His first book, released in 1990, was Yukon Challenge: the story of the Yukon Quest, later republished as Yukon Quest: The 1000-mile dog sled race through the Yukon and Alaska.
In 1999, Firth was awarded the Yukon Commissioner's Award in recognition of his work to preserve Yukon dog mushing history and heritage.
His most recent book, The Caribou Hotel: Hauntings, hospitality, a hunter, and the parrot, published in 2019, profiles the history of the eponymous designated Yukon historic site.
Firth has also served as a member of the Yukon Heritage Resources Board.
The History Makers Award will be presented to Helene Dobrowolsky and Rob Ingram.
Both have been contributing to the field of Yukon heritage since their arrival in the territory in the 1970s.
Ingram became the Yukon government's first Historic Sites employee in 1979.
Dobrowolsky became the first Yukon Archives researcher in its present location at Yukon Place.
Since 1988, the two have worked together as cultural and heritage resource consultants under the name Midnight Arts.
Their work can be found in the nominations of several Yukon historic sites, numerous books on Yukon heritage, management and interpretive plans for Yukon historic sites, interpretative pamphlets and flyers for heritage places across the territory, online exhibitions, and elsewhere.
As an oral history specialist, Dobrowolsky has trained hundreds of people in the techniques and ethics of managing and carrying out oral history projects during numerous workshops and as a guest speaker at Yukon College.
The couple's contributions continue to grow the collective knowledge and understanding of the territory's history, said the YHMA.
Lillian Nakamura Maguire will be receiving the Helen Couch Volunteer of the Year award.
As a founding member of the Hidden Histories Society Yukon, Nakamura Maguire has, to date, dedicated 18 years to the organization and its mandate to foster and increase the understanding of ethno-cultural history in the Yukon.
"Through the contributions of Lillian and others, Hidden Histories conducts research, produces displays, and co-ordinates events that enlarge the representation of diverse individuals and communities in the documentation and interpretation of Yukon history," the YHMA said.
She has also served as vice-president of the National Association of Japanese Canadians, a board member of the Canadian Race Relations Foundation, and a founding member of the Japanese-Canadian Association of the Yukon.
"She is a talented playwright, writer, and poet in her own right, exploring themes such as human rights, intercultural relations, and her own family history," the YHMA said.
"Lillian's dedication to documenting, exploring, and sharing diverse stories has enriched both Hidden Histories Society Yukon, and the field of Yukon heritage as a whole."
This year's Innovation, Education, and Community Engagement Award will be presented to Gwaandak Theatre and Vuntut Gwitchin Government for Ndoo Tr'eedyaa Gogwaandak (Forward Together): Vuntut Gwitchin Stories.
This multi-year, community-based project celebrates Gwich'in storytelling tradition and Indigenous language revitalization through the production of a series of radio plays.
The plays are based on long-ago and contemporary Gwich'in stories from Old Crow, which speak to the vital relationship between people and land.
Seven radio plays, three in Gwich'in and four in English, were developed with the active involvement of community members at all stages.
The plays are available as podcasts and illustrated script booklets on vuntutstories.ca and are free to download.
"This unique project represents an innovative, captivating way of sharing these stories with a wider audience," the YHMA said.
"Using oral traditions with a contemporary twist, the radio plays not only entertain, educate, and enrich, but also help to preserve and revitalize the Gwich'in language."
No Heritage Conservation Project of the Year Award will be presented for 2019.
"It is always a pleasure to be able to recognize those who have contributed so much to Yukon heritage," said Lianne Maitland, the YHMA's executive director.
"Our territory would be much poorer without the work of these remarkable award recipients, who have really gone above and beyond to ensure that our collective heritage is preserved and shared.
"We look forward to having the public join us in honouring their work."
The public is invited to attend tonight's awards ceremony at the Yukon Archives at 6:30 p.m., with the event beginning at 7 p.m.
The YHMA is a territorially-incorporated society and registered charitable organization that works to strengthen heritage in the Yukon through leadership, advocacy, and education.
As in previous years, tonight's event will coincide with the start of Heritage Week, Feb. 17-23.
In connection with the national Heritage Week theme, Vision 2020: Bringing the Past Into the Future, kicking off the evening, Dr. Laura Millar, an acclaimed Canadian author and archives and information management specialist, will present a special talk, "Here Today, Gone Tomorrow? Protecting Archives in a Digital Age."
She will draw on her new book, A Matter of Facts: The Value of Evidence in an Information Age, to argue that we have to think differently about archives and records in a digital age.
The safeguarding of authentic proof—records, archives, and data with evidential value—is essential in these Orwellian, post-truth times, Millar argues, as digital technologies have opened the door to a dystopian world in which "alternative facts" can be so easily accepted as valid.
Add your comments or reply via Twitter @whitehorsestar
In order to encourage thoughtful and responsible discussion, website comments will not be visible until a moderator approves them. Please add comments judiciously and refrain from maligning any individual or institution. Read about our user comment and privacy policies.
Your name and email address are required before your comment is posted. Otherwise, your comment will not be posted.