Photo by Vince Fedoroff
Meriya Gmeiner-McPherson, Bronte Renwick-Shields, Paul Cadogan Ron Rousseau and Jesse Weyman, left-right.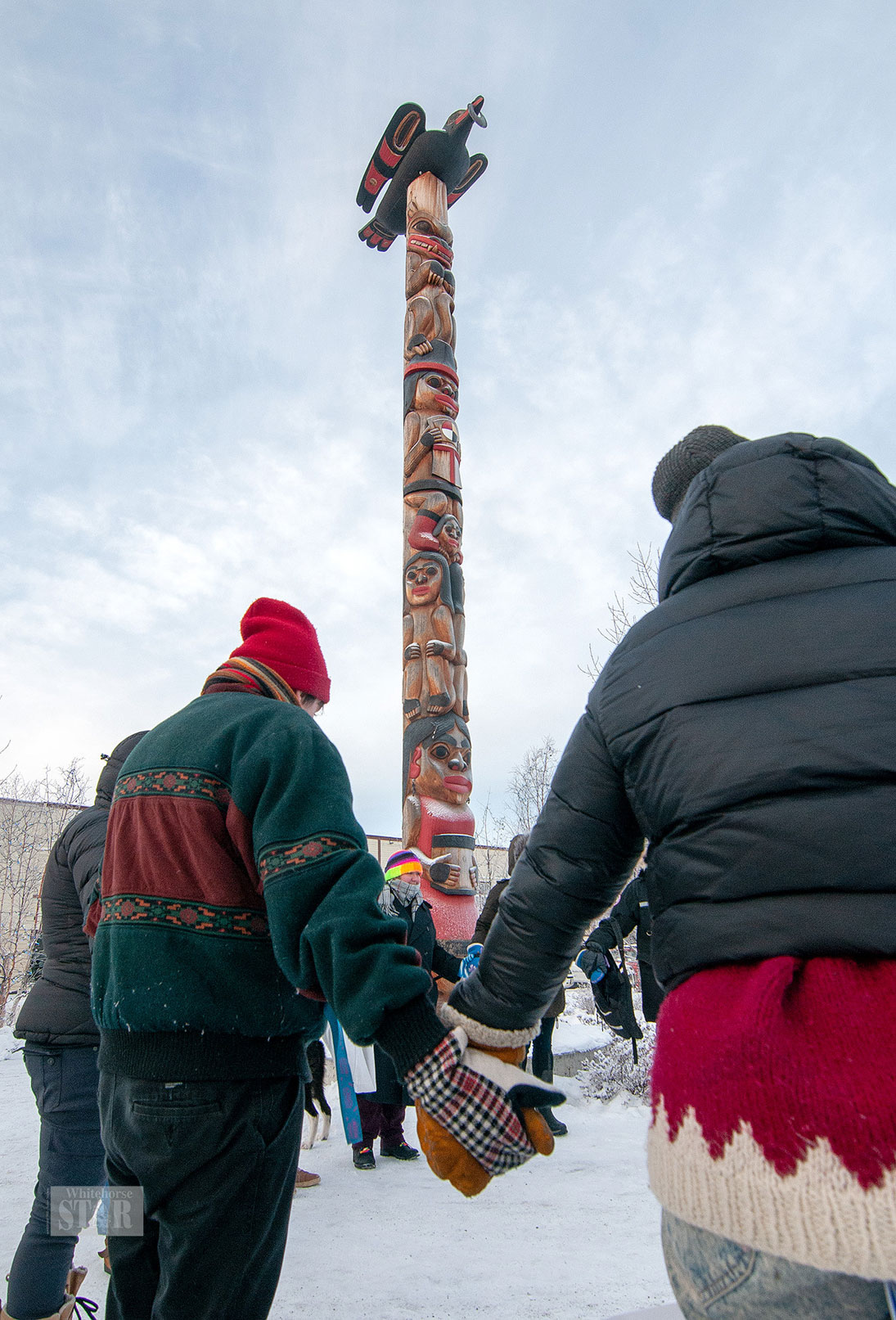 Photo by Vince Fedoroff
IN UNISON – Friday's demonstration began at the Healing Totem Pole in downtown Whitehorse.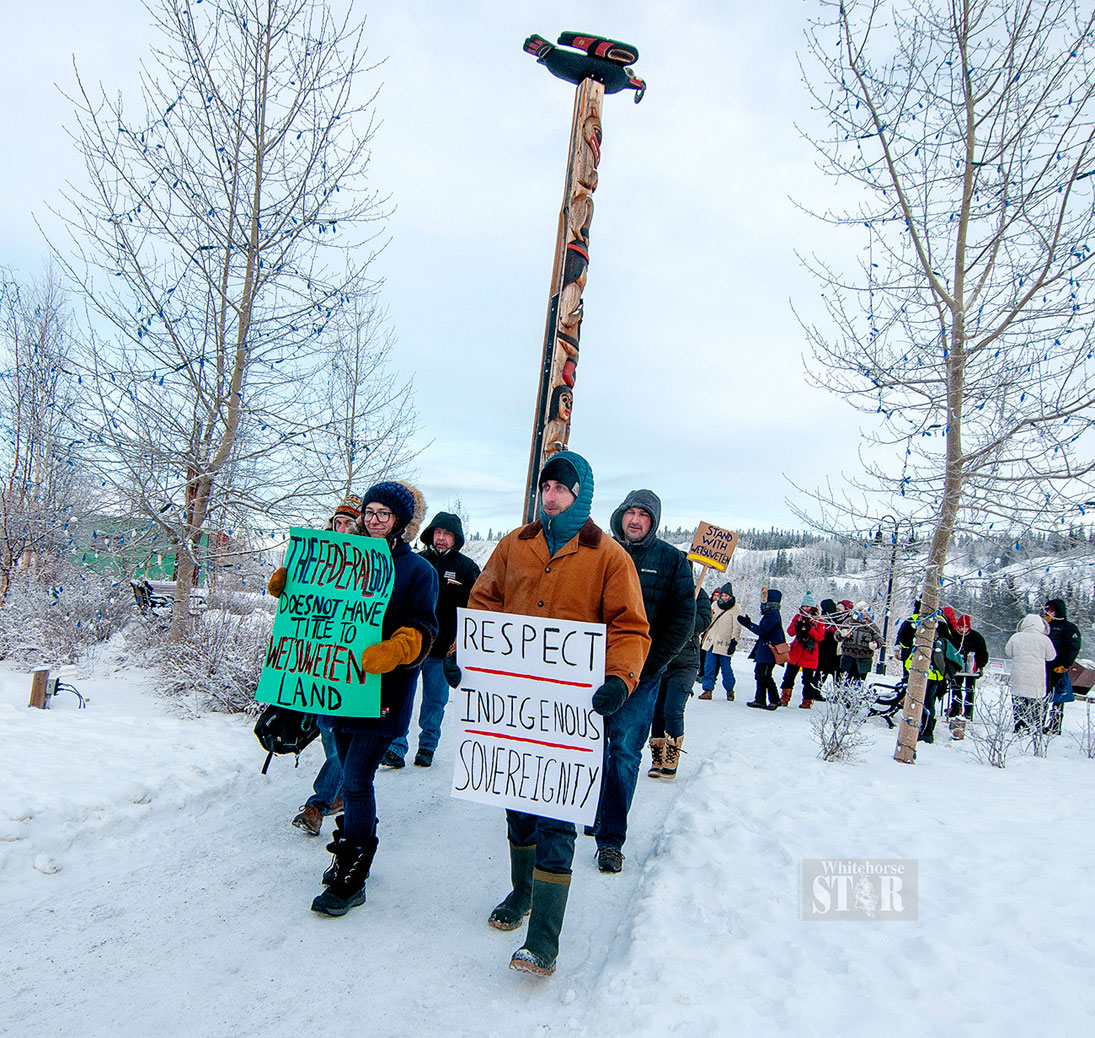 Photo by Vince Fedoroff
BLUNT MESSAGES – The marchers' sentiments were displayed on the placards they held during Friday's protest.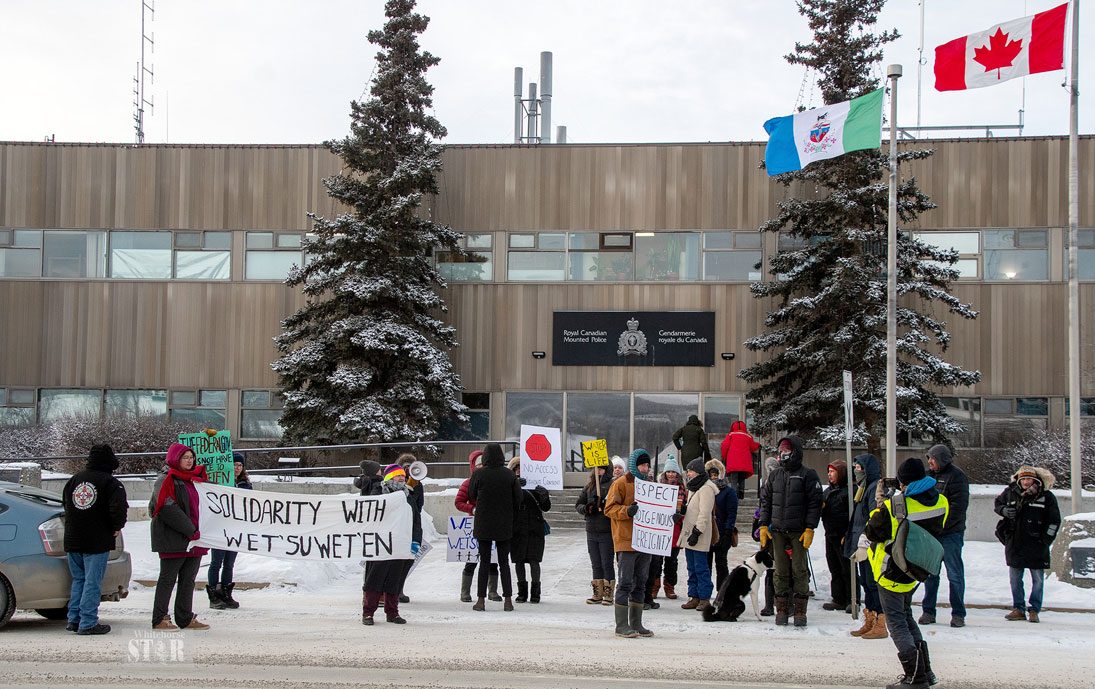 Yukoners show support for First Nation's quest
About 20 people gathered Friday in -35 C temperatures in Whitehorse in tandem with the Wet'suwet'en demonstrations against the development of pipelines on Indigenous land.
About 20 people gathered Friday in -35 C temperatures in Whitehorse in tandem with the Wet'suwet'en demonstrations against the development of pipelines on Indigenous land.
"We have a responsibility to the original protectors of this land and the Indigenous people who are here," Meriya Gmeiner-Mcpherson told the shivering crowd at the noontime protest.
"Our responsibility is to keep the Canadian government accountable from continuing racism and colonization that's happening still today."
Gmeiner-Mcpherson and Julie Laliberté organized the Whitehorse event, mirroring at least 40 other protests across North America that same day.
The string of protests nationwide signal solidarity with the Wet'suwet'en people in North Central B.C., who have been protesting the Coastal GasLink Pipeline Project on their land for more than a year.
On Dec. 31, a B.C. Supreme Court judge issued an injunction saying pipeline protestors could not block Coastal GasLink from accessing the area. Wet'suwet'en hereditary chiefs responded by sending an eviction notice to Coastal GasLink, citing Wet'suwet'en trespass laws.
Protestors said the Whitehorse event signals support for Indigenous sovereignty on Wet'suwet'en land.
"We need to understand that the hereditary chiefs really are the voice of the people," Ron Rousseau told the Star.
"If they're saying that they don't want exploration on their lands that we, as Indigenous people, who have always been stewards of the land, we do recognize and we help defend our lands."
Paul Cadogan said he reacted with "horror" to the media coverage of intense RCMP presence at the protests.
"It's their space, their place, I don't think they're being unreasonable at all," Cadogan said. "Police with assault weapons don't really cut it. It's always overkill: crushing a butterfly with a sledgehammer."
Protest attendees who are not Indigenous told the Star they felt it was important to show their support.
"I feel like as a non-Indigenous person and someone who tries to be an ally, it felt really important to come out and show solidarity especially with respect to this issue," Jesse Weyman said.
"There's been long-standing history with the Unist'ot'en camp in particular. I used to live in the Smithers area, and I know how hard it can be to maintain camp in weather like this, especially in the face of such strong adversity as the Wet'suwet'en people are facing now.
"Just the simple act of solidarity and coming out and showing support is really important."
Bronte Renwick-Shields said in an interview she feels the conflict at Wet'suwet'en works against the nation's goals for reconciliation.
"The stance that the government and the RCMP are taking go directly against any claims that the government is making about reconciliation or working with Indigenous people," Renwick-Shields said.
"Not respecting consent on their territory is really unjust and violent and wrong. I think it's important that non-Indigenous Canadians stand with Indigenous Canadians and are here to support as well."
Attendees gathered at the Healing Totem Pole in a prayer circle at around 12:15 p.m. before marching to the Whitehorse RMCP detachment.
Coffee and cookies were purchased for the protesters by Laliberté and Weyman.
Add your comments or reply via Twitter @whitehorsestar
In order to encourage thoughtful and responsible discussion, website comments will not be visible until a moderator approves them. Please add comments judiciously and refrain from maligning any individual or institution. Read about our user comment and privacy policies.
Your name and email address are required before your comment is posted. Otherwise, your comment will not be posted.