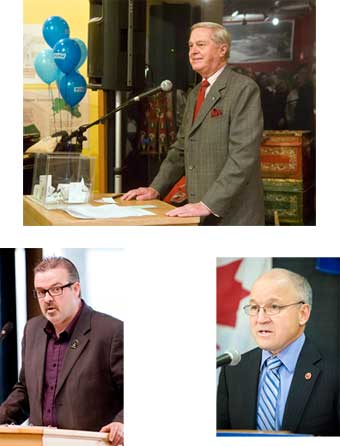 Photo by Whitehorse Star
Rolf Hougen and Alex Furlong and Yukon Senator Dan Lang
Yukoners greet future premier with optimism, good wishes
Yukon Party members came out in droves last Saturday to choose who will replace Dennis Fentie as the party's leader and premier.
Yukon Party members came out in droves last Saturday to choose who will replace Dennis Fentie as the party's leader and premier.
Darrell Pasloski handily won the contest, becoming premier-designate with 767 votes. That was more than 300 ballots ahead of businessman Rod Taylor, who garnered 436 votes and MLA Jim Kenyon, who had just 48.
Yukon Party president Mike Nixon said the vote went off "without a hitch," though he would like to have had an additional polling station to service the 1,250 party members who cast ballots.
More than half of the voting was done by phone, with 702 people calling in to make their decision.
"Those phones were melting off the table," Nixon said in an interview Monday.
The change in leadership will mean good things for the party, added Nixon.
"Mr. Fentie did a fantastic job over the nine years that he was in," he said.
"And there comes a point where the ideas that you came in with have been accomplished. I think Dennis accomplished more than he anticipated he would during his time.
"He recognizes that it's time for a new leader and new ideas and new people."
Nixon is confident in Pasloski as the new leader.
"Darrell's a great guy … I think he's going to be a great leader."
And Nixon isn't the only person who's looking forward to Pasloski's leadership.
Al Falle, who has been with the Yukon Party since its inception, when it was known as the Yukon Territorial Progressive Conservative Party, said Monday he likes the leadership style Pasloski is bringing to the table.
"It's consensus. It's not like he's not going to make a mistake, but if he does, hey, we're in it together, we made it together," Falle told the Star .
"That's the type of a leader Darrell seems to be, and I like it."
Falle, a former MLA for the old riding of Hootalinqua, believes having Pasloski at the helm will result in a less confrontational government.
"Darrell is a person who's going to listen to common sense. He's going to listen to his cabinet; he's going to listen to the people around him.
"I think you're going to see much better policies and better than that," said Falle, "I think he's going to listen to the opposition. They come up with some pretty good ideas."
Local businessman Rolf Hougen, a longtime supporter of the Yukon Party, said the combination of new leadership and new members will bring new voices and perspectives to the party.
"There will be input from people who perhaps were not traditionally part of the Yukon Party," he said. "And that will have a favourable influence."
Party member Al Fedoriak believes Pasloski is representative of Yukoners.
"He's a family person," said Fedoriak. "I think that he will continue towards making the Yukon the right place to live.
"If we could have the same effect at city hall, this would be almost next to heaven."
Several people in government have expressed optimism in Pasloski's selection as leader as well.
"At the end of the day, I think Darrell Pasloski got a good mandate… and I'm sure he's going to do a very good job on behalf of the territory," Yukon Senator Dan Lang said in an interview Monday.
Mayor Bev Buckway said she's looking forward to working with Pasloski and that discussions she's had with him over the years seem promising.
"I've found him to be very receptive," she said Monday.
"All indications are that he's willing to have some good discussions and have a really good, solid working relationship with the municipalities if he is successful in gaining a seat and continuing on with the role he's started."
Alex Furlong, president of the Yukon Federation of Labour, is hopeful that Pasloski will include the labour movement in discussions when there are issues that affect workers.
"From labour's point of view, we'll give him a chance," Furlong told the Star Monday.
"We're not going to prejudge that he's going to be the same Premier Fentie and how he handled things. I think what we can do is afford him the respect to see how he treats the labour movement and workers in the territory and then make any decisions based on that treatment."
Furlong is realistic about the relationship between government and labour, however.
"It doesn't mean that we're going to agree on everything, but if we don't talk about issues and try to look for common solutions, then we have no chance."
Liberal Leader Arthur Mitchell said Monday that Pasloski's selection as leader makes it clear that the Yukon Party is the territory's right wing party.
But Lang, a former Conservative/Yukon Party MLA, said that characterization is "unfair."
"The Yukon Party has shown after the last eight years under the leadership of Premier Fentie that they're a little bit on the right side when it comes to economics, but on the social side, they're very much in the middle and meeting obligations, whether it be in social assistance or education," said Lang.
"And that's not going to change."
Add your comments or reply via Twitter @whitehorsestar
In order to encourage thoughtful and responsible discussion, website comments will not be visible until a moderator approves them. Please add comments judiciously and refrain from maligning any individual or institution. Read about our user comment and privacy policies.
Your name and email address are required before your comment is posted. Otherwise, your comment will not be posted.