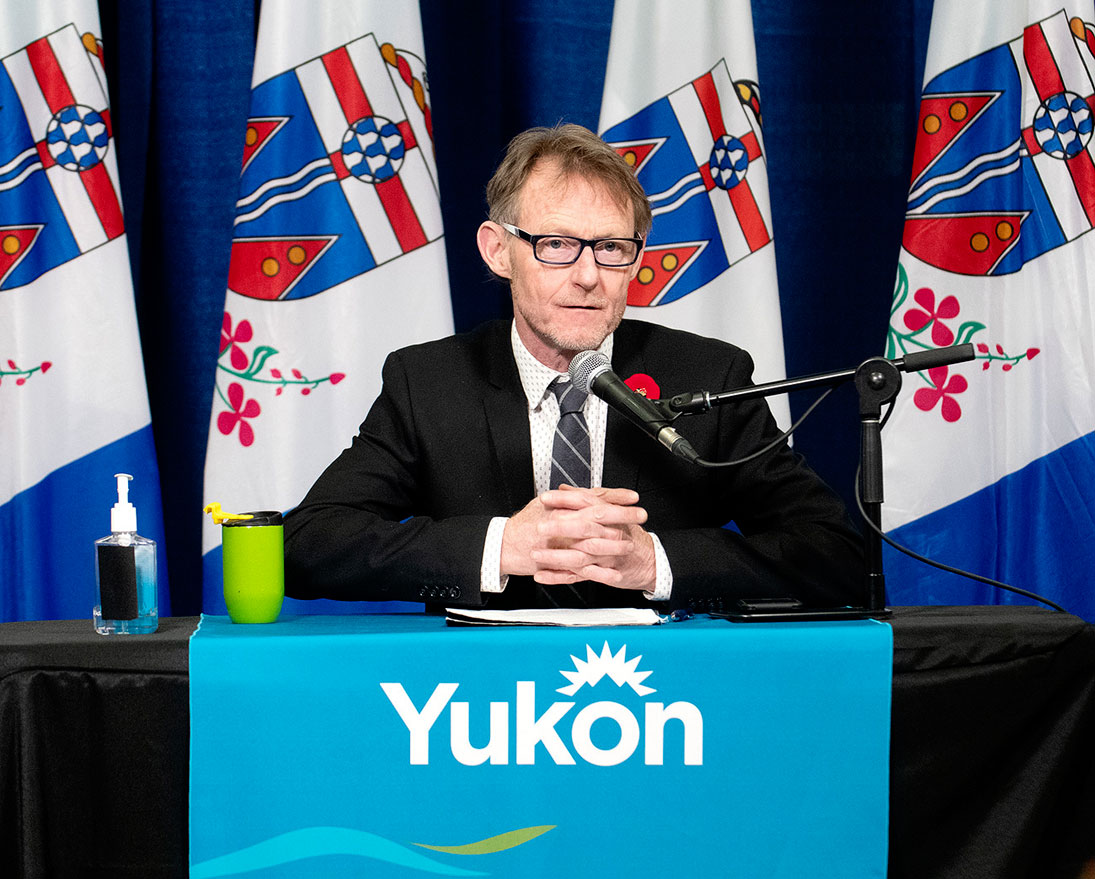 Photo by Whitehorse Star
Dr. Brendan Hanley
Yukon witnesses its largest surge of COVID-19
The Yukon confirmed 11 new cases of COVID-19 over the weekend, the chief medical officer announced today.
The Yukon confirmed 11 new cases of COVID-19 over the weekend, the chief medical officer announced today.
The territory's total is now 38 cases, with 14 active cases. Two people are receiving treatment at the Whitehorse General Hospital.
"We are doing a lot of work to contain these outbreaks," Dr. Brendan Hanley told a late-morning media briefing.
The Yukon has seen 14 new cases in the last week, representing the largest surge of COVID-19 in the territory since the pandemic began.
About 200 people were tested over the weekend, with 170 tests pending results.
More cases may appear from those weekend tests, and as investigations continue, Hanley explained.
Six hundred people were tested in the last two weeks, with a 2.5 per cent positivity rate.
Turnaround time for test results is currently two to three days.
The chief medical officer said his office is relying on the "tried and true" methods of self-isolation, testing and contact tracing to mitigate spread.
A drive-thru testing station was opened on Sunday to meet increased demand for tests. The station will be open from 8:30 a.m. to 5:30 p.m. until this Saturday, when Hanley's office will reassess its necessity.
The drive-thru is located at Centennial Motors, which is on the Alaska Highway beside the Airport Chalet.
Anyone who is experiencing symptoms of COVID-19 should arrange for testing via the COVID-19 Testing Assessment Centre phone line.
A public exposure notification was also issued for Better Bodies on Nov. 14, between 12 and 2:30 p.m. and Nov. 16 between 5 and 7 a.m.
People who visited the gym at those times are asked to self-monitor for symptoms.
Health officials are investigating two outbreaks that encompass 10 recent cases, Hanley explained this morning.
The first outbreak began with a travel-related case who was in contact with two other individuals, and then transmission within a household.
Case numbers 24, 25, 38, 33, 34 and two probable cases are associated with the first outbreak.
The second outbreak began with case 26 within a shared household, with transmission to other household contacts. Hanley said there hasn't been a confirmed travel connection associated with the second outbreak.
Case numbers 26, 30, 31, 37 and 38 are associated with the second outbreak.
Case number 32 is an individual who returned from travel, and is not associated with the outbreaks.
Two recent cases are in individuals under the age of nine. One of those cases may be related to a daycare, with that investigation still underway.
The average age of infected individuals is 32 years old. Fourteen of the cases are in Whitehorse, and two are outside Whitehorse.
Hanley said that all active cases have suspected links to travel, which means there isn't community transmission.
"Our goal is to contain COVID as much as possible in the territory, and prevent or minimize community spread," Hanley said.
The medical officer said people should keep contacts to a minimum at this time – sticking within household bubbles, limiting gatherings and upholding safe workplace procedures.
Active public exposure notifications include:
Better Bodies on Nov. 12 between 6:30 and closing time, Nov. 13 between 6:30 and closing, Nov. 14 between 12 and 2:30 p.m.; and Nov. 16 between 5 and 7 a.m.;
Save-On-Foods on Nov. 6 before 1 p.m.;
A&W on Nov. 8 between 3 and 6:30 p.m.;
Listers Motor Sports on Nov. 10 between 8:30 a.m. and 12 p.m.;
Tony's Pasta and Seafood House on Nov. 14 between 7 and 9:30 p.m.;
Giorgio's Cuccina on Nov. 14 between 7 and 9:30 p.m.;
Diwali Festival at 120 Copper Rd. on Nov. 14 between 3 and 6 p.m.;
Starbucks Main Street on Nov. 12 and 13 between 8 a.m. and 5 p.m.; and
Starbucks Chilkoot Way on Nov. 14 between 6:30 and 8:30 p.m.
Meanwhile, as of late this morning, Nunavut was reporting134 confirmed cases of the virus, with two resolved.
Add your comments or reply via Twitter @whitehorsestar
In order to encourage thoughtful and responsible discussion, website comments will not be visible until a moderator approves them. Please add comments judiciously and refrain from maligning any individual or institution. Read about our user comment and privacy policies.
Your name and email address are required before your comment is posted. Otherwise, your comment will not be posted.