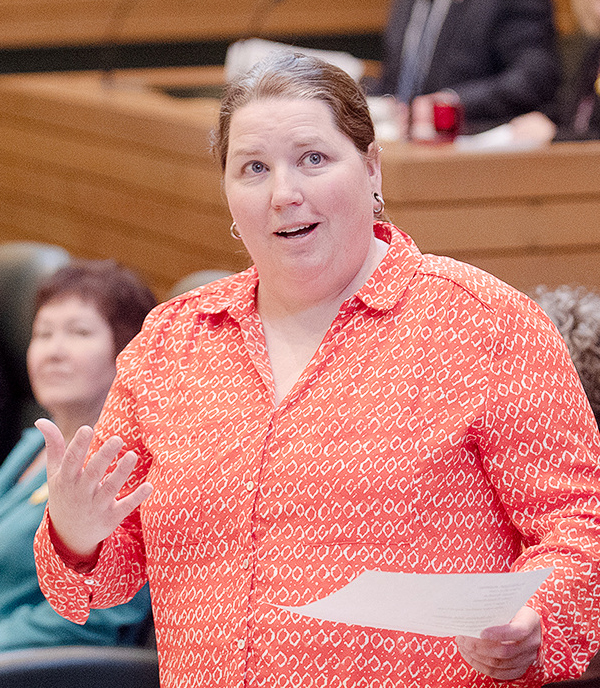 Photo by Whitehorse Star
Yukon NDP Leader Kate White
Yukon NDP convention tackled crucial issues
The Yukon NDP's annual convention brought together more than 200 people Saturday to set a path for the year ahead.
The Yukon NDP's annual convention brought together more than 200 people Saturday to set a path for the year ahead.
The highlight of the digital convention was a question-and-answer session with territorial leader Kate White and federal leader Jagmeet Singh.
Yukoners expressed their growing concern on key policy issues facing the territory and frustration with the political status quo, the Yukon NDP said in a statement today.
Topics included affordable housing, climate change, the opioid crisis and the impacts of COVID-19 on the local tourism sector, among others.
"We know issues like climate change and a lack of housing are national crises in Canada," Singh said.
"But both are particularly serious in the Yukon, where temperatures are warming at a much faster rate and where too many people are struggling to keep a roof over their heads.
"The NDP wants to invest in solutions like renewable energy and affordable housing, and you can see the drive Yukoners have to realize those solutions."
"We're fighting a battle on multiple fronts in the Yukon," added White.
"COVID continues to pose a health risk and is undermining our tourism sector. At the same time, we are seeing unprecedented fatalities as a result of the opioid crisis.
"We're working to get the Liberal government to make meaningful progress, but it's clear we need a leadership change to truly address these problems."
The digital nature of the convention enabled far more rural Yukoners to participate, a trend the Yukon NDP hopes to foster at future events.
Yukon NDP volunteers were also available to help anyone new to the technology or who needed technical assistance.
"Wonderful to see so many people connecting with Kate and Jagmeet," said Justin Lemphers, the Yukon candidate in the October 2019 federal election.
"Hearing our leaders speak to election readiness is reassuring. Listening to Yukon people of diverse backgrounds and experiences who want to get involved is inspiring."
Add your comments or reply via Twitter @whitehorsestar
In order to encourage thoughtful and responsible discussion, website comments will not be visible until a moderator approves them. Please add comments judiciously and refrain from maligning any individual or institution. Read about our user comment and privacy policies.
Your name and email address are required before your comment is posted. Otherwise, your comment will not be posted.