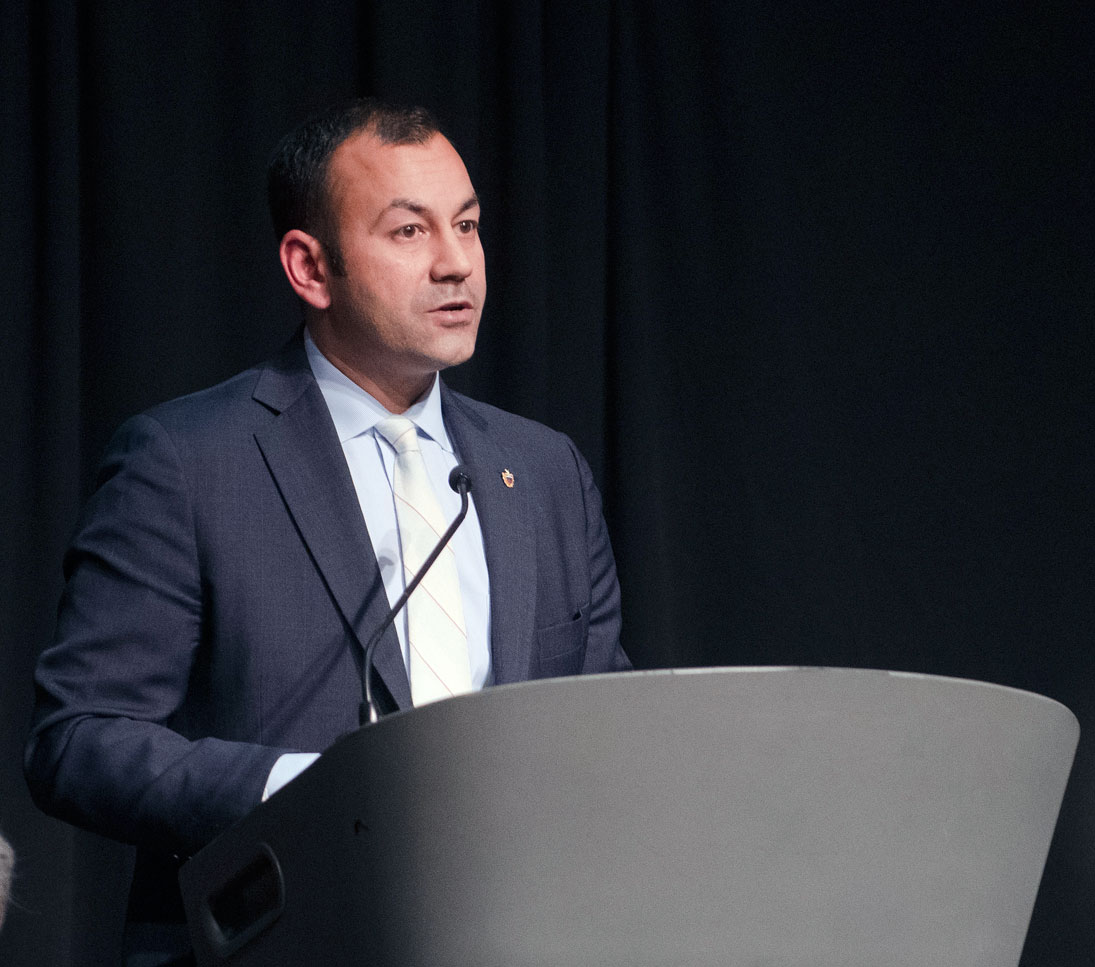 Photo by Whitehorse Star
Energy, Mines and Resources Minister Ranj Pillai
Yukon, B.C. partner on strategies to feed the North
Farmers, ranchers and food processors in the Yukon and northern British Columbia may soon have more local customers.
Farmers, ranchers and food processors in the Yukon and northern British Columbia may soon have more local customers.
The two governments plan to connect to build food security and increase the supply and production of local food in the North.
Details of a new memorandum of understanding were announced Wednesday.
The governments will be partnering with the agricultural sector, as well as academic and community leaders, to develop and share expertise specific to growing in northern latitudes.
Topics of discussion will include limitations in temperature and duration of seasons, as well as supporting business relationships among different farmers, food processors and agriculture service suppliers in both areas.
Targeted goals will include:
• expanding local food and beverage production through a farmer/rancher forum that supports networking, knowledge transfer and business relationships; 
• developing and sharing expertise around farm management in remote settings;
• partnering with academic institutions to help northern growers and food processing sectors grow and commercialize products;
• reducing barriers to agricultural trade between neighbouring jurisdictions; and
• increasing producers' access to processing and retail markets and shared inspection services; for example, increasing access to meat inspections through shared inspection services or mobile abattoirs.
The governments have also committed to supporting a larger role for Indigenous peoples in northern agriculture and sustainable food production by working with Indigenous communities to develop business opportunities and traditional-food-based initiatives.
"Yukon and British Columbia share common challenges and opportunities in our efforts to encourage local food production in northern communities," said Energy, Mines and Resources Minister Ranj Pillai.
"The new memorandum of understanding emphasizes that by working together and sharing expertise, we can better promote food security, promote agricultural production, develop sustainably and grow market opportunities for northern farmers and ranchers."
The Yukon's agriculture industry is expanding. Recent census information reported an increase in the number of farms and farm receipts between 2011 and 2016, the territorial government said.
As well, Yukon farms are increasingly supplying vegetables, preserves, dairy, eggs, honey, jams, meats, fresh produce, sod and bedding plants into the local market.
In 2019, there was a record number of inspected slaughters in Yukon. A total of 536 cattle, elk, sheep, goats, swine and rabbits were processed and inspected through abattoirs.
The Yukon's mobile abattoir added stops to two communities, broadening the access to inspected slaughter for farmers outside of Whitehorse. Graded egg production has also risen dramatically since 2016.
The Local Food Strategy for Yukon, adopted in 2016, encourages the production and consumption of Yukon-grown food, supports local food producers and strengthens the relationship between Yukoners, in-territory farmers and food. 
Since 2018, the Yukon has committed over $1.3 million to 173 agriculture projects throughout the territory in a bilateral agreement with the federal government under the Canadian Agricultural Partnership.
These programs provide funding for industry projects that further strengthen Yukon's local food production.
B.C. farmers, ranchers, seafood and processing workers contributed to a record-setting year in 2018, with annual revenue from businesses in those sectors reaching $15 billion for the first time.
B.C. consumers and companies continue to be the main buyers of B.C. products, with an estimated $6.4 billion of purchases.
The province's Ministry of Agriculture began a new mandate in 2017 to support B.C. farmers through a three-pronged approach:
• Grow B.C., which creates a network of food hubs supporting entrepreneurs and food processors around the province, and has programs to increase production and support new farmers;
• Feed B.C., which encourages the use of local products in government-operated institutions and facilities; and
• Buy B.C., which is helping more than 200 local companies promote their products in B.C., as well as developing partnerships supporting local foods in retailers.
"Working together is key to life in Canada's North, and the partnership between farmers, Indigenous communities, experts and governments will help increase local food production and economic activity," said B.C. Agriculture Minister Lana Popham.
"Our co-operative efforts will encourage greater involvement and awareness of local food, and help more people in Yukon and northern B.C. enjoy the flavours and benefits of products from their communities."
Add your comments or reply via Twitter @whitehorsestar
In order to encourage thoughtful and responsible discussion, website comments will not be visible until a moderator approves them. Please add comments judiciously and refrain from maligning any individual or institution. Read about our user comment and privacy policies.
Your name and email address are required before your comment is posted. Otherwise, your comment will not be posted.