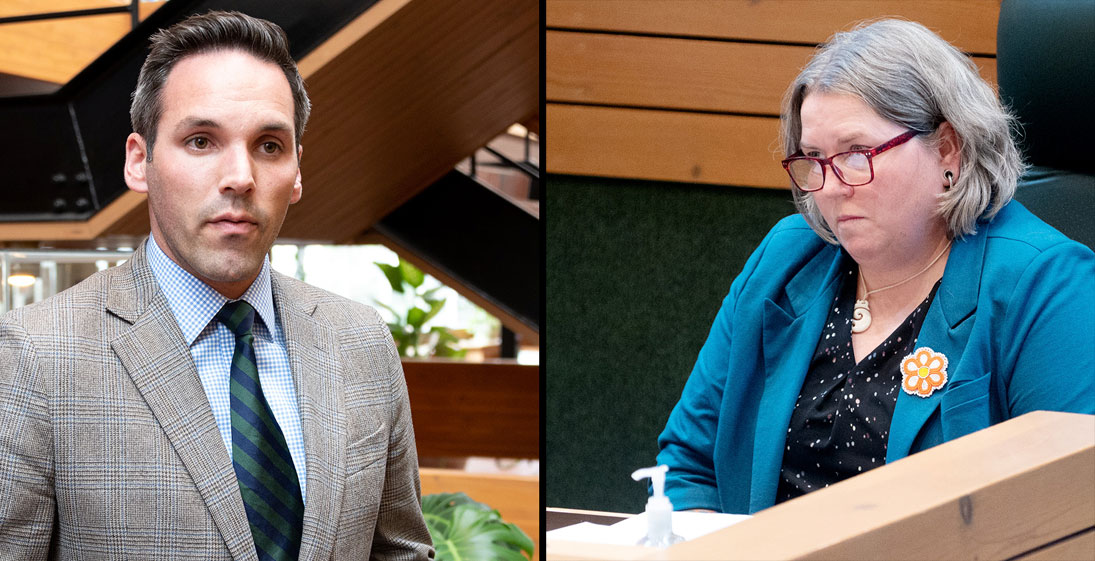 Photo by Whitehorse Star
Yukon Party Leader Currie Dixon and NDP Leader Kate White
You're offside with hockey trip, Liberals told
The Yukon Party couldn't stop itself from sniping at Premier Sandy Silver last Thursday as the fall legislative session came to an end.
The Yukon Party couldn't stop itself from sniping at Premier Sandy Silver last Thursday as the fall legislative session came to an end.
"More than half of the Liberal cabinet is heading to Vancouver in two weeks to party it up at a crowded corporate box at the Canucks game," Yukon Party Leader Currie Dixon noted during question period.
"This event is happening in the midst of strict public health restrictions on gathering sizes and limits on the capacities of bars and restaurants here in Yukon.
"It is not lost on Yukoners that the event the Liberals are hosting in Vancouver would not be allowed here in Yukon under the regulations put in place by the Liberals themselves," Dixon added.
"Meanwhile, the federal government has advised Canadians to reconsider large holiday gatherings due to the Omicron variant, and the message from Dr. Bonnie Henry, the chief medical officer of B.C., to the province regarding Christmas parties is to keep your indoor groups small.
"So, can the premier tell us why there is one standard for the Liberals and another for everyone else?"
It was at least the third day the subject had arisen in the legislature. Earlier in the week, it had been Yukon NDP Leader Kate White bodychecking Silver on the issue.
The repetition of the question wasn't lost on Silver.
"I believe that this is the same question that I answered (Wednesday)," he said.
"We will be following all of the recommendations and guidelines in the jurisdiction in which we are travelling. We will be making sure that this happens.
"We have committed to openness and transparency, as well, in following the rules established around fundraising," Silver added.
"I don't recall the Yukon Party having an issue with party fundraising when they were raising the most money, involving the mining industry."
The Yukon Party had 14 years in power to change rules as well, Silver pointed out.
"Now they are pivoting to making this an issue about COVID, and I will make sure that Yukoners can rest assured that we are following all of the guidelines as we travel respectfully to another jurisdiction."
Dixon came loaded with another question in his clip.
"Over the past several weeks, we have seen multiple major events cancelled. The Geoscience Forum, which is normally a boon to the Whitehorse hospitality sector, was cancelled.
"Major Christmas events and parties have been cancelled, all because of the health restrictions imposed by the Liberals," Dixon said.
"Meanwhile, the Liberals have decided that the biggest event they have hosted in years is going to be held not in a local restaurant or an event space, but down south in Vancouver."
A week earlier, Dixon recalled, "the premier urged Yukoners to pay special attention to supporting local businesses this holiday season, yet he won't even support local businesses by hosting his event locally.
"The Liberals are saying that it is 'rules for thee, but not for me' as they restrict gatherings in Yukon but head south to crowded parties."
"We will continue to fundraise, as the other parties will do, and we will do it respectfully and we will do it openly and with full transparency," Silver responded, sticking to his speaking notes.
"A vast array of local businesses will be there, and they also will be travelling very respectfully, but I will let them know that the Yukon Party does not think that they should be travelling either," Silver added.
Last Tuesday, White made it perfectly clear she thought it was a political offside in the current political and pandemic climate.
"I guess it's OK if it's the Liberals and it's a hockey game," she said.
She made the statement after noting that Silver had complained about a Yukon Party fundraiser back in 2014 while the Liberals were in opposition.
While then-premier Darrell Pasloski and several ministers were in Vancouver for a major mining conference, the party chartered a yacht for a waterfront excursion.
In 2017, the Yukon Liberals held a fundraiser in Vancouver, again at a Canucks game, that caused some controversy.
Since then, the party has been questioned frequently on its fundraising practices and alleged lack of proper documentation and reporting.
"It's a classic case of 'do as I say and not as I do,'" White said.
She hammered Silver on how inconsistent the Liberals' latest trip is with current health regulations and the state of emergency the government declared last month.
"Does the premier think this is a good reason to travel right now?" White asked.
She told Silver that as far as she knew and could track documentation, none of the government ministers had travelled on business since the pandemic began in early 2020.
Silver immediately disputed that.
"There has been travel," he said, without offering specifics.
White also demanded the Liberal party check the attendees to see if they had all registered on the territorial lobbyists list.
Silver dismissed that idea, saying the onus is on individuals to register on the list. The government simply created the list, he told White.
It's not its job to chase down people.
White also wanted to know how many "off the record" meetings had occurred, but Silver ignored the question.
Add your comments or reply via Twitter @whitehorsestar
In order to encourage thoughtful and responsible discussion, website comments will not be visible until a moderator approves them. Please add comments judiciously and refrain from maligning any individual or institution. Read about our user comment and privacy policies.
Your name and email address are required before your comment is posted. Otherwise, your comment will not be posted.