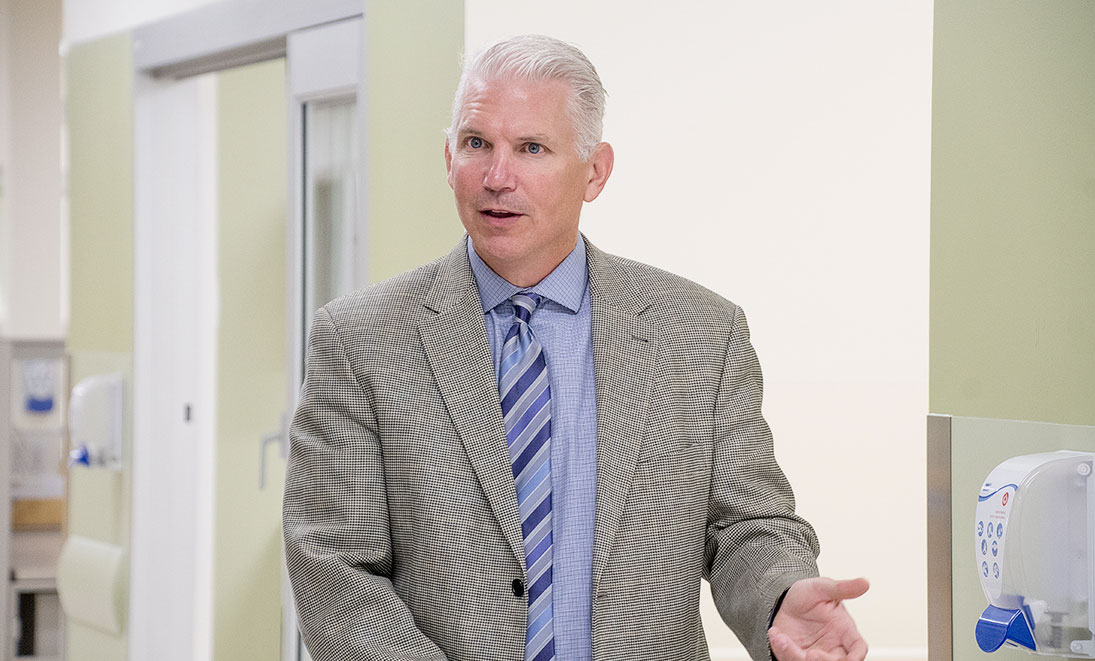 Photo by Whitehorse Star
Jason Bilsky
YHC eyes contracting out testing
The Yukon Hospital Corp. (YHC) is considering a contract with St. Paul's Hospital that could see the majority of the territory's microbiology testing outsourced from Whitehorse General Hospital (WGH) to the Vancouver facility.
The Yukon Hospital Corp. (YHC) is considering a contract with St. Paul's Hospital that could see the majority of the territory's microbiology testing outsourced from Whitehorse General Hospital (WGH) to the Vancouver facility.
In a joint press release with the Public Service Alliance of Canada (PSAC) North, the Yukon Employees' Union announced Thursday that it had learned, by accident, that Whitehorse General is planning to phase out and eventually close its microbiology lab, contracting out testing to St. Paul's.
This is not the case, according to Cam Heke, a YHC spokesperson.
He confirmed this morning that the corporation is looking at a new contract with St. Paul's for microbiology testing – but only for routine tests, which make up about 80 per cent of Whitehorse General's microbiology testing.
The remaining 20 per cent are urgent tests, which Heke said the hospital corporation has no plans to stop doing in-house.
It already has a pre-existing contract with St. Paul's for lab services, Heke explained.
That contract is set to expire March 31, prompting the hospital corporation to put out a request for proposals for lab services.
Two proposals have since been shortlisted and are under consideration, the leading one being St. Paul's, Heke said.
If accepted, it would see about 20 microbiology samples sent to Vancouver for routine testing and five urgent microbiology tests done in Whitehorse every week.
"This is being reviewed, nothing's finalized," Heke said of the proposal.
"Why is the hospital pursuing this course of action?" the YEU/PSAC press release questions.
"The union believes it is a cost savings measure, and an effort to bolster its consistently under staffed general lab.
"The staff from microbiology will be re-purposed, solving a chronic staffing issue."
Jack Bourassa, regional executive vice-president of PSAC North, told the Star today the potential outsourcing worries him greatly.
"This contracting-out stuff is a flu entirely onto itself that is catching on. Historically, we know this kind of stuff just doesn't work out very well," Bourassa said.
Heke said it's too early to speculate as to how this contract, if accepted, might affect staffing at Whitehorse General.
"The key driver in all of this is just making sure that we're providing the best patient care possible."
The YEU/PSAC North press release flags several concerns.
Those include longer wait times for microbiology samples to be sent to Vancouver and for paper results to arrive back in the territory.
"Microbiology tests currently performed at the Whitehorse General Hospital include throat swabs, urine cultures and wound swabs," the statement reads.
"These tests take 24-48 hours to complete locally. The tests will take the same amount of time anywhere, but Yukoners will be expected to wait an additional 24-48 hours for samples to be shipped south, and just as long for paper results to be sent back to doctors."
This just wouldn't be the case, Heke said.
Microbiology test results would not be sent back to the territory in hard copy form, but rather by fax, by phone, electronically or a combination of the three.
And while the samples would have to be sent to Vancouver, "there is a potential this could actually slightly reduce the time to have the testing done," Heke said.
St. Paul's offers a "more robust" microbiology lab, he explained, with better equipment and greater expertise than what is offered in Whitehorse.
"And so, being able to lean on them to help out in this area – ultimately we're looking at doing that with a view to improving patient care as much as possible, as we're always doing."
As for privacy concerns – which YEU/PSAC also raised – the hospital already has an established system with St. Paul's for other lab testing to ensure patient privacy, Heke said.
Jason Bilsky, the hospital corporation's CEO, released a statement this afternoon, reiterating much of the information Heke shared with Star.
"It is important to correct some misinformation being shared with Yukoners.
"WGH's lab is not closing and there are no plans to curtail services for patients," Bilsky's statement reads.
"This proposal is currently being reviewed, and a final decision will be based on our ability to provide the best care possible to Yukon patients in terms of quality and timeliness."
He emphasized that urgent microbiology testing would continue to be done at WGH.
"What's more, microbiology represents a small portion of the lab services we provide at the hospital."
Specifically, of the approximately 41,000 lab tests conducted at WGH annually, around 1,500 are microbiology, Heke said.
If the St. Paul's proposal is accepted, the goal is to have a contract in place for April 1.
Add your comments or reply via Twitter @whitehorsestar
In order to encourage thoughtful and responsible discussion, website comments will not be visible until a moderator approves them. Please add comments judiciously and refrain from maligning any individual or institution. Read about our user comment and privacy policies.
Your name and email address are required before your comment is posted. Otherwise, your comment will not be posted.