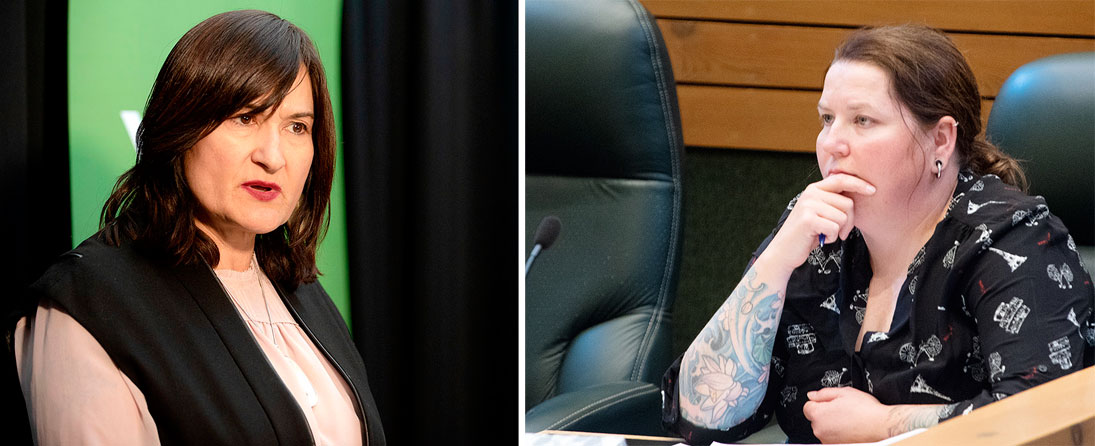 Photo by Whitehorse Star
Pictured above: PAULINE FROST and KATE WHITE
YG secures $500,000 to curtail opioid abuse
As the territory puts the finishing touches on an agreement with the feds for help in curbing opioid deaths and overdoses, the government is considering a number of options to include in that strategy.
As the territory puts the finishing touches on an agreement with the feds for help in curbing opioid deaths and overdoses, the government is considering a number of options to include in that strategy.
Among them are Narcan, a nasal spray version of Nalaxone that's available for free in other areas of the country.
That includes Ontario pharmacies, which, as of March 2018, can dispense both the spray and injectable Nalaxone emergency kits.
With B.C. and the feds allowing the spray as part of the Naloxone programs, Health and Social Services Minister Pauline Frost was pressed by the Yukon NDP Tuesday for something similar.
"We will certainly bring that forward as a consideration as we look at the strategies and prioritizing initiatives," Frost said in response to Kate White in the legislature.
White, the Takhini-Kopper King MLA, also wondered if the government would commit to more regular reporting on deaths and overdoses.
"It's not just young people who are dying: it affects every aspect of our community," she said.
The Yukon has seen 16 opioid-related deaths in fewer than three years.
White acknowledged that Heather Jones, the territory's acting chief coroner, has said there is often a months-long delay (about four) in getting toxicology reports.
While the numbers may not be the most up-to-date, White pressed Frost to regularly report on these overdoses.
In response, Frost pointed out that the Yukon is relatively smaller than areas like B.C. and Alberta. But it's also about respecting the process and time needed for those involved.
"We also need to recognize the sensitivities, as we have families grieving," Frost said.
Information and public statements are best made after people and causes have been identified with the utmost accuracy, she added.
"I'm not prepared to do that at the moment, but I will do that in partnership with the coroners office and chief medical officer (Brenday Hanley)," Frost said.
Speaking to reporters shortly after, the minister reiterated her statements.
"As soon as something happens, if we make an announcement ... it really for me, it's about being sensitive to the needs of families as they grieve."
The minister also worried whether it could paint an inaccurate picture, perhaps suggesting it's only common in one area or targets a certain demographic crowd.
"Immediate alerting of information could be misleading to the public because fentanyl is everywhere," she said. "It doesn't discriminate – we don't know where it is, we just know that it's out there.
As for details of the strategy itself, the government is keeping the details under wraps until it's formally announced and finalized. But Frost did say it amounts to a sum commitment with Ottawa.
"We're just finalizing the arrangement right now; it's taken some time for us to get here," Frost said.
"They've committed to working with us to access $500,000 on treatment programs and preventative programs," she explained, noting the scope of that is still being worked out.
An announcement is expected shortly, but she hopes the money will begin heading to the territory within the next six weeks.
"We are focusing on harm reduction, public awareness, surveillance and health and social systems reform," she mentioned earlier in the legislature Tuesday, in efforts to tackle the crisis head-on.
Part of that reform may include the government's comprehensive health care review, which Frost explained is made up of multiple phases and is already underway.
The first (June to September) consisted mainly of government-to-government engagement and preliminary research. Meanwhile, August to September will focus on internal research, with a more detailed look at the supports currently in place.
"At the end of October, we will have comprehensive final report and an implementation plan."
Frost called it premature to say how much that review would cost the government, but said it's being done with the aim to "address efficiencies." She hopes to have an announcement within the next couple weeks.
The review itself is set to be completed by the fall of 2019.
Add your comments or reply via Twitter @whitehorsestar
In order to encourage thoughtful and responsible discussion, website comments will not be visible until a moderator approves them. Please add comments judiciously and refrain from maligning any individual or institution. Read about our user comment and privacy policies.
Your name and email address are required before your comment is posted. Otherwise, your comment will not be posted.