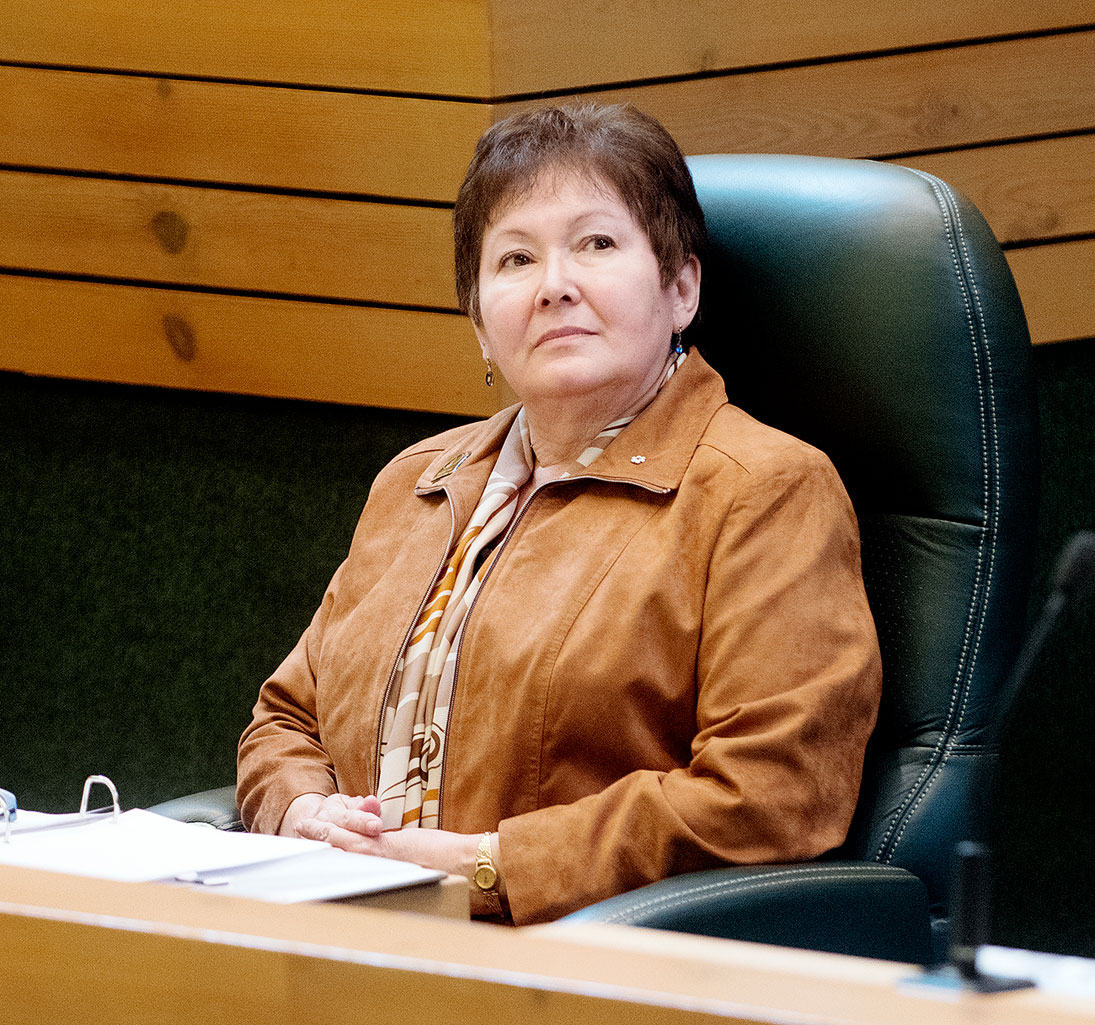 Photo by Whitehorse Star
Geraldine Van Bibber
YG not taking safety concerns seriously: YP
Yukon Party (YP) MLAs are raising concerns about road safety in their Lake Laberge, Porter Creek North and Copperbelt South ridings.
Yukon Party (YP) MLAs are raising concerns about road safety in their Lake Laberge, Porter Creek North and Copperbelt South ridings.
They are also criticizing the Liberal government for declining to take these concerns seriously.
Geraldine Van Bibber, the YP MLA for Porter Creek North, told the legislature last Thursday that multiple constituents in her riding have requested a south- bound turning lane on the Alaska Highway in front of the Super A grocery store.
The YP already raised this issue during the spring legislative sitting. Highways and Public Works Minister Richard Mostyn said he would look into the matter, according to Van Bibber.
"We've heard of a number of close calls at that spot where people are turning in to a grocery store and a commercial area off of a main highway and there's no turning lane in place. We're raising these concerns," YP House Leader Scott Kent told the Star Friday.
Mostyn did not provide a direct answer in the house to Van Bibber's questions about that particular intersection, nor to her request that the government commit to installing the turning lane.
"The stretch of highway from the South Klondike up to the North Klondike Highway ... is one of the busiest stretches of highway in the territory and sees a lot of traffic. There are a lot of concerns up and down this stretch of highway," the minister told the house.
"The members opposite did a fairly fulsome traffic study and did some engagement on that. I have looked over that document. The engagement was inconclusive.
"There's a lot of support, but there's also a lot of objections to the findings of the report. We are sifting through that right now to come up with a way forward to address some of the concerns."
Mostyn announced last week that the government will not be going forward with a $200-million Yukon Party plan for the Whitehorse corridor of the Alaska Highway, which stretches between the North and South Klondike Highways and ends just beyond both.
Public consultations
The previous government under premier Darrell Pasloski funded significant public consultations on the project and the congestion and safety concerns it was designed to address.
In an interview with the Star this morning, Mostyn reiterated his statements made in the house last week that the Porter Creek intersection is one of many intersections along the Whitehorse corridor that will be reviewed under the Liberal government in the coming months and years.
However, it is not currently a priority location for any changes, he said.
He cited statistics that indicate over the past 10 years, the Super A intersection has seen an annual average of 1.6 collisions, with none occurring in the last three years.
"The department is crunching the numbers; the data is there," he said. "It's not the most critical area."
The government has identified priority areas that require the most immediate attention to address road safety issues, Mostyn said.
Robert Service Way and Two Mile Hill currently top that list, which could change, according to the minister, if data reflect emerging concerns.
Kent, the MLA for Copperbelt South, wrote to Mostyn Oct. 2 to flag another safety concern along the Alaska Highway in his riding.
Over the summer, lines where the highway intersects with Gentian Lane were changed to allow for passing in the southbound lane.
"Several Gentian Lane residents have identified this as a safety issue as they are making a left turn onto their road and have reported a number of close calls with vehicles passing them as they were about to turn," he wrote in the email to Mostyn, asking him to revert the centre lines back to double solid.
In his Oct. 20 response, Mostyn said the lines will remain as they have been recently painted.
He pointed out that this section of the Alaska Highway – about five minutes south of the Carcross cut-off toward Marsh Lake – is the first safe passing opportunity for vehicles after driving through the Whitehorse corridor. Lines were modified to adhere to national engineering guidelines for lane markings, he said.
"Maintaining this section of highway as a no-passing zone undermines users' respect for traffic control because they recognize a passing opportunity, and this results in an increased likelihood of risky maneuvers as a result of inappropriate lane markings that restrict passing," he wrote.
Kent said Mostyn's response "wasn't extremely helpful.
"We're hearing feedback from Yukoners that what's in place isn't working," he told the Star Friday.
Closer look
"We'd like the minister to take a closer look at that rather than hiding behind safety standards that make work in southern jurisdictions but certainly aren't working here."
This morning, Mostyn disputed the assertion that the Yukon is an enigma that national road safety standards can't capture.
"There are roads in northern Ontario up in North Bay, there are roads in northern Labrador that are just as bad as they are here, they're using the same national standards."
"The Yukon's a unique place in many ways. The fact that we've got snow and ice and cold temperatures? Not so much."
Lake Laberge MLA Brad Cathers has highlighted other high-traffic areas in the territory – albeit on the North Klondike rather than Alaska Highway – that are prompting "serious safety concerns" from nearby residents, according to an August letter to Mostyn.
Changes to line patterns on the North Klondike near Hidden Valley have led to "numerous close calls and near accidents" at the Couch Road and the 2 Mile Road intersections on the highway, Cathers wrote. He called for a return to the old line patterns on the highway section.
The lines were reworked in September 2016 – under the Yukon Party government – after the road was repaved, a decision that itself mystified some area residents
"If I may paraphrase an old saying," Cathers wrote to Mostyn, "No matter how beautiful the theory, one should occasionally look at the results.
"It is clear to me from public feedback that the theoretical improvements made to the highway line pattern in September 2016 have actually increased the risk of vehicle collision ... and made people feel less safe."
He also called for a longer, better-marked turning lane at the entrance of 2 Mile Road and improved lighting at the North Klondike and MacPherson Road intersection near which Hidden Valley Elementary School is located.
In a Sept. 15 response, Mostyn said the line configuration through Hidden Valley will not be reverted to the pre-2016 pattern, as the new configuration has been deemed safer.
"This layout is a standard intersection configuration that shifts traffic away from turning vehicles and is proven to reduce the frequency of left-turning vehicle rear-end collisions."
He reiterated his government's commitment to evidence-based decision-making this morning. He pointed out that this section of the North Klondike Highway has seen less than one collision per year for the last 10 years, and no fatalities or injuries.
In his September letter Mostyn agreed, however, with the need to reassess the 2 Mile Road intersection turning lane. He noted in his reply that such an assessment will be completed by the end of this season.
As for the lighting at MacPherson, Mostyn said a review of the intersection near the Hidden Valley Elementary was completed in 2015 and the single street light at the location was determined more than adequate.
According to the minister, the intersection does not require any illumination whatsoever.
Kent emphasized in his Friday interview the need to listen to constituents, regardless of standards being met or exceeded.
"This, again, is a government that ran on a 'be heard' tagline and I'm sure my constituents and MLAs Van Bibber and Cathers' constituents would certainly like to be heard on this specific issue when it comes to safety for them and their families."
Mostyn said today that he is always listening to Yukoners, but unfortunately, the spending of the previous YP government left the Yukon Liberals financially constrained.
"We just can't run off and do things, because they would be great to have. We have to actually put a critical eye to these things and actually make very tough decisions.... We don't have discretionary spending like we once did."
He also noted in the legislature last Thursday that Highways and Public Works officials follow up and assess every issue of road safety brought to the minister's attention – including those from the Yukon Party.
Add your comments or reply via Twitter @whitehorsestar
In order to encourage thoughtful and responsible discussion, website comments will not be visible until a moderator approves them. Please add comments judiciously and refrain from maligning any individual or institution. Read about our user comment and privacy policies.
Your name and email address are required before your comment is posted. Otherwise, your comment will not be posted.