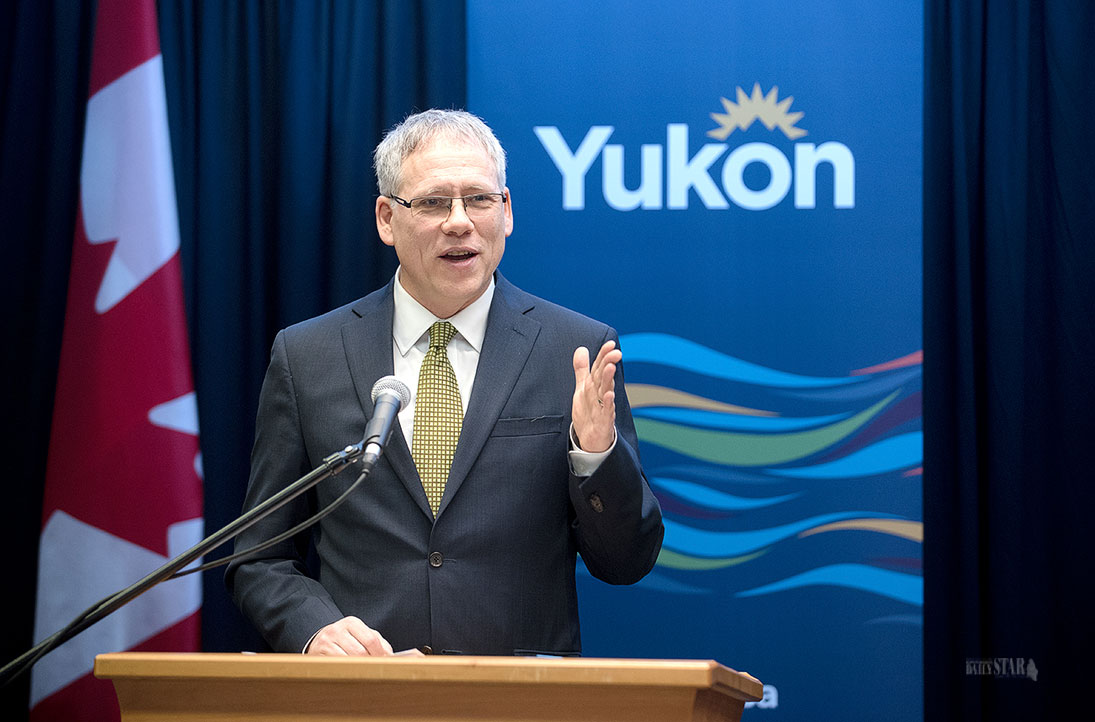 Photo by Whitehorse Star
John Streicker
YG may unveil new liquor rules this fall
As the government hopes to introduce a new Yukon Liquor Act later this fall,
As the government hopes to introduce a new Yukon Liquor Act later this fall, one focus could be to mirror other jurisdictions' rules across Canada – but don't expect alcohol sales to hit grocery stores any time soon.
That's according to John Streicker, the minister responsible for the Yukon Liquor Corp. (YLC).
He told reporters Monday afternoon one of the goals was to look at shifting the rules from a permissive act to one that is more prohibitive.
Streicker said the work to update the 40-year-old act is very much under way.
"In a permissive act; you say alcohol is permitted except where we prohibit it," Streicker said.
"The other way, which most jurisdictions use, is alcohol is prohibited except where we permit it – that's one of the very fundamental, very deep changes we're working on."
What that could mean on the ground level is ensuring that alcohol is responsibly consumed and sharing that role of curbing any irresponsible behaviours.
While Streicker didn't want to be too prescriptive ahead of the unveiling of the new rules, he did offer a brief example of somebody who is intoxicated in an area.
Right now, the establishment can ask the person to leave, "but there are times when that might push them to drive in a car," he said.
But if such people are not causing harm to themselves nor others in that area, "what we're considering in the act is that we're saying that they could be served some coffee and be kept there until such time as they are OK to go and drive."
That's just one example how a social responsibility lens is being applied here, Streicker added, noting others include looking at the hours of operation for offsales and pricing.
Looking at other areas in the country, such as Quebec and New Brunswick, which at points allowed consumers to buy things like beer and wine in grocery stores, the minister noted that may not be a good option for the territory.
"I don't think that is what I'm hearing back from the advisory group as being a way to go," he said.
Meanwhile, just below 60 per cent of Yukoners felt the access and availability of liquor through YLC store and offsales outlets is adequate, according to public engagement results made public last summer.
The YLC currently operates six liquor stores in Haines Junction, Mayo, Watson Lake, Dawson City, Whitehorse and Faro, and has nearly 150 licensed liquor outlets that include offsales, restaurants, breweries and bars.
Asked about the number of retail options for consumers to get their hands on liquor, 65 per cent of the survey's respondents supported permitting grocery stores to sell some liquor products, such as local products.
The minister was subject to questions in the legislature on Monday from NDP Leader Liz Hanson, who wondered of efforts to curb things like alcohol and drug abuse.
She pointed to the YLC's annual report from 2017-18 that placed a focus on leading social responsibility and other stats that showed those over the age of 25 collectively made 1,000 visits on average to the emergency department every year.
Those visits were directly related to drug and alcohol use, which included withdrawal and acute intoxication, according to the 2015 Yukon Health Status Report on Substance Use.
"There are things we look at; we put them in a Yukon context and we make a decision," Streicker said – but the goal wasn't to suggest consumption of alcohol is wrong in any way.
"What we want to say is overconsumption of alcohol, where it leads to things like addiction, where it leads to things like drunk driving, where is leads to things like harms.
"There is clearly a line there."
He reiterated that it's a shared level of responsibility to try to curb these harms when confronted with them.
"It's not appropriate for any of us to imagine that we don't have some responsibility, whether that is individual Yukoners or that's as government.
"It's our job to help Yukoners know what is a responsible level of consumption and to help them get there."
The corporation offers things like hosting and entertaining tips to help drive responsible consumption, along with purchasing guidelines for wine, beer and spirits and other recipes.
Streicker added the government is hoping to turn to the chief medical officer of health for advice once some of the rules have been drafted, ahead of this fall, when it hopes to table the new legislation.
Add your comments or reply via Twitter @whitehorsestar
In order to encourage thoughtful and responsible discussion, website comments will not be visible until a moderator approves them. Please add comments judiciously and refrain from maligning any individual or institution. Read about our user comment and privacy policies.
Your name and email address are required before your comment is posted. Otherwise, your comment will not be posted.