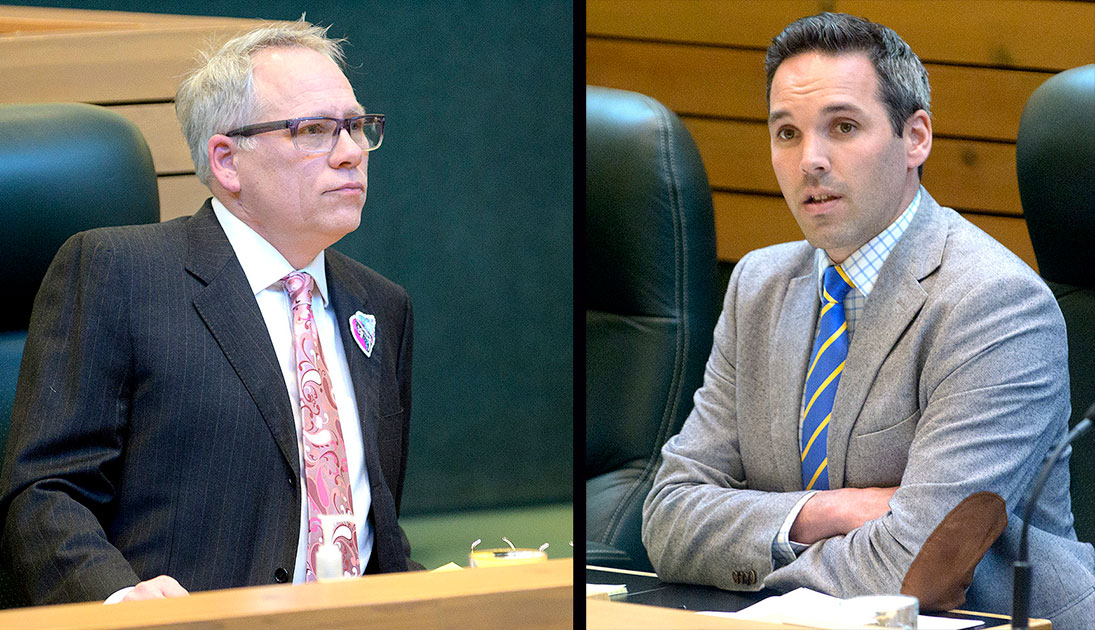 Photo by Whitehorse Star
Tourism and Culture Minister John Streicker and Yukon Party Leader Currie Dixon
YG issues RFP for a new convention centre
The territorial government and the Yukon Convention Bureau have issued a Request for Proposals (RFP) for a convention centre in Whitehorse.
The territorial government and the Yukon Convention Bureau have issued a Request for Proposals (RFP) for a convention centre in Whitehorse.
However, the Yukon Party isn't impressed with the lack of information about the RFP.
According to a government press release issued Monday, the centre would accommodate up to 1,000 attendees.
The proposals would outline the design, construction and operation of a full-service centre.
The facility would accommodate a variety of uses, including conferences, performances, banquets and festivals.
A steering committee has been established to oversee the process. The deadline to submit proposals is July 14.
The committee will focus on northern experience and Yukon First Nation involvement, opening the door for First Nations' economic development corporations.
The former High Country Inn and Yukon Convention Centre (the former Lions swimming pool) on Fourth Avenue have closed. The inn is being converted to housing.
Tourism and Culture Minister John Streicker announced the RPF in the legislature Monday, citing some statistics associated with convention centres.
According to the convention bureau's pre-pandemic data, the direct, local economic impact of convention and meeting tourism was $6.5 million.
Market research shows that convention centres also generate economic spinoffs of $500 to $1,000 or more per attendee.
"Based on that data, we estimate that a new, centrally located Whitehorse facility, with twice the capacity of our former venue, could double the direct economic impact of convention business," said Streicker.
Yukon Party MLA Geraldine Van Bibber asked Streicker a few pointed questions.
"Can the minister tell us what financial contribution the Yukon government will be making to this project?" she asked.
Van Bibber also had questions regarding the location and ownership model of a new convention centre.
Opposition Leader Currie Dixon later told reporters, "It's exciting, I guess, to see the announcement from the convention bureau that they put out an RFP. We were a little let down by the minister's response today because he didn't provide a lot of meat on the bone in terms of what this announcement actually means," Dixon said.
"We don't know how much money is going to be invested in this project. We don't know how much the total capital costs will be. We don't know the location. We don't know the ownership model.
"We don't know the operations model. We don't know whether or not the federal government will contribute to it."
Dixon said downtown would be a logical location for the centre.
"If the Yukon government's going to be contributing to this, they ought to have put it in their five-year capital plan."
Dixon mentioned that the government didn't say anything about the centre in the 2023-24 budget, either.
Regarding where funding from the project will come from, Dixon said while he expects Ottawa to be approached, he doesn't know if the City of Whitehorse has been approached about funding for the project.
"If the City of Whitehorse was to be involved or to benefit from this facility, then I would think that they may be asked to contribute or at least participate in the ownership or the operation of the facility," Dixon said.
Streicker told media he met with representatives from the convention bureau to review the RFP.
"It looks strong to me. My involvement with the convention bureau is that they're very excited about the project."
"The Yukon Convention Bureau is excited to be taking the lead on this project in close collaboration with the Yukon government," bureau vice-president Eddie Rideout said in the news release.
"The business community is supportive, and has expressed a strong desire for a new, legacy establishment and convention centre."
Rideout was scheduled to talk to the Star later today.
Streicker said there are two "acceptable" locations put forward.
"There was one which was around the waterfront. There was another one beside the (Yukon) Arts Centre."
The RFPs won't be limited to those two locations, he stressed. He also said the waterfront location was proposed by the Kwanlin Dün First Nation Development Corp.
"Kwanlin Dün has land identified along the waterfront," related Streicker.
He said the RFP does mention proximity to hotel rooms and restaurants as a priority.
Asked about whether hotel rooms would be part of the package, Streicker responded, "We think that there'll be hotels built. So hotels want (a) convention centre, but this proposal is for the convention centre.
"Is it possible that someone with their proposal says, 'yeah, we want to do a hotel and a convention centre?' That's possible."
Parking could also be added to the package, he said.
"We'll consider those elements that support the convention centre itself."
Streicker said the project would be considered to have a 25-year life cycle.
"We hope it lasts much longer, but that's the horizon that we've asked for under the RFP."
As for the overall cost of the proposals, that will be considered, he said.
"Price is a component, but it's the value of it overall; how does it contribute to the Yukon?" said the minister.
"There was a strong team that developed the RFP itself, so it will be a similar team that does the evaluation, and they will weigh all of that out. And part of it will be, 'what's the cost?'"
Streicker said values of the proposals would include "the size of the facility, what sorts of things that it can accommodate, how it supports our conventions, meetings, all the sorts of stuff that a normal convention centre does, but also, how does it look aesthetically within the location?
"Does it reflect our heritage, and those sorts of things. So it's a pretty big range."
Streicker was asked how much funding the government is willing to commit to the project.
He would only say, "It's too much to ask me because it depends on what we get as part of the package.
"I will be working with the federal government; we'll see what's possible there … that's why it doesn't sit in our capital budget as of yet. But it does sit in my mandate letter."
Streicker confided that Premier Ranj Pillai instructed him, "You're taking Tourism and Culture. Make sure to get a convention centre."
Asked who would take ownership and/or management of the building, Streicker replied, "It could be a government facility. It could be a private facility. It could be a First Nation dev corp. (development corporation); those are all possible.
"That will be one of the things again, which is being weighed in evaluating proposals."
Regarding federal funding, Streicker said, "We have known for quite a while that the federal government is talking about supporting convention centres nationally.
"So I have been in contact with minister (of Tourism, Randy) Boissonnault about our proposal, and we're hopeful that the timing works out very well for that."
Boissonnault visited the territory in 2022.
Streicker was asked if he's received a commitment from Yukon MP Brendan Hanley regarding federal funding.
"I've received a commitment from MP Hanley to work with me and minister Boissonnault. I spoke with him (Monday), Streicker said.
"I know that the department has already been in touch with minister Boissonnault's office over this past weekend.
"(The) RFP went out on Friday. They're already in conversation with him this weekend, and my office will reach out to him right away. So, it's a big deal."
Streicker couldn't say how long the evaluation process would be once the proposals are in.
A new centre aligns with the Yukon Tourism Development Strategy's goal of doubling the territory's tourism business revenues to $525 million by 2028.
"Experience in other jurisdictions shows that convention centres generate a range of benefits for the community and tourism industry, resulting in local economic growth of $500 to $1,000, or more, per attendee," the government said in its release.
Last fall, the government undertook market research in the form of a Request for Expressions of Interest to determine whether there are local proponents who have land suitable for a centre and are interested in using it to design, build, own and operate a new facility.
Add your comments or reply via Twitter @whitehorsestar
In order to encourage thoughtful and responsible discussion, website comments will not be visible until a moderator approves them. Please add comments judiciously and refrain from maligning any individual or institution. Read about our user comment and privacy policies.
Your name and email address are required before your comment is posted. Otherwise, your comment will not be posted.