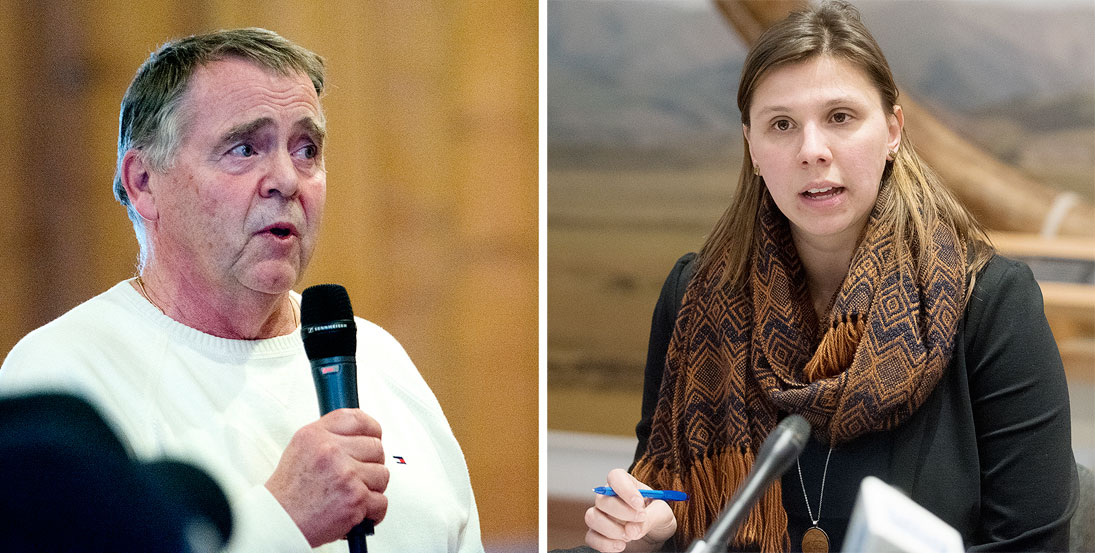 Photo by Whitehorse Star
Gord Zealand and Roxanne Stasyszyn
YG error having 'significant impact' on hunters
Some hunters in the territory are upset after learning a redraw is being done in a lottery for the issuing of permit hunt authorizations for a number of species in the territory.
Some hunters in the territory are upset after learning a redraw is being done in a lottery for the issuing of permit hunt authorizations for a number of species in the territory.
That's according to the Yukon Fish and Game Association, which said it began hearing concerns from some of its members last week.
"People were notified one minute that they were successful and the next that they were going to have to be placed on hold," executive director Gord Zealand told the Star this morning.
He said it's unfortunate that the Department of Environment had to call for a redraw, but understands why it had to be done.
"Obviously we're not in a great situation, but at the same time, we want to make sure that everything is fair," he said.
That fairness is something the government saw as potentially compromised in the initial draw.
"We had to make this decision, which was not easy," Roxanne Stasyszyn said today.
She is the director of communications and public engagement with the department. She said the decision was made in an effort to ensure public confidence in the lottery system while still trying to "balance transparency and fairness with that timeliness."
"It was not a fair draw; we couldn't stand behind" it, Stasyszyn added.
The issue arose and was noted the day successful applicants were notified of results from the initial draw.
A department webpage lists that the Yukon Bureau of Statistics "recommended a redraw after an error was discovered in the data relating to permit returns and reissuances from the 2017-18 year."
Lottery results for hunting permits of caribou, moose, sheep and mountain goat are in the process of being redrawn after this error.
"It has a significant impact; there's no two ways about it," Zealand said.
"I do know that sheep draws are the most sought after," he noted, while ones for goats are a bit harder to get.
Sheep permits available for this year are 115, while there are just three for goats, Stasyszyn said.
"What happened was the data didn't reflect any returns or reissuances," she added, referring to the weighting system that the department uses.
Once applicants are awarded a permit, their weighting drops down to zero, meaning they have a lower chance of being awarded another permit come the following year.
Applicants who are not offered a permit for a longer period of time have a higher likelihood of being chosen next year.
"The more you apply and are unsuccessful, the better your chances get" at being picked for the following years. "Your weight increases," Stasyszyn explained.
This time around, though, that data did not take into consideration the weighting from the previous year – meaning the results might have been unfair.
"Last year, anyone who returned a permit or accepted a reissued one, their weighting didn't change going into this year's data," Stasyszyn said.
"The returns and reissuances process is quite cumbersome," she admitted.
Stasyszyn did sympathize with the frustration of some applicants, though.
"As a department, we know that reasonable hunters are well-prepared hunters," she said.
Getting time off from work, having the ability to travel and prepping for gear and some physical training means some hunters need as much notice as possible, she added.
The department accepts applications in May of each year, and usually notifies successful applicants by the end of June.
"Generally, our species sweet spot is five years; you need to apply for five years to have a really good" chance, she added.
There are more than 200 permits available for this year, with the breakdown as follows: 34 for caribou, 38 for moose, one for Kluane sheep, three for goats, four for elk, and 12 for deer.
The greatest number of permits available are for sheep, at 115.
"The redraw is happening as we speak," Stasyszyn explained, noting that the Yukon Bureau of Statistics is the body in charge of it.
The department hopes to notify those who are successful from the redraw by as early as Tuesday, even though applicants are able to return it within a 10-day grace period of it being offered.
Stasyszyn pointed out that means that "just because you don't get a call (on Tuesday), it doesn't mean you won't get offered a permit" as hunting season draws closer.
She did note, though, that as the calendar inches toward August, it becomes more common for some to reject the offer of the permit.
That's mainly because of the short notice people have to prepare by buying gear, planning vacations and even physically training to hunt some species.
Zealand echoed this, saying the main concern was the unfortunate timing of the error.
With just under a month left until hunting season gets underway, he said it simply takes away from how long hunters have to prep and scout for the season, if they choose to do so.
"It's going to be a bit of a scramble, to say the least," he said, adding that some have been waiting years to be picked.
Stasyszyn acknowledged this, saying "it is a lottery in the true sense of the word."
Hearing of a mix-up regardless of how quickly the department reacted "is not great news to receive.
"I've been on the phone with many angry hunters," she said.
The department realized "within a day that something went wrong here," Stasyszyn said.
She added that last Thursday was when she began reaching out to those applicants who were successful to let them know of the "inadvertent error."
Still, Zealand said he can "understand the cards are on the table; what's done it done."
He added he is grateful to the department for catching the error – the first of its kind, Stasyszyn confirmed – and trying to remedy it as soon as possible.
The department noted that it does not expect the redraw to push back the Aug. 1 date, which is the absolute last day it tries to reissue returned permits by.
Lottery results already drawn for elk, deer and Kluane sheep will not be impacted.
Add your comments or reply via Twitter @whitehorsestar
In order to encourage thoughtful and responsible discussion, website comments will not be visible until a moderator approves them. Please add comments judiciously and refrain from maligning any individual or institution. Read about our user comment and privacy policies.
Your name and email address are required before your comment is posted. Otherwise, your comment will not be posted.