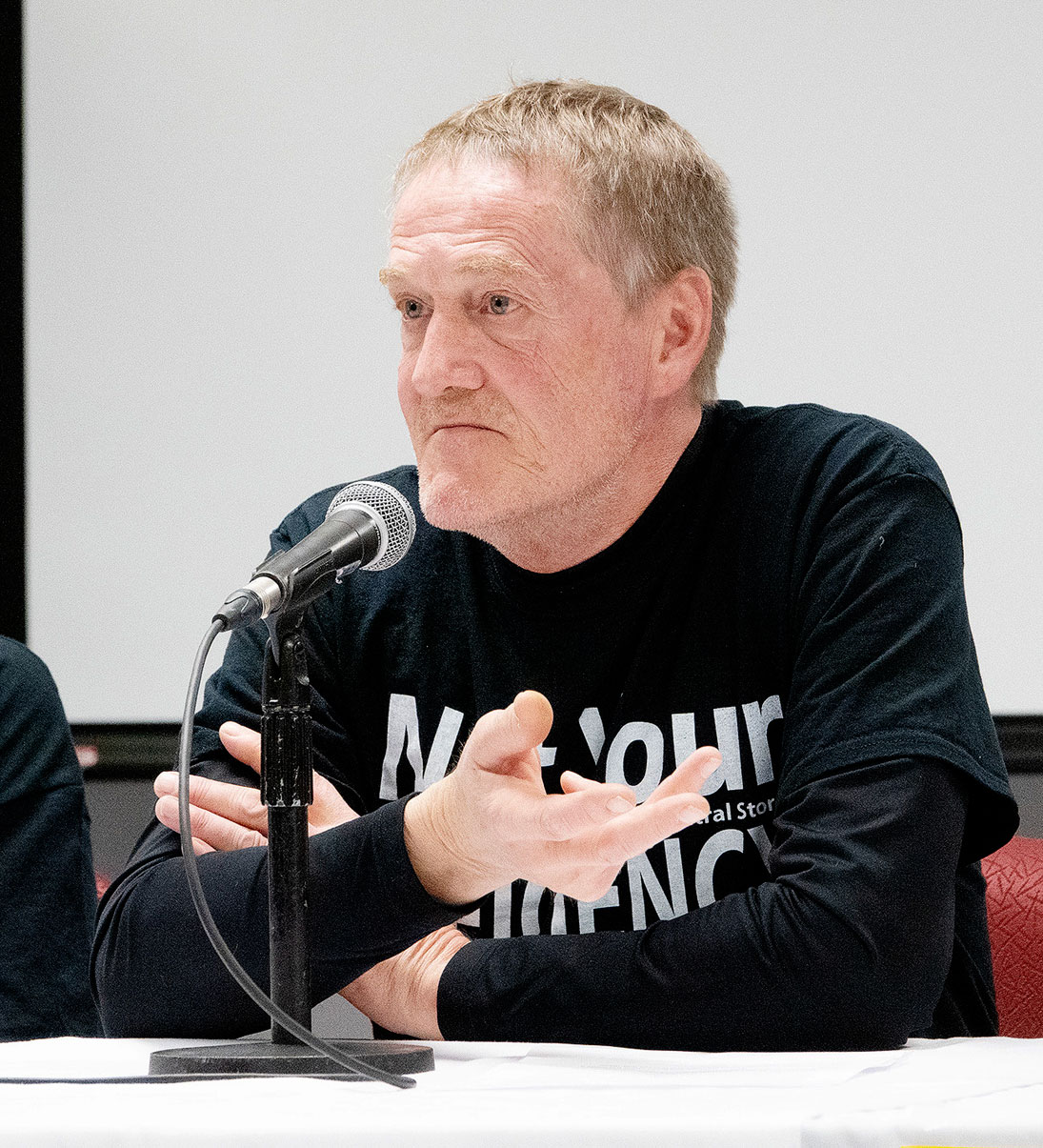 Photo by Whitehorse Star
Steve Geick
YEU rebukes premier over ailing workers dispute
The president of the Yukon Employees' Union (YEU) is not happy with Premier Sandy Silver.
The president of the Yukon Employees' Union (YEU) is not happy with Premier Sandy Silver.
Last week, during an interview with the Star, Steve Geick said sources within the government had told him during a meeting that up to 60 per cent of health and social services workers were off the job on Feb. 5.
During last Thursday's weekly COVID-19 briefing, Silver and Dr. Brendan Hanley, the chief medical officer of health, were very critical of the figures Geick released and which were reported by the Star.
"It's very upsetting," Hanley said.
Silver said, "it's simply not true that 60 per cent of continuing care workers were off the job last Friday (Feb. 5), and I think that's irresponsible to spread misinformation and potentially stoking fears about the vaccine rollout."
Geick is not prepared to let those comments go by without firing back.
In an open letter to Silver that was released to the media late Tuesday afternoon, Geick made it clear he was not impressed by the blowback.
"It seems there is a lot of misinformation floating around the Yukon these days," Geick wrote.
"Perhaps instead of pointing fingers and spreading misinformation yourself, you should look internally within Health and Social Service and make sure your house is in order.
"Sandy, perhaps it's time you admit that neither yourself nor minister (Pauline) Frost have any control over the largest and arguably most important department of the Yukon government right now," Geick continued.
"And perhaps the next time you feel the urge to call out the union's facts in such a forum you first do some fact-checking of your own."
Geick reiterated the information he received and quoted from were culled directly from government sources – the same ones Silver quoted from when he said only 10 per cent of employees from the department were off sick with Moderna vaccine side effects.
"The information Yukon Employees' Union shared with our membership last week came straight from a senior manager within Health and Social Services," Geick wrote.
"This information was shared with a senior representative of the Public Service Commission and me, during a meeting.
"This H&SS manager confirmed repeatedly that fully 60 per cent of continuing care staff across facilities were off work while waiting out the predictable side effects of this vaccine," Geick wrote.
"Let me reiterate; the PSC representative and I each confirmed several times that the 60 per cent number was accurate and was true for all of Continuing Care."
Geick went to write that on Feb. 8, "I received a call from the Public Service Commission to say that we had been misinformed.
"I immediately contacted the media to inform them prior to them releasing anything and posted something on our website and social media to that effect."
That change was also noted in the story published by the Star on Feb. 8
Geick further stated "the direction provided to these members by H&SS management was a complete cluster; a mashup of confusing misinformation and contradictory instructions.
"Some workers were told to stay home and await contact from the CDC, others told to isolate while at work, still others told to take sick days while awaiting further direction.
"As premier, you are the employer, Mr. Silver.
"Ultimately, it's your responsibility to make sure your management team is all pulling in the same direction with the well-being of all Yukoners in mind. And by all Yukoners, I mean all Yukoners – including your own workforce."
Geick's letter also stated, "YEU supports the Yukon's vaccination rollout completely, and we encourage our members to be vaccinated – especially essential health care workers.
"Our message to members is and has been that while COVID vaccine symptoms are manageable and predictable, the employer needs to respond with accurate, timely information that is uniform and consistent.
"Additionally, it is our expectation that you – as the employer – make plans that take into account the predictable side effects of any mass vaccination program."
Matthew Cameron, a senior spokesperson for the cabinet, rebutted Geick's claims in an email to the Star this morning.
"As members of the community with a public voice, the YEU has an obligation to communicate accurate information. The statement YEC issued was widely shared before it was eventually corrected," Cameron wrote.
"While some staff were absent, it is not true that 60 per cent of continuing care workers were off the job on Friday, Feb. 5. At times like this, it's important that we all work together to share accurate information that supports our communities."
Add your comments or reply via Twitter @whitehorsestar
In order to encourage thoughtful and responsible discussion, website comments will not be visible until a moderator approves them. Please add comments judiciously and refrain from maligning any individual or institution. Read about our user comment and privacy policies.
Your name and email address are required before your comment is posted. Otherwise, your comment will not be posted.