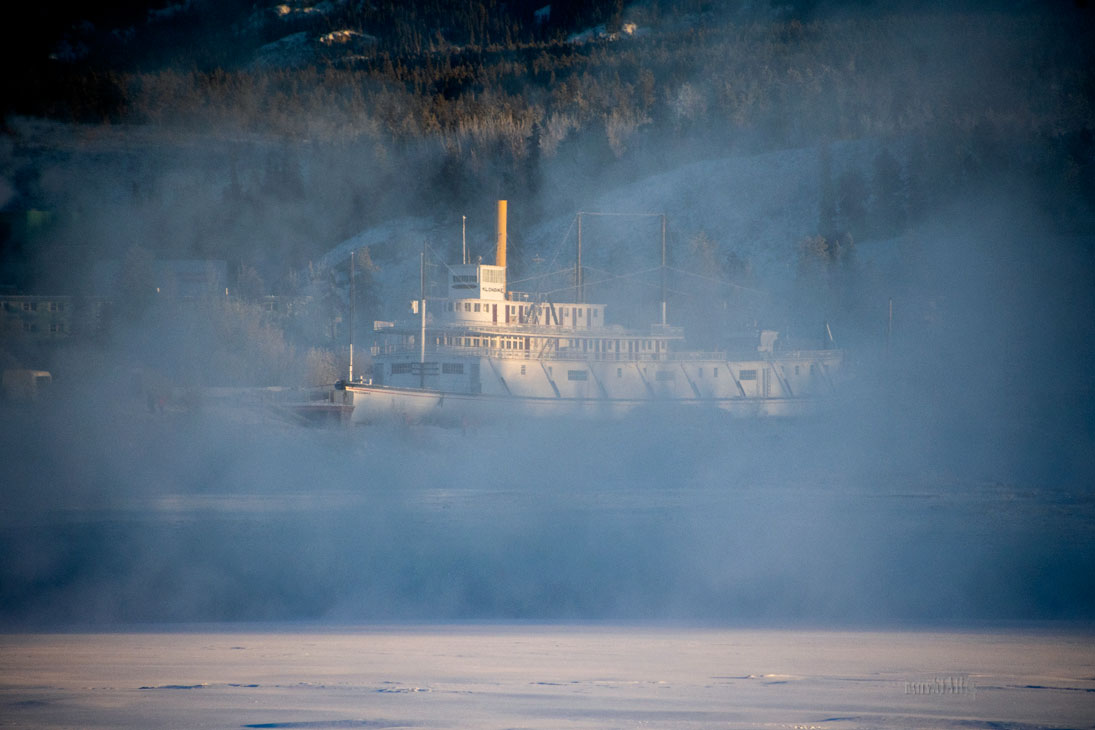 Photo by Vince Fedoroff
IT'S CHILLY OUT – Ice fog made for a ghostly-looking SS Klondike, as seen Sunday.
Weather may turn colder as week progresses
Many Yukoners have found themselves digging out more mitts, hats and winter gear
Many Yukoners have found themselves digging out more mitts, hats and winter gear that had been set aside given the unseasonably warm temperatures that had dominated this winter.
Over the weekend, however, temperatures began dropping, with this morning's temperature in Whitehorse listed at -27.1 C, or -31 with the wind chill.
Conditions could get colder – to -36 with wind chill. On its website, Environment Canada notes there's a risk of frostbite.
Overnight, it's expected to be -38 with the wind chill.
The sudden shift in temperature is due to a high pressure ridge building over the territory, Matt MacDonald, an Environment Canada meteorologist, told the Star this morning.
Clear skies mean that any warm air can escape – making it that much colder.
It's expected temperatures will continue to get colder toward the end of the week.
Thursday's, Friday's and Saturday's forecasts show anticipated daytime temperatures of -29, -27 and -29 respectively.
Meanwhile, it's expected Thursday night will see -32, with Friday being -38 and Saturday reaching -31.
By Sunday, residents may start feeling a little warmer, with temperatures expected to rise to around -22.
"By the middle of next week, (it's expected to be) closer to seasonal temperatures," MacDonald said.
The average range for this time of year is anywhere from -14 to -22, he said.
Despite the colder weather, MacDonald said, temperatures are "not even close to breaking records."
The 1960s and 1970s saw much colder temperatures for January that were in the -40s, he pointed out.
In 1975, he noted, there was one day when the mercury dropped to -47.
The Christmas-New Year's period of 1981-82, longtime residents will remember, featured several straight weeks of -40 weather.
The current temperatures may feel cold because of the warm weather December brought.
It was about three or four degrees warmer than normal for many days throughout the month.
Snowfall-wise, after a significant dump of snow in November, December was very dry, though not the driest December on record,
That happened in 1983, when only three millimetres of precipitation fell, compared to just 3.2 millimetres last month.
Add your comments or reply via Twitter @whitehorsestar
In order to encourage thoughtful and responsible discussion, website comments will not be visible until a moderator approves them. Please add comments judiciously and refrain from maligning any individual or institution. Read about our user comment and privacy policies.
Your name and email address are required before your comment is posted. Otherwise, your comment will not be posted.