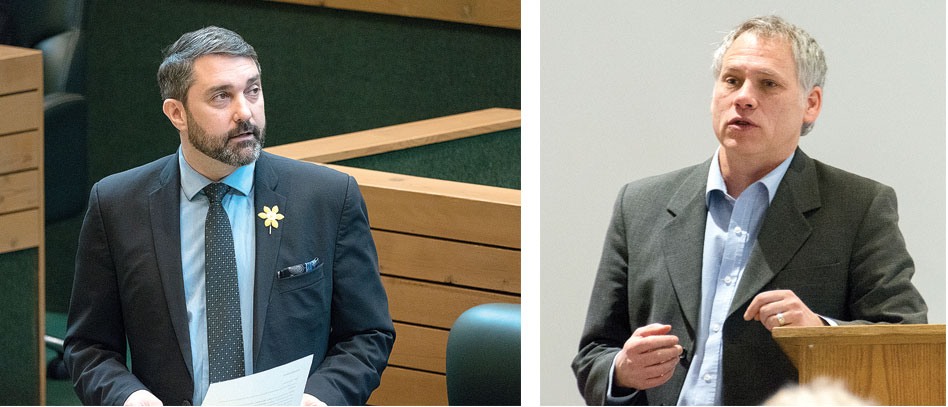 Photo by Whitehorse Star
Pictured above: SANDY SILVER and JOHN STREICKER
'We want to be on the right side of history'
A territorial Liberal government would do everything it could to ensure any money collected in the Yukon through a federal carbon tax makes its way back directly into the pockets of Yukoners.
A territorial Liberal government would do everything it could to ensure any money collected in the Yukon through a federal carbon tax makes its way back directly into the pockets of Yukoners.
That was the message from the party this morning during a press conference held at the Liberal campaign office at the Yukon Centre Mall off Second Avenue.
There, Liberal Leader Sandy Silver and John Streicker, the party's candidate for Mount Lorne-Southern Lakes in the pending election, set out the party's plans on carbon taxing and reducing the carbon emissions in the territory.
Silver remained clear throughout the press conference that the territory will have little influence over whether a federal carbon tax is instituted.
Ottawa has been clear on plans for a carbon tax to happen across the country, he pointed out.
"A federal carbon tax is coming," he said.
"The only room left for discussion is how it will work. Pretending otherwise is failing to stand up for Yukoners."
While Premier Darrell Pasloski has vocally opposed any carbon tax on the territory, Silver pointed out, there are also government officials tasked with participating in a national working group looking at how the tax would be implemented.
While the premier thinks Yukoners can be "conned," Silver told reporters, the Liberals believe that's "cynical politics."
While it will be up to the federal government to decide on a federal carbon tax, Silver said, a Liberal territorial government would like any money collected here to come back to the Yukon – specifically, directly to Yukoners.
Ultimately, that too would be up to the federal government, but Silver argued through "honest and respectful dialogue," his potential government could work with Ottawa to retain and collect the funds from the tax to be returned to Yukoners.
"This will be truly revenue-neutral," Silver said, arguing that "honest, respectful dialogue works."
The money would be rebated to Yukoners, though both Silver and Streicker said the exact details of any program wouldn't be known until after discussions with other governments and stakeholders.
"We don't want to take a decision on it yet," Streicker said of the finer details of a rebate program.
As they outlined, such a rebate program would mean paying for carbon (and thus the more carbon used, the more it would cost at the outset, thus encouraging people to reduce their carbon footprint).
Meanwhile, it would also ensure that those who may be struggling on lower incomes are not negatively affected.
With the money going back into the hands of Yukoners, it would then circulate again through the territory's economy.
"We want to be on the right side of history with this one," Silver said.
The two responded to questions about whether the Liberals see a case for some sort of exemption or lower tax on carbon for northern regions.
Silver and Streicker emphasized that Ottawa has been clear it will move forward with a carbon tax.
"We're trying to prepare (for that)," Streicker said
He and Silver emphasized the Liberal stance that environment and economy don't have to be at odds with one another.
They cited further plans that would see a Liberal government come up with a major retrofit plan for the territory.
That measure would result in ongoing work to buildings throughout the Yukon in an effort to bring down the carbon footprint, and work to put in energy alternatives and pilot projects in renewable energy storage options.
As Streicker pointed out, the territory has an abundance of renewable energy available through the summer that is lacking in the winter, and looking at storage options could result in less of a carbon footprint down the road.
Finally, plans were also outlined that would see investments made in community greenhouses and food storage in an effort to make more local food available, thereby reducing the carbon footprint of the territory that much more.
Throughout this morning's news conference, Streicker and Silver emphasized the importance of working with other governments, ensuring that land use planning is on track, and having detailed information on carbon emissions in the territory.
"No Yukon government can impose a carbon tax," said Silver.
"The Taxpayers Protection Act requires any new tax to be agreed to by Yukoners in a referendum."
See Yukon Party reaction to Silver's remarks.
Add your comments or reply via Twitter @whitehorsestar
In order to encourage thoughtful and responsible discussion, website comments will not be visible until a moderator approves them. Please add comments judiciously and refrain from maligning any individual or institution. Read about our user comment and privacy policies.
Your name and email address are required before your comment is posted. Otherwise, your comment will not be posted.