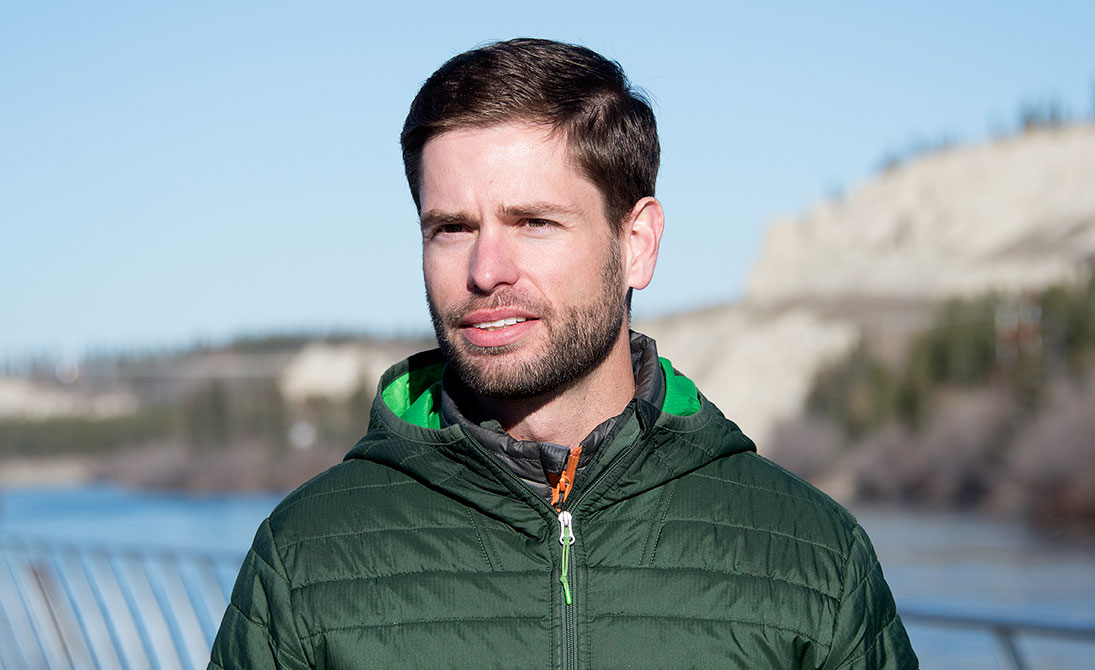 Photo by Whitehorse Star
Chris Rider
'We've still got some progress to make': CPAWS
Despite its vast amount of relatively untouched land,
Despite its vast amount of relatively untouched land, the Yukon is not first among provinces and territories when it comes to wilderness protection.
With 11.9 per cent of its land and freshwater currently protected, the territory ranks third in Canada, behind British Columbia (15.3 per cent), and Alberta (12.6 per cent), according to the federal Department of Environment and Climate Change.
Three more territorial parks – Agay Mene, Asi Keyi and Dàadzàii Vàn (Summit Lake-Bell River) – have been identified for conservation, which will bump the territory's total protected lands up to about 13 per cent, or 63,275 km2, according to Canadian Parks and Wilderness Society (CPAWS).
"The Yukon is doing reasonably well. We've still got some progress to make," Chris Rider, the executive director of CPAWS Yukon, said Monday afternoon.
CPAWS released its annual report on the state of protected lands and waters in Canada yesterday.
It found that Canada ranks last among G7 nations on percentage of protected wilderness, with only 10.6 per cent of land and inland water protected.
Germany, for example, has preserved 37.8 per cent of its lands. The United Kingdom is 28.5 per cent protected.
Canada also lags far behind other geographically large countries such as Brazil (29.5 per cent protected), China (17.1 per cent) and Australia (17 per cent).
Canada even falls below the global average of 15 per cent protection.
"Being at the back of the pack when it comes to protecting nature is embarrassing, especially given the wealth of nature we have inherited," reads the CPAWS report, titled From Laggard to Leader?
Canada's Renewed Focus on Protecting Nature Could Deliver Results.
"There's no reason why we should be lagging behind at the moment," Rider said of Canada as a whole.
"As a country with so much incredible wilderness, and wilderness that is so important in terms of the global picture, Canada really should be doing a lot more to protect what we have."
Ninety per cent of Canada's land and inland waters is public and managed by federal, provincial, territorial and Indigenous governments.
Canada committed in 2010 to protect at least 17 per cent of its land and inland waters by 2020, under the United Nations Convention on Biological Diversity.
The CPAWS report says strides have been made in the last year and a half, namely that 2020 targets have been folded into government policy.
According to Rider, the largest obstacle in the way of meeting and exceeding these targets is collective and political will.
Rider acknowledges the importance of resource extraction to Canada's economy, but said governments must strike a balance between natural resource development and protecting ecosystems for generations to come.
"Wilderness is becoming so much rarer throughout the world," he said.
"Canada is likely to become one of the last bastions of wilderness on this planet. For us to have wilderness here will be more valuable than anything you can dig out of the ground in the near future."
Canada is home to 20 per cent of the Earth's wild forests and 24 per cent of its wetlands.
Protected areas benefit species at risk; foster carbon storage, clean water and air; create jobs in rural communities and encourage outdoor recreation activities.
CPAWS would like to see up to half of the country's wilderness preserved.
The organization is working with Indigenous governments, other governments, industry and NGOs on proposals for protecting 13 different areas across Canada, including the Peel Watershed in the Yukon.
"In terms of conservation gains that we can achieve in the near future in Canada, it's pretty much incomparable," Rider said of the Peel, which is about the size of New Brunswick.
"It's just such a huge vast wilderness that's still intact, and there's nowhere else in Canada that we have similar opportunities."
The Peel Watershed contains mountains, alpine meadows, boreal forest, sub-Arctic tundra, extensive wetlands and seven wild rivers.
The Porcupine caribou herd migrates through the Peel on the way to its calving territory in Alaska.
The Peel is also the subject of a heated land use debate that has worked its way up to the Supreme Court of Canada.
After a seven-year process, the Peel Watershed Planning Commission recommended in 2011 that 80 per cent of the Peel be protected from roads and industrialization.
The Yukon Party government at the time wanted much more of the Peel to be available for development and rejected the commission's land use plan.
The move prompted a lawsuit by First Nations, CPAWS and the Yukon Conservation Society, which was heard by the Supreme Court last March. A ruling is pending.
Though CPAWS would prefer 100 per cent protection of the Peel, Rider said he will be happy with 80 per cent, which was the amount determined through a wide consultation process.
The Yukon Liberals have vowed to protect 80 per cent of the Peel, regardless of the Supreme Court's decision.
Rider said he's hopeful the government will follow through on that commitment.
"Right now we feel optimistic," he said.
"We've got strong commitments from the new government, and at the moment, we're happy to take them on their word."
Add your comments or reply via Twitter @whitehorsestar
In order to encourage thoughtful and responsible discussion, website comments will not be visible until a moderator approves them. Please add comments judiciously and refrain from maligning any individual or institution. Read about our user comment and privacy policies.
Your name and email address are required before your comment is posted. Otherwise, your comment will not be posted.