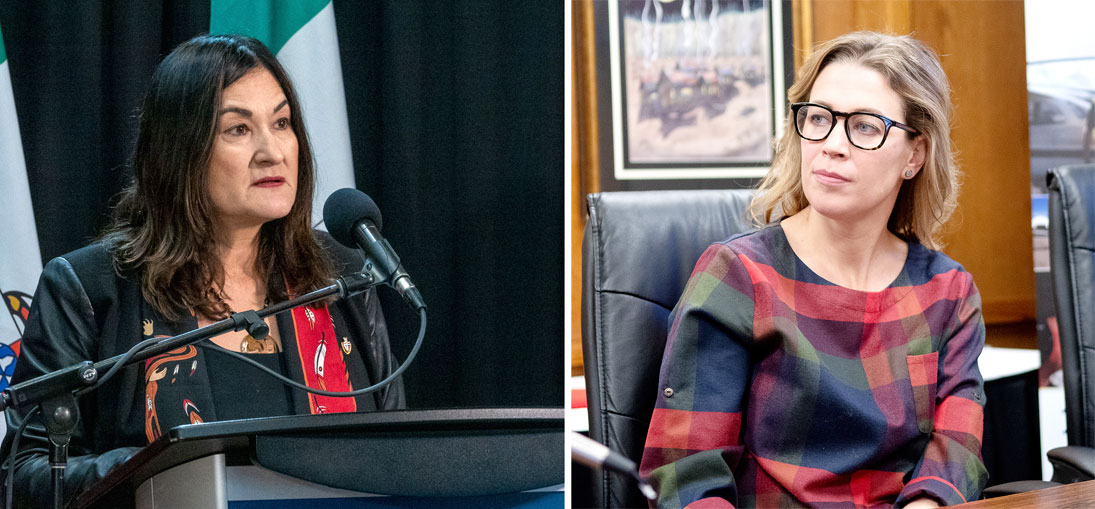 Photo by Whitehorse Star
Pauline Frost and Dr. Katharine Smart
Virtual care methods expanded
New virtual health care options have been created for Yukoners.
New virtual health care options have been created for Yukoners.
The territorial government and the Yukon Medical Association have worked together over the past few days to quickly set up new options for virtual care.
All Yukoners now have the option to have their regular doctor's appointment by phone or virtual health, using the doxy.me platform.  This action is in response to COVID-19 and supports Yukoners while social distancing, the government and association said Monday.
Yukoners can find the virtual health link to their doctor at yukon.ca/covid-19.
Patients can also connect with their doctor by phone if they prefer, or as a backup in the event of Internet outages, such as the one that hit parts of the Yukon on Feb. 13 after a cable was cut in northern B.C.
The new options are designed to ensure that Yukoners experience minimal disruption to their ongoing health care while the territory manages the COVID-19 situation.
Patients should book appointments as they usually do and determine the best option for their specific needs with their physician's office.
"As your doctors, we are committed to ensuring your health care is ongoing through this crisis," said Dr. Katharine Smart, the medical association's president.
"We are committed to providing safe care by adhering to social distancing practices in our clinics. We are asking Yukoners to be honest with us when screened for symptoms and exposures," Smart added.
"We will ensure you get the care you need in the right location. The safety of your neighbours and your health care providers will depend on people telling the truth."
Smart thank Yukon physicians "for their commitment to their patients and the health care system as the pandemic unfolds, and I want to thank our patients for your understanding and support. We are in this with you."
Yukon.ca/covid-19 has all the information Yukoners need to use doxy.me.
Doxy.me is a simple and secure telemedicine solution.
If you plan to see your doctor via virtual health, click on his or her link at the time of your appointment and you will be placed in the virtual waiting room.
Patients should expect to receive phone calls from "blocked numbers" when their physician is calling them.
"As we all practise social distancing and work to prevent the spread of COVID-19, it is important that Yukoners still receive the care they need," said Pauline Frost, the minister of Health and Social Services.
"Thank you to all our dedicated and caring physicians who are committed to ensuring that Yukoners get the medical care they need.
"This new tool will help ensure that patients, physicians and medical staff stay safe and healthy."
Add your comments or reply via Twitter @whitehorsestar
In order to encourage thoughtful and responsible discussion, website comments will not be visible until a moderator approves them. Please add comments judiciously and refrain from maligning any individual or institution. Read about our user comment and privacy policies.
Your name and email address are required before your comment is posted. Otherwise, your comment will not be posted.